Here's some food for secular thought.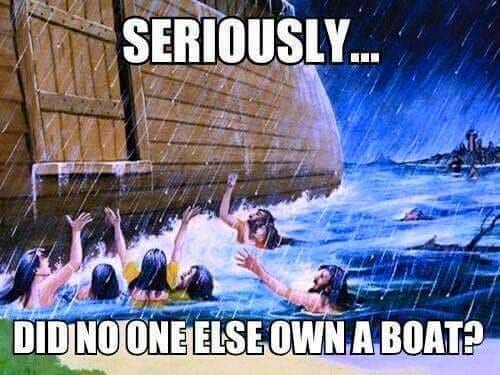 Even if you believe the Bible and think Noah built his ark because of divine forewarning of a coming epic flood, it's reasonable to assume that, at least in coastal areas, other human beings had boats, too, and would have repaired to them when the said divine flood arrived in earnest.
Right?
Perhaps they wouldn't have been as organized and over-prepared as Noah was, but you would think it's in the realm of possibility that a few obsessive-compulsive fishermen or catastrophizers might have survived the 40 days and nights of deluge with some animals and at least one fertile female fellow human.
Right?
Honestly, I had never thought of this before, but when I saw this random illustration on Facebook I did. Immediately.
Why would just one guy in the entire world get in a boat with some supplies and useful items when water began to submerge everything?
The rational answer is that there were surely others.
Please sign up (top right) to receive new Godzooks posts via email, Facebook or Twitter
---
Thanks for reading my Godzooks blog. FYI, now and through the Christmas season, my memoir, "3,001 Arabian Days," will be available on Amazon at a discount — $12 (was $15.95) for the paperback, and $5 (was $6.99) in Kindle format. Enjoy! Access it on my Amazon page: http://tinyurl.com/y7rzla44. See more info below: