I've been to the bottom and been to the top, and peace will come from somewhere else."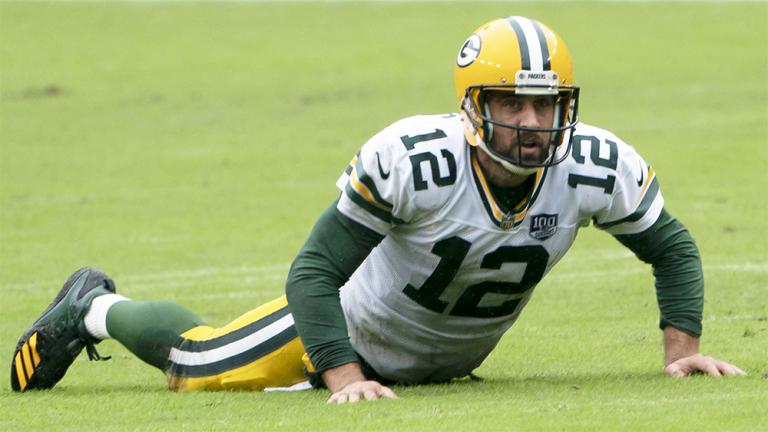 The year was 2017 and the speaker was Aaron Rodgers, a Super Bowl MVP (most valuable player) quarterback for the Green Bay Packers professional football team.
Talking to his good friend Rob Bell, a progressive Christian pastor, Rodgers was alluding to his journey away from traditional faith and opening up to the broader realities in the world, according to a two-year-old article in ESPN The Magazine.
Today I stumbled onto a link to the article, here, in the online hub Reddit, which some commentor named "agnostic atheist" posted now for some reason.
As an atheist, I found the story fascinating. It profiled the famous athlete's birth in 1983 into a devoutly Christian family, and his gradual fading away from dogmatic faith through a long process of meeting players and others in his sport from very different backgrounds and beliefs.
And then, at age 28, he had a kind of reverse epiphany while sitting in the team bus after the Packers won Super Bowl XLV (45) on Feb. 6, 2011, beating the Pittsburgh Steelers, 31-25. Winning the storied game with a splendid performance at quarterback — completing 24 of 39 passes for 304 yards and three touchdowns — he suddenly realized there was nowhere else to go up to except winning another Super Bowl.
ESPN reporter Mina Kimes said Rodgers told her he recalled at that moment replaying his struggle-fraught career in his head:
"As he reflected on the sacrifices and the slights, he wondered whether it was all worth it, and then he felt something unexpected — not regret or fulfillment but a different sensation, like a space had opened inside of him. He thought about life and football and everything he had invested in his sport, and a jarring realization sprang into his mind.

"'I hope I don't just do this.'"
Still, to most of the players, it presumably had seemed an almost religious type of experience, as players passed around the coveted Vince Lombardi Trophy on the bus — "like a collection plate, each taking a moment to palm the sterling silver," Kimes wrote.
However, Rodgers was elsewhere in his mind, contemplating a future without football or organized faith.
The once-skinny kid and long underestimated quarterback in the NFL had finally made it to the mountaintop of his sport. But, as Mina wrote:
"[H]e didn't feel like he had risen to a higher plane. Rather, he realized he was still looking for something — a sense of clarity, or purpose — that was beyond his current line of sight."
She said Rodgers told her,
"When you achieve [success] and there's not this rung — you know, another rung to climb up in this ladder — it's natural to be like, 'OK, now what?'"
Recalibrating his beliefs and attitudes after the Super Bowl win, Rodgers says he confronted his own "narrow-minded" views "about the world and his place in it." He said such self-questioning leads to "really beautiful periods where you start to grow as a person."
"I think in people's lives who grew up in some sort of organized religion, there really comes a times when you start to question things more," Rodgers told Mina. "… I think organized religion can have a mind-debilitating effect, because there is an exclusivity that can shut you out from being open to the world, to people, and energy, and love and acceptance."
His deep reassessment gave him a serene if unexpected gift.
"[T]he time he's spent searching for meaning outside football has, paradoxically, made him cherish [playing football] more, he says," Mina wrote. "'Because I'm not obsessing over a ball.'"
So, even though his spiritual mentor is a Christian pastor, Rodgers ultimately chose not to affiliate with any formal spiritual tradition or religion. But he is clearly a guy with a deep sense of natural awe and an impulse to do right, be real and live tolerantly.
Secular humanism works in mysterious ways when it makes sense to a person. Then again, it is clear as day.
It's the opposite of a "Hail Mary pass," where one has no idea if something will succeed or not.
Please sign up (top right) to receive new Godzooks posts via email, Facebook or Twitter
---
Thanks for reading my Godzooks blog. FYI, now and through the Christmas season, my memoir, "3,001 Arabian Days," will be available on Amazon at a discount — $12 (was $15.95) for the paperback, and $5 (was $6.99) in Kindle format. Enjoy! Access it on my Amazon page: http://tinyurl.com/y7rzla44. See more info below: