Last week's partisan blowback was fierce and instantaneous, if inaccurate, after the evangelical magazine Christianity Today (CT) published an editorial calling for President Donald Trump's removal from office for "gross" immorality.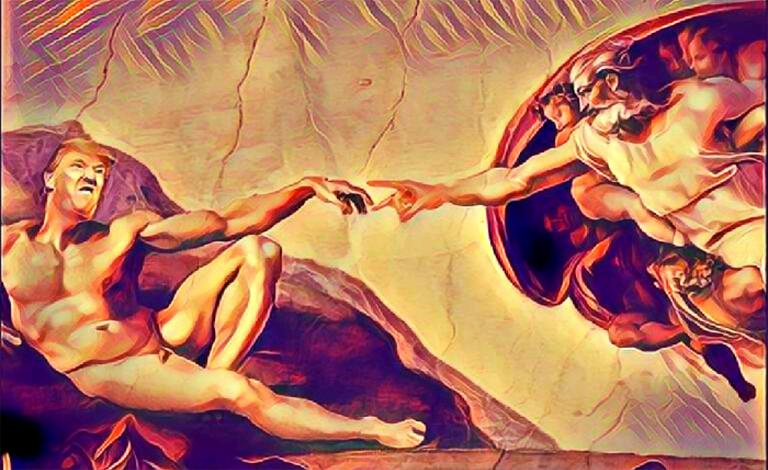 The president himself compulsively castigated CT as "failing" and "progressive," and tarred the editorial's writer as "a Radical Left nonbeliever, who wants to take your religion & your guns."
All of these claims are demonstrable untrue, even a bit wackadoodle. CT is a centrist, full-on-true-believer publication, as is the editor.
Among other attackers was Franklin Graham, a slavish Trump supporter and the son of prominent American evangelist Billy Graham, who originally founded CT. Franklin Graham proclaimed that his dad "would be very disappointed" in the magazine's recent anti-Trump editorial.
"My father knew Donald Trump, he believed in Donald Trump, and he voted for Donald Trump," he wrote on Facebook. "He believed that Donald J. Trump was the man for this hour in history for our nation."
Except maybe he didn't.
The news website The Week reported December 20 that at least one member of the extended Graham clan disagreed with Billy Graham's clerical successor.
"'A heavy hearted bravo to CT!' tweeted Boz Tchividjian, a grandson of Billy Graham who runs an organization which helps churches prevent and confront sexual abuse. 'Well said on so many levels. I believe my grandfather would have had a similar perspective,'" The Week wrote.
Yes. And Billy Graham would specifically have been nonplussed by his son's hand-in-glove pandering to the current president.
Although Billy Graham served as a pastoral adviser to presidents from Dwight D. Eisenhower to George W. Bush, he distanced himself from temporal power after President Richard Nixon resigned in disgrace facing an impeachment trial for obstruction of justice and other crimes. The famed evangelical warned the faithful against becoming "closely identified with any particular party of person," The Week reported.
"We have to stand in the middle, to preach to all the people, right and left," Graham said in 1981, according to The Week. "I haven't been faithful to my own advice in the past. I will in the future."
Andrew Lewis, a University of Cincinnati professor who studies the Christian right in America, wrote recently in a lengthy Twitter thread that Christianity Today has not shied from criticizing the president, his policies or the manifestly nefarious antics of his acolytes, The Week reported .
"But despite the magazine's willingness to buck Republican orthodoxy, it is hardly the 'far left' or 'liberal' institution Trump, Franklin Graham, and Liberty University's Jerry Fallwell, Jr. have claimed since the editorial dropped," the magazine wrote.
CT editor-in-chief Mark Galli, who authored the recent Trump-bashing editorial, wrote in it: "That he should be removed, we believe, is not a matter of partisan loyalties but loyalty to the Creator of the Ten Commandments."
Although it was a welcome shot across the bow from that section of American opinion that values morality in government, the apparent courage reflected by Galli's missive was undercut somewhat by the fact that he will retire in January.
Still, it's heartening to note that not only Galli and a grandson of Billy Graham are the only ones speaking out against this moral train-wreck of a president, whom evangelicals have clearly sold their worshipful souls to glorify.
A progressive Christian blog this week heaped more contempt on the president and hypocritical evangelicals in a post titled "The scandal of selective resistance of American evangelicals." Brandan Robertson, in his Nomad: Thoughts of Faith and Culture blog, wrote that the magazine reflected the view of what he believes are the majority of young, moderate evangelicals.
Robertson said strong resistance to Trump exists among moderate evangelicals "who refuse to endorse or support a president whose personal life is the polar opposite of every value that evagelicals claim to stand for." He proposes that the reason the resistance of anti-Trump believers exist largely under the radar is because "it has been largely silent."
But there will be a price to pay in tarnished reputation and legacy, he wrote:
"When historians look back on this period of history, I don't think they will write that evangelicals abandoned their values and beliefs en masse to support President Trump," he wrote. "Instead, I think they will report something just as troubling, and perhaps more so. That a majority of evangelicals who oppose President Trump for moral reasons stayed silent publicly or only spoke up when it was expedient, largely to preserve their careers, to not lose their audience, and to maintain an open channel of connection to the most powerful person in the world.
Robertson says a poster child for how the Christian Right silences oppositional debate is the Rev. Russell Moore, one of the leading voices in the Southern Baptist Convention. After an evangelical backlash against him for his early condemnation of President Trump, Moore has "remained completely silent for three years as the President, in the name of Christ, has eroded the moral standing of the nation."
Robertson believes the current toxic nexus between religion and politics in America — and evangelism's appalling capitulation to power — is likely even worse than it now seems to evangelicals. He quotes Franciscan writer Fr. Richard Rohr's ominous prediction:
"[T]he evangelical support of Donald Trump will be an indictment on its validity as a movement for generations to come."
Robertson agrees.
"I believe this is deeply true," he wrote.
In the meantime, as Trump and his supporters refuse to discuss the actual facts that led to his impeachment (because they're indefensible), evangelicals refuse to acknowledge that they are glorifying not only a hell-bent sinner, but a extravagantly unrepentant one.
In fact, many of Trump's evangelical supporters believe Trump was literally sent by God to save the United States of America.
You see the problem.
But there's also some good news. Napp Nazworth, an editor for more than a decade at the Christian Post, last week quit his job after the newspaper published an editorial lauding Trump while trashing the Christianity Today editorial. Nazworth said he was appalled that his newspaper had "chosen to represent a narrow (and shrinking) slice of Christianity … it's bad for Democracy, and bad for the Gospel."
This excerpt below from the Post editorial tells you all you need to know about fake news and Religious Right bigotry:
"[O]ur religious and other freedoms will not long survive a government of elites so convinced of their superiority that they are willing to compromise constitutional due process, after illegally manipulating the nation's national security and law enforcement apparatus behind the scenes, to depose a duly-elected sitting president — all the while declaring arrogantly to the American people that it is for their own good. These are the fellow travelers that Christianity Today is clearly aligning itself with at this critical juncture in our nation's history …"
In other words, it's the evangelicals want to decide what's best for everyone.
Please sign up (top right) to receive new Godzooks posts via email, Facebook or Twitter
---
Thanks for reading my Godzooks blog. FYI, now and through the Christmas season, my memoir, "3,001 Arabian Days," will be available on Amazon at a discount — $12 (was $15.95) for the paperback, and $5 (was $6.99) in Kindle format. Enjoy! Access it on my Amazon page: http://tinyurl.com/y7rzla44. See more info below: