UPDATE: The Washington Post noted in an editorial today after this post published that the National Archives has apologized for misrepresenting a historical photo in one of its exhibits. Officials said in a statement: "The Archives will replace the altered image 'as soon as possible with one that uses the unaltered image. We apologize, and will immediately start a thorough review of our exhibit policies and procedures so that this does not happen again,'" the Post wrote.
The news flash today is straight out of the dystopian "Big Brother" hell of the classic George Orwell novel "1984."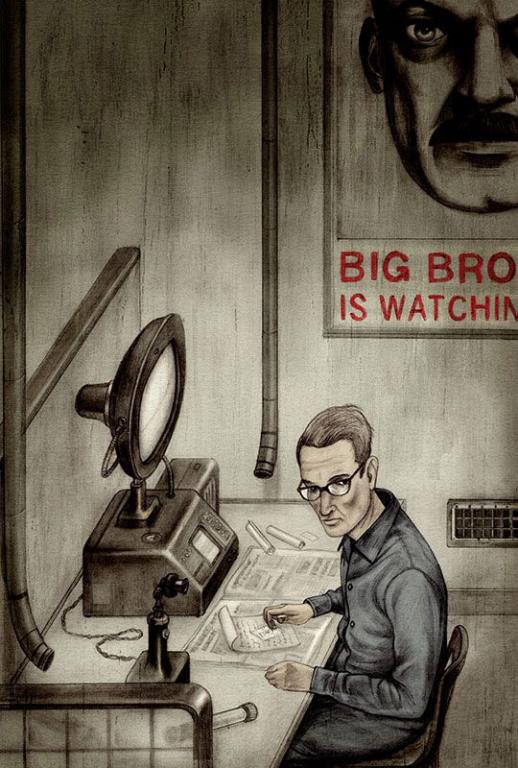 The novel, originally published in June 1949 not long after the end of World War II, was a harrowing tale of authoritarianism in which an ostensible charismatic leader held absolute control over the state — and of particular relevance now, of public information.
In the book, its protagonist, Winston Smith, labors in the ironically named Ministry of Truth to continuously revise publicly available information about the state to whitewash (or destroy) anything that could be construed as negative to it and promote (or invent) anything favorable.
Today's news story in The Washington Post reports that a photo in the National Archives of the massive Jan. 21, 2017, Women's March in Washington, D.C., the day after President Trump was inaugurated, had been doctored to remove certain references on signs held by marchers. Each instance of language purposely obscured on the signs were clear protests against the often-displayed mysogeny by President Trump and or expressed contempt for him.
Archives officials admitted to blurring the word "Trump" and other words on signs in the photo critical of the president, such as one stating, "God Hates Trump." Signs referencing women's anatomy, including the female genitalia words "vagina" and, of particular concern here, "pussy," were also deliberately distorted beyond recognition. In one sign, which originally read "Trump & GOP — Hands Off Women," the president's name was obscured, as was the word "pussy" in a sign reading "This Pussy Grabs Back."
Note that in the infamous Access Hollywood tape on Oct. 7, 2016, the then-president-elect was caught on audio saying, "I don't even wait. And when you're a star, [women will] let you do it. You can do anything. … Grab them by the pussy. You can do anything."
The rationale offered by Archives officials for its blatant acts of photo censorship that clearly appeared to shield the president from criticism and accountability sounded more self-serving than credible.
"As a non-partisan, non-political federal agency, we blurred references to the President's name on some posters, so as not to engage in current political controversy," Archives spokeswoman Miriam Kleiman said in an emailed statement. "Our mission is to safeguard and provide access to the nation's most important federal records, and our exhibits are one way in which we connect the American people to those records. Modifying the image was an attempt on our part to keep the focus on the records."
Archives officials said the decision to obscure the words was made as the Women's March exhibit was being developed by agency managers and museum staff members. They said they wanted to avoid controversy.
The National Archives and Records Administration (NARA) refers to itself as the nation's record keeper "of all documents and materials created in the course of business conducted by the United States Federal government," and of direct relevance to government activities, presumably such as protests at inaugurals.
Using gobbledygook even Orwell would likely have appreciated, Archive spokesman Kleiman narrowly parsed words to argue that the photo display of the march was "not an artifact but part of a promotional display." Such promos, theoretically in her view, may be corrupted at will.
Understandably, historians are aghast at a government institution attempting to rewrite and misrepresent important historical events for the president's benefit.
"There's no reason for the National Archives to ever digitally alter a historic photograph," prominent Rice University historian Douglas Brinkley told the Post. "If they don't want to use a specific image, then don't use it. But to confuse the public is reprehensible. The head of the Archives has to very quickly fix this damage. A lot of history is messy, and there's zero reason why the Archives can't be upfront about a photo from a women's march."
Wendy Kline, a Purdue University history professor, agreed.
"Doctoring a commemorative photograph buys right into the notion that it's okay to silence women's voice and actions," Kline said in an email. "It is literally erasing something that was accurately captured on camera. That's an attempt to erase a powerful message."
In the Trump era, as he and his supporters labor zealously to confuse reality for the American electorate in service to the president and his re-election, a consensus of what defines truth is becoming more and more critical to the republic's survival as an evidence-based, Enlightenment-born democracy.
This scrubbing of history by government functionaries is exactly the kind of thing the Ministry of Truth did in 1984, although in that fiction the historical "record" was routinely and completely overlaid with new lies.
Make no mistake. If Trump could do that, he would. With deviousness like this unethical whitewash at the National Archives, he's halfway there.
Please sign up (top right) to receive new Godzooks posts via email, Facebook or Twitter
---
Thanks for reading my Godzooks blog. FYI, now and through the Christmas season, my memoir, "3,001 Arabian Days," will be available on Amazon at a discount — $12 (was $15.95) for the paperback, and $5 (was $6.99) in Kindle format. Enjoy! Access it on my Amazon page: http://tinyurl.com/y7rzla44. See more info below: