Alabama completely misses the point of church-state separation.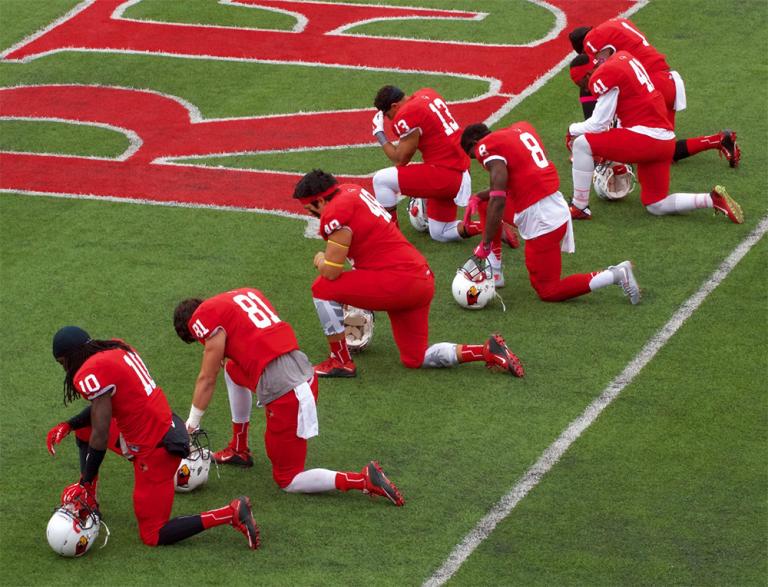 Alabamans seem to think that because theirs is a very traditional Christian culture, anyone trying to keep religion out of the state's publicly financed institutions and activities is not only "ungodly" but "un-American" as well, as one of their U.S. Senate hopefuls, Republican Rep. Bradley Byrne, opined recently.
Byrne also claims, with alarm, that "atheists" behind these supposed unconstitutional assaults on Alabama's time-honored cultural norms are trying to shove their views "down our throats."
At the heart of Byrne's misassumptions is the idea that if a community, say, Notasulga, Alabama, wants to support a public baptism of 26 local football players at Reeltown High School, nobody should be able to say different.
Well, the church-state-separation nonprofit Freedom from Religion Foundation did say different, causing a statewide ruckus that Rep. Byrne — seeing faithful votes to be gained — then weighed in on.
The issue at hand was that an evangelical group — whimsically named Rick and Mick Ministries — did conduct a "voluntary" group football-player baptism at Reeltown High this November. I'm assuming no one in Notasulga perceived the baptism's incorporation of football players, who are always among high school elite, or the choice of a school venue for the event (with loads of young, potential religious acolytes), as anything but coincidental.
However, reasonable people, most particularly atheists, would see it for what it was: purposeful. That's why the evangelical group Good News Clubs exclusively chooses schools to site all its after-school Bible classes, now endorsed by the U.S. Supreme Court, in primary- and secondary-school setttings. That's where the targets are.
Head coach Matt Johnson and football team chaplain Tim Smith (Alabama teams have chaplains?) insisted the event was entirely voluntary and that they asked the players several times if they really wanted to be baptized at the stadium event. Roughly half of the team wanted to; the other half demurred. So the coach and chaplain took that to mean there was no coercion.
But that discounts the reality that players on teams have esprit de corps, and that even those declining baptism would feel marginalized, especially in such a Christian culture as clearly exists in Notasulga.
Coach Johnson was clearly an aficionado of the groupthink and circle-the-wagons instinct that characterizes American towns with strong religious values and traditions. He didn't want to rock the boat.
"Johnson did not promote this ceremony, which took place on the football field prior to practice. He did not advertise it. He did not ask permission," wrote the Yellowhammer News, an Alabama news site that characterizes itself as "committed to delivering the news in a manner that reflects the state of Alabama, it's people and their values." [The last three words in that paragraph, boldface mine, are the tell.]

"I didn't want to make it an event that took away from what they were doing," Johnson told the News. "I wanted it to be about them and their salvation. I didn't want attention on me and I didn't want the attention on football. I wanted it to just be between those guys who made that decision and that relationship. … No one was forced. In fact, there was a near equal number of football players who chose not to participate. It's not like I'm going to make them run hills if they don't pray."
Which is beside the point. The point is that its arguably unconstitutional for a tax-financed public school district to authorize a religious organization to hold a public baptism (a wholly religious activity) on school groups — and for tax-paid school officials to encourage or accommodate student participation.
With editorial comment, the News in an editorial supporting the school and coach wrote:
"In recent days, weeks after the baptism occurred, the Freedom from Religion Foundation published a release entitled, 'FFRF exposes Ala. public school team baptism,' like the organization was exposing some nefarious criminal racket."
Well, if the FFRF position is valid, what the school did was illegal and a violation of the Constitution's First Amendment Establishment Clause, which holds that government can't encourage or accommodate anything religious.
"It's an egregious overstep for public school officials to put Christian baptism in the playbook," FFRF co-president Annie Laurie Gaylor wrote in a statement, the News reported.
Coach Johnson wouldn't budge even after FFRF's wrist-slap.
"(This) will never ever change as long as I am here or as long as this place is open," he told The Outlook news site. "This is a community thing. This is not a football thing or a coach Johnson thing. This is about these kids making a decision and us following through with it and a standard for how this community is built."
Johnson is also a vocal supporter of Rep. Byrne's candidacy for the Senate in an attempt to unseat Democratic Sen. Doug Jones in this year's general election.
The News reported that Byrne initially tweeted this response to The Outlook's editorial defending Johnson:
"Helping bring a person to know Christ should be praised, not attacked. The core values that made our country great are under attack, and we need more leaders who aren't afraid to stand up for what is right! Stand strong, [Coach Johnson]!"
Then, in a statement to the News, her "doubled down" with this statement, the news site said:
"The Freedom from Religion Foundation needs to pack it up and stop forcing their ungodly, un-American views down our throats. The foundation says they want separation of church and state, but what they really want to is to rip God out of our nation altogether."
No, FFRF wants to remove God only from tax-funded institutions and programs, not the nation as a whole.
There's a difference, and it's enshrined in the Constitution.
Alabama apparently has yet to notice that distinction.
(For more information, read Hemant Mehta's recent post on this topic here.)
Please sign up (top right) to receive new Godzooks posts via email, Facebook or Twitter
---
Thanks for reading my Godzooks blog. FYI, now and through the Christmas season, my memoir, "3,001 Arabian Days," will be available on Amazon at a discount — $12 (was $15.95) for the paperback, and $5 (was $6.99) in Kindle format. Enjoy! Access it on my Amazon page: http://tinyurl.com/y7rzla44. See more info below: