This photo is brimming with false or at least unverified assumptions (some obvious, some subliminal) — and two absolutely true ones.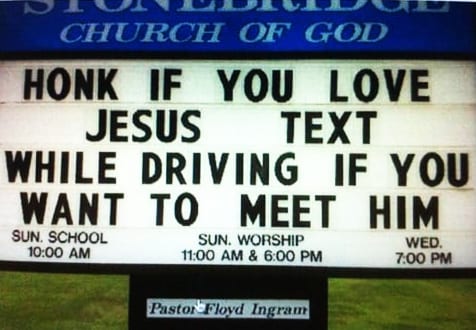 The false assumptions are these:
A person named "Jesus" certainly exists in the present or past.
This person is so special that he is beloved by others and, thus, might likely be loved by you, too.
You can "meet Jesus" after you die, and you would certainly want to.
By honking you aren't making two commitments: (1) to publicly and loudly proclaim love and possibly allegiance to Jesus, and (2) to accept these assumptions, if only momentarily and perhaps jokily, of the church who placed the sign on its grounds.
One true part of this sign's message is that texting while driving is extremely dangerous, and many people have perished in car crashes while doing it every year since "texting" became a thing. However, whether the deceased "go to Jesus" afterward is wild conjecture.
Also true is that the sign proves religious people have a sense of humor, even when it's exploited in service to their religion.
Still, the upshot is that the sign unabashedly heralds supernatural ideas whose purported "truths" are permanently unverifiable.
That part's
not
funny.
Image/Thanks to Baptised Atheist
Please sign up (top right) to receive new Godzooks posts via email, Facebook or Twitter
---
Thanks for reading my Godzooks blog. FYI, now and through the Christmas season, my memoir, "3,001 Arabian Days," will be available on Amazon at a discount — $12 (was $15.95) for the paperback, and $5 (was $6.99) in Kindle format. Enjoy! Access it on my Amazon page: http://tinyurl.com/y7rzla44. See more info below: