If you find doorbell-ringing Mormon and Jehovah's Witnesses missionaries totally annoying, you might enjoy a satirical publication named The Babylon Bee, which before yesterday I didn't even know existed.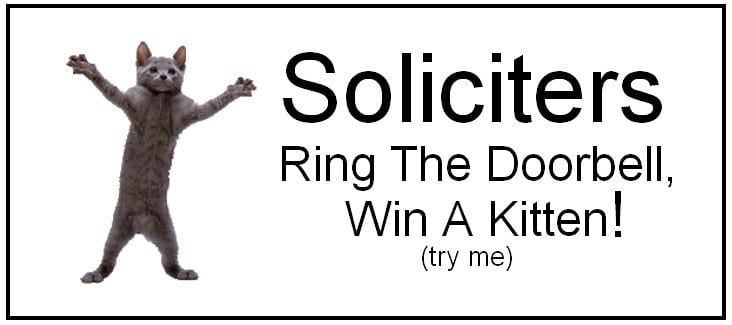 It's like The Onion, "America's finest news source" (they smile to say), but with a lot of focus on religion.
A friend directed me yesterday to a Bee article titled "New Smart Doorbell Will Argue With Jehovah's Witnesses, LDS Missionaries For You," which ostensibly reports about "a new version" of electronic-doorbell-maker Ring named "Debate Ring Pro."
"The Debate Ring Pro is designed to engage in theological arguments with visitors from other religious backgrounds," the Bee article explains. "When the video monitoring software detects LDS missionaries or Jehovah's Witnesses [at your door], for example, the device gently, but firmly recites verses supporting the deity of Jesus Christ and other defenses for orthodox theology."
The article doesn't say exactly how its software can determine the religion of door-ringers, but, still, it's an intriguing concept.
"It's one of the most common front-door conversations in our country," said Ring founder and chief inventor James Siminoff. "So we knew we had to do something to address it. Now instead of having an uncomfortable religious discussion with strangers, you can let your doorbell do it."
The Debate Ring Pro is programmed to rebut "common heretical doctrines," such as Jesus being an angel. (For example, against that heresy the bell's audio feature argues, "Scripture clearly tells us to worship Jesus, yet as demonstrated in Revelation 19, angels do not nor should not receive worship.")
If the front-stoop debate "gets too heated," the Debate Ring Pro "simply backs down and says, 'Listen, I don't think we're going to solve this issue today,'" the Bee explains. "'Let's just agree to seek the Scriptures faithfully and commit to praying for each other.'"
The device can also ask devout visitors, even food-delivery drivers, to join it in the "sinner's prayer," before any money is (or is not) paid.
Despite its nontheist bent, the Bee does not shy away from other topics of compelling national interest. Here's list of some of its more noteworthy recent article headlines:
And, of course, there's the cheeky religious fare, as well, including:
The Debate Ring Pro is, indeed, a promising device. It would be even better if it came with an accessory that also automatically dropped water balloons on unwanted visitors from the roof when debates go south — while repeatedly yelling "Beelzebub!" (the prince of devils) in deep, sonorous, ominous tones.
But, still, the Debate Ring Pro all by itself is a damned good start.
Image/Thanks to my friend Doug Curran
Please sign up (top right) to receive new Godzooks posts via email, Facebook or Twitter
---
Access my memoir below in paperback and Kindle formats on my Amazon page: http://tinyurl.com/y7rzla44. See more info below: