Prominent international atheism promoters Richard Dawkins, a British evolutionary biologist, and Lawrence Krauss, a Canadian physicist, will be among keynote speakers at the International Anti-Theism Conference 2020, April 4-5, in Brighton, England.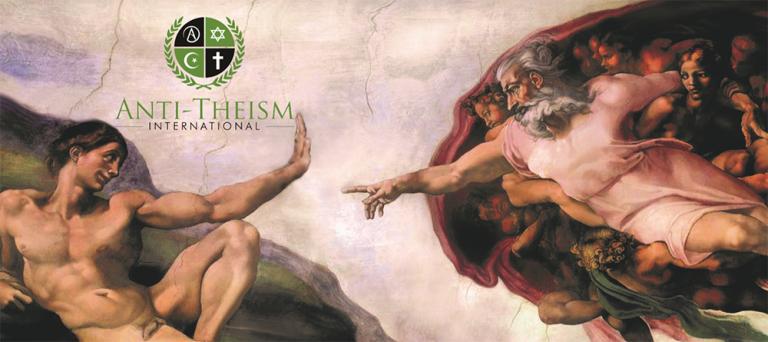 Anti-Theism International named itself after the late British atheist gadfly Christopher Hitchins, who died in 2011. Hitchens popularized the term "anti-theist," using it to refer to his own beliefs about the so-called supernatural.
The image embedded in this post — it's a satirical rendering of part of Michaelangelo's timeless fresco on the ceiling of the Vatican's world-famous Sisteen Chapel in Rome — is the backdrop to the April conference in Brighton.
Organizers report in the conference website that, besides Dawkins and Krauss, presentations are scheduled by anti-theism notables from the United Kingdom, the United States, Canada, Denmark and Nigeria. Other speakers include conference organizer John Richards, a member of the Council of Atheism UK and publications director of global Atheist Alliance International.
To date, tickets have been purchased to the conference by atheism proponents from the countries listed above plus Germany, the Netherlands, Norway, Italy and Rumania, organizers report.
In its mission statement, Anti-Theism International explains it "seeks to combat the toxic influence of religions on government, education systems and society at large, and to normalize non-belief."
Its website laments that today in the world 229 million people "are subjected to theocratic rule under threat of cruel punishments," that 30 percent of male infants are "needlessly circumcised without their permission," and that 10 percent of homosexuals "are physically assaulted because of their sexual orientation."
Presentation topics will include: how to cope with the deleterious effects of religious abuse; initiatives to encourage elected officials to promote science, not fantasies, in policy decisions; suffering inflicted on Nigeria by religious fervor in recent years despite the nation's secular Constitution; and the interface between medicine, magic and religious ministries.
The conference will also include a gala awards banquet, art competition and vendor space for the promotion of anti-theism organizations and the sale and distributions of relevant art, products and information.
The illustration shown above that will serve as a backdrop to the conference, perfectly embodies the ethos of atheism, which rejects the idea that mankind was created by a divinity. In the original painting, God reaches out his finger to almost touch the index finger of "Adam," the first human of the Bible.
Image/Courtesy of Anti-Theism International
Please sign up (top right) to receive new Godzooks posts via email, Facebook or Twitter
---
Books by Rick Snedeker: