While U.S. nontheists harmlessly (mostly) go about their daily lives, state legislatures are again hard at work chipping away at the essential wall separating church and state.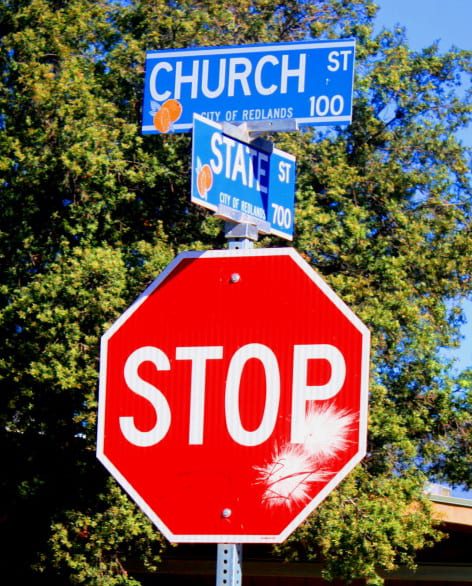 "States of Alarm," an article in the latest edition of Church & State, the secular Americans United for Separation of Church and State (AU) organization's magazine, ticks off a long and worrisome list of bills legislatures are now considering that "would harm religious freedom."
Last year, AU tracked more than 500 such bills and expects to follow a like number during 2020 legislative sessions that began in January.
"While we don't have a crystal ball," AU state policy attorney Nik Nartowicz pointed out in his Church & State piece, "the bills already filed and the influence of harmful Trump administration policies give us an idea of some trends we expect to see this year."
These include initiatives by Project Blitz, a national religio-political movement that seeks "to impose a narrow set of religious beliefs on our state laws and ultimately establish the U.S. as a Christian nation."
Nartowicz contends that many of the bills Project Blitz thrusts on state legislatures "harm our public school students," such as the group's well-known campaign to have state laws implemented to require or strongly urge that the phrase "In God We Trust" be prominently placed in as many schools as possible. Eight states have passed such laws so far, and more are considering them.
Thirty new Project Blitz-promoted bills are now in state legislative hoppers to be considered this year, Nartowicz reported, "with many more coming down the pike."
"These bills aim to promote Christianity in public schools, and to lay the groundwork for future bills that would misuse religious freedom to justify discrimination," he warned.
AU coordinated with 43 national secular organizations in 2019 to oppose Project Blitz activities because their goal is "to tear down the separation of religion and government incrementally," Nartowicz said.
Among other legislative worries AU is tracking:
Tennessee's HB 836 bill that would allow tax-funded entities to prohibit LGBTQ couples (or those from the "wrong" religion) from fostering or adopting children.
South Carolina's HB 477, which would allow student groups in higher education to block membership or leadership opportunities to students due to their religions or sexual orientations. Five states passed similar bills in 2019, and more are anticipated.
Bills seeking to expand private school "voucher programs," which seek tax funding for primarily religious schools. These programs, Nartowicz explains, are "an attempt to divert desperately needed taxpayer dollars away from public schools to fund religious education."
He urges vigilance in each state by church-state-separation proponents because bills can progress quickly through the legislative process — "… a bill introduced on Monday could pass by the end of the week."
Bear in mind that what Project Blitz and other aggressive Christian evangelical, theocracy-seeking groups are doing is not kosher but an end-run around the spirit — and letter — of the Constitution.
It seems we need to keep reminding ourselves that the Founding Fathers feared the imposition of an authoritarian government theocracy above all other threats to the secular republic it envisioned, except perhaps foreign encroachment.
Now, with this president, we've got that to worry about, too.
Please sign up (top right) to receive new Godzooks posts via email, Facebook or Twitter
---

Buy the paperback

here

on Amazon