Here's yet another story of Christian bigotry as inanity, as it inevitably is.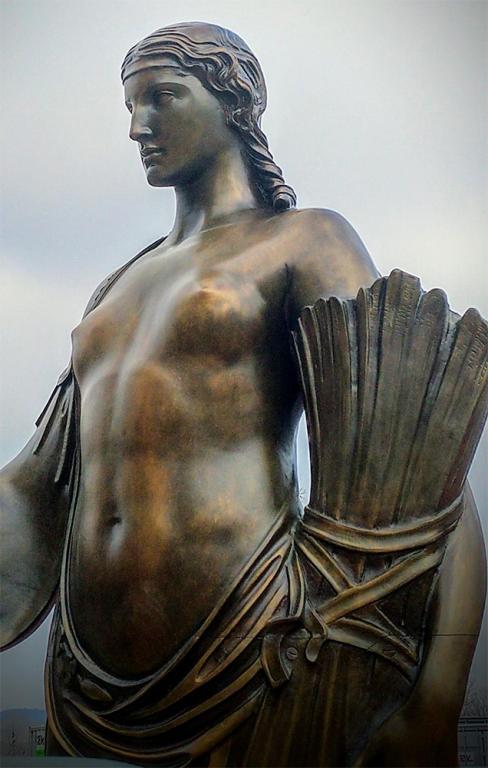 It started with a handsome 1,400-pound bronze statue of Ceres, the ancient Roman goddess of agriculture and fertility, which was returned to its original perch atop the Missouri state Capitol building last December 17 after a year of renovation work.
But not before state Rep. Mike Moon, a conservative Christian Republican, decried the move as sacrilegious and tried to stop it, reported Church & State, the magazine of the nonprofit secular group Americans United for Separation of Church and State.
"God commanded the Israelites to 'have no gods other than him,'" Moon wrote in an early December letter to Republican Gov. Mike Parson protesting the statues return. "[God] also said, 'Do not make metal gods for yourselves. I am the Lord your God.' Governor Parson, you and I have placed our trust in the same Lord, the God of the Bible. As such, I appeal to your good judgment, as a follower of Jesus Christ, to direct the Capitol Commission to not return the false god Ceres, the Roman goddess, to the top of the Capitol dome."
In his favor, Gov. Parson did not respond to the silly appeal and pronounced the statue "pretty" at its return ceremony, adding that a slight delay in replacing it would allow Missourians to see a piece of the state's history up close before it was hoisted aloft to the dome.
Dana Rademan Miller, clerk of the Missouri House of Representatives and a member of the commission that supervises Capitol projects, pointed out to a U.S. New & World Report reporter that the commission's main responsibility is to try and preserve the Capitol's original design.
"Ceres is a symbol representing our state's strong agricultural economy, and the majority of individuals I've spoken to are excited about the restoration and her return to the Capitol," Miller said.
Rep. Moon, channeling Moses and the "Golden Calf" in Christian scripture, complained that Americans should have no other god but his god before them, and certainly not honor one. He also viewed it as politically unfair to Christians.
"If we chose to erect a statue of Jesus on, or in, some state property, there would likely be an outcry from those who disagree with our choice," he wrote to Gov. Parsons. "Those who would oppose the statue of Jesus are the same who would argue in support of placing a false god on our Capitol's dome. Should we not stand firm in our beliefs as well by refusing to honor a pagan god?"
One glaring difference, of course, is that
nobody in America seriously believes in any Roman gods anymore
. Or Greek ones. Or any except the Christian one. That a statue of a Roman goddess stands atop a state capitol is about a "religious" in nature as the fact that a lot of U.S. statehouses embody Greek and Roman revival architectural styles.
Americans, along with many Europeans, have long honored ancient Greek and Roman culture, if not its pagan religions, because they represent the source of secular, evidence-based Enlightenment philosophies that still inform Western societies today. And they represent the glory and power of innovative, empirical ideas.
So, it's reassuring that a Republican governor in a conservative, God-fearing red state such as Missouri, ignores the ignoramuses in his own party, along with the state's most strident holy rollers, to view reality as it is and cultural values as they should be.
This statue is simply a beautiful part of Missouri history and poses no danger whatsoever to the state's Christian heritage, and it's an impressive work of art that should be preserved.
It's instructive to point out that Rep. Moon, who was running for a state Senate seat when he protested the 10-foot, four-inch Ceres' return to the Capitol, had previously gained a bit of notoriety in 2017 "when he beheaded and gutted a chicken on Facebook to announced legislation banning abortion in Missouri."
The Ceres statue, which holds a shock of grain and consists of 94 percent copper, was originally placed atop the Capitol in 1924. Its renovation cost about $400,000, part of a $50 million renovation of the entire complex. The statue had never before been brought down from on high.
Of note, Capitol Commission officials report that the statue has been struck more than 300 times by lightning over the years, yet has remained in excellent condition. Previously, a lightning strike burned the building to the ground.
Please sign up (top right) to receive new Godzooks posts via email, Facebook or Twitter
---
Access my memoir below in paperback and Kindle formats on my Amazon page: http://tinyurl.com/y7rzla44. See more info below: