A reader criticized me for unfairly slamming the faithful because I questioned the rationality and ethics of churches that insist on continuing to gather for worship in the midst of a virulent coronavirus pandemic that is killing Americans and cratering our economy.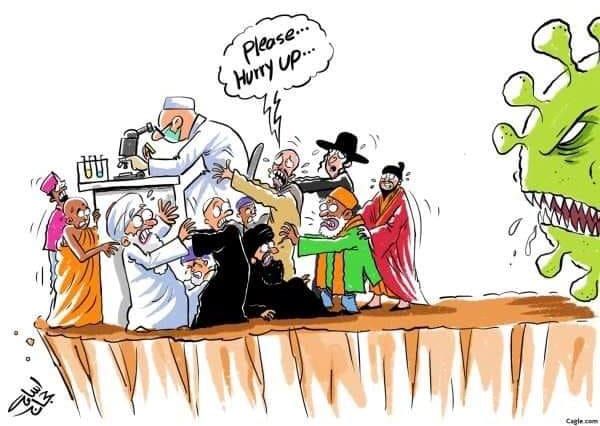 The reader said lots of churches were temporarily closing to protect congregants from the current pestilence. However, these don't cancel out the many that are still joyously worshipping en mass, as always, even defiantly so.
As Hemant Mehta in his The Friendly Atheist blog wrote March 18:
"Many churches are closing down in order to keep their congregations and communities safe in the face of the coronavirus outbreak. Not Apostolic Faith Tabernacle in Clarksville, Tennessee. They're bragging about how they refuse to embrace the 'hysteria' and will therefore be open for Sunday services."
The sign in front of the Tabernacle is clearly a thumb in the eye of Americans who are seriously following the advice of medical experts and federal and state government officials that everyone needs to practice "social distancing" and not gather in groups of 10 or more to blunt the virus' spread. The church's sign reads:
"We're not participating in the coronavirus hysteria — open Sunday, 10 & 6."
A single, large church in South Korea, which requires its adherents to ignore disease and proselytize in public even when sick, is believed to have helped turbo-charge a stratospheric spike in coronavirus infections in that country.
So, now is not the time to be cavalier about anything that can directly affect public health, including communal religious behaviors.
As this cartoon implies, not all godly people in the world, of any religion, are able to fully put their faith in the divine as this potentially fatal disease spreads wantonly across the land. Which is rational. But it also puts into question whether even true believers unreservedly accept that their supposedly omnipotent God will certainly save them in as deadly crisis as this.
Reason strongly suggests that He won't come to the rescue in any predictable, reliable way. This is where push comes to shove, and faith takes a pounding.
The problem is that when people's belief in invisible beings puts everyone's safety as risk, when effective, down-to-earth practices actually exist that can significantly mitigate the hazards of a rampaging infectious disease.
Cartoon/Thanks to The Thinking Atheist
Please sign up (top right) to receive each Godzooks post via email, Facebook or Twitter
---
Marooned at home by the coronavirus? A good book is good company.
Both books by Rick Snedeker below are available in paperback and digital editions on Amazon, here.