Blogger's note: The following article from Free Inquiry magazine in its "The Faith I Left Behind" feature is reprinted with permission of its publisher, the Center for Inquiry. The author, Craig Gosling, is a retired medical illustration professor and an author of children's books, poetry, and short stories. I think it's well worth sharing.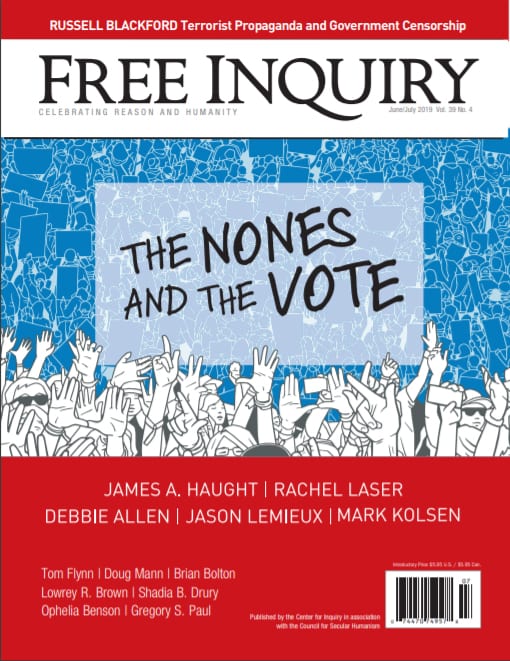 I was born in the Bronx in 1936 into a Christian family. Mother was a "Sunday Christian" who thought it was important to carry on the Christian tradition of her family and her Fundamentalist mother who lived with us. Dad attended church occasionally at the insistence of my mother. I suspect he was an unbeliever who thought his unbelief was best kept to himself. Mother started my religious training when I was four in the prestigious New York City Riverside Church Sunday school system. I attended Sunday school every week until I graduated high school. In addition, I attended a weekly Friday evening fellowship meeting at the church.
Surprisingly, my religious development was not what my mother had hoped for. The Riverside Church was an interdenominational church whose Sunday school teachers were predominantly recruited from the nearby liberal Union Theological Seminary. Although I considered myself a true believer in God and prayed, as was expected of me, that habit was not drilled into me by family or church. Basically, our Sunday school teachers spent more time teaching us about the history and fundamentals of religion than emphasizing miraculous Bible stories. Supernatural religion was taught but not drilled into us. We studied other religions without bias, for which I still remain grateful.
Interestingly, during the final days of Sunday school, our teachers took a survey concerning our beliefs. The students sat in a circle and were asked to express their beliefs or nonbeliefs. The responses were varied, from fundamentalist to atheist. I was in the "believer" majority but remained skeptical about many biblical miracles. A friend surprised us all by proclaiming he was an atheist. Each Sunday, after religious instruction, we students were expected to take part in the planning of our own chapel service for the next week. The final Sunday after the poll was taken, my atheist friend was chosen to give the sermon. The chapel was packed with parents, teachers, and church staff, including ministers. I remember the sermon well, as it reinforced my beliefs and gave voice to my doubts. Atheism was acceptable.
It was during those same informative high school years that I was introduced to science. It was an eye-opener. Like Einstein, who wrote that he rejected religion after reading his first biology book, I too became a skeptic and a growing atheist/agnostic. As I became addicted to science and nature, I found myself slowly rejecting everything supernatural. Noah's ark, dead people leaving their graves, a virgin birth, a man surviving being swallowed by a whale, and the like—it was too much for me to swallow. Finally, as a zoology major in college, I realized that I had slowly evolved from believer to unbeliever. I had evolved from a believer in a supernatural god to a believer in an ambiguous god of nature and, finally, to a professed atheist/agnostic. Today, I also answer to "secular humanist," "freethinker," and even "Pastafarian."
In high school, I was desperate to read secular authors, so I started with Bertrand Russell, Joseph Lewis, and Thomas Paine. I kept my beliefs to myself in college, as all my friends were religious, and I did not want to be ostracized. Later during my professional career, I thought it best to keep my "sacrilegious" beliefs in hibernation, until one day, to my surprise, I discovered that I was not the only atheist in Indianapolis. I attended a Center for Inquiry (CFI) Indiana meeting sponsored by Executive Director Reba Wooden, held in a local member's home. I was hooked and now have been an active member at the Center for Inquiry for almost twenty years. Today, in retirement, I am a confident secular humanist who is ready and willing to discuss and debate my beliefs. I also have enjoyed being a Darwin impersonator at CFI events. Being an active member of CFI has opened a whole new world for me.
As a child, I well remember sitting with my grandmother while she gave me my weekly Bible lesson. Years later, as an adult, I dedicated two poems to her. Reproduced here is During Sunday Service, which pretty much represents my feelings today concerning many so-called Christians.
During Sunday Service

During Sunday Service in the midst of sacred psalms
Reading Holy Scripture, bowed head and touching palms.
That time may not grab attention, nor grip your busy mind
Your thoughts may be wandering, of the secular kind.

What about that business deal or the raise you didn't get?
What about that sexy classmate or that football bet?
What about the college boards or next year's tuition?
Will your car start tonight, what is its condition?

Does the pastor make any sense as he rants and raves?
Do his words strike you with fear, turn calm water to angry waves?
I can't believe kneeling bodies, clasped hands, and bowed heads
really mean they've swallow everything that's said.

Those who choose good reason and make the scientific choice
need more than threats and bribes to believe and to rejoice.
They are closeted atheists, or agnostics if you like.
They are clearly humanists of the secular type.

They come to church with family to meet their social friends;
they put in their appearance because it's the way weeks end.
Freethought will have to wait behind the closet door,
science will have to close its eyes and bite its tongue once more

During Sunday service while the preacher calls you sinner
Let your thoughts wander some, think like you're a winner
Don't buy into punishing the son for the father's sin.
Don't feel guilty for something done by an ancient kin.

Don't believe in miracles, those religious fairy tales.
Don't believe that old Jonah was swallowed by a whale.
Don't believe in virgin birth, that immaculate conception.
Don't believe in walking dead, what a weird perception.

Instead of myth try some reason, mix science in to your brew
Add common sense, a pinch of logic, to your rational stew.
Share your meal with others, longing for good nutrition;
don't worry about your evil nature and your pathway to perdition.

Let altruism reign supreme, let empathy guide your life.
Be sensitive to the plight of others, to their needs and strife;
do what's right as instinct tells you, you'll know what it's about.
Telling right from wrong is easy, not hard to figure out.

During Sunday service in the midst of sacred psalms
Reading holy scriptures, bowed head and touching palms.
Throw off the chains of superstition, miracles, and silly rules.
Substitute skepticism and good science taught in schools.

You'll meet bigots who want to save your soul,
they may threaten to impede you from your stated goals.
They want you to be obedient to dogma, and superstition,
they want to control your mind and wallet without condition.

So, raise your head, unclasp your hands, get up off your knees.
Open your mind, put out your hand to humanism please.
During Sunday services resolve to speak your mind,
always with love and understanding to the faithful blind.
© 2019 The Center for Inquiry. This article originally appeared in Free Inquiry magazine, volume 39, number 4 (June/July 2019).
Please sign up (top right) to receive new Godzooks posts via email, Facebook or Twitter
---
"Erudite yet readable … very illuminating"
— Richard Dawkins, author of "The God Delusion," in praise of "Holy Smoke"

Buy either book on Amazon, here (paperback or ebook)
If anyone is interested in reading "Holy Smoke" and submitting a brief review on its Amazon page, contact me (
snedbedu@gmail.com

) and I'll send you a link to a free ebook copy.