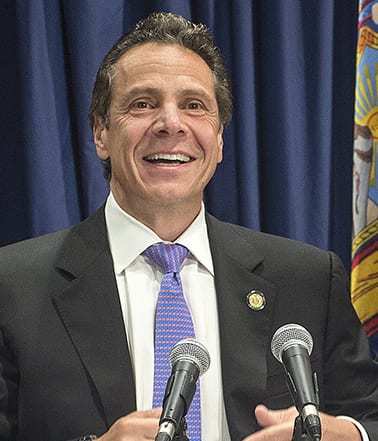 God bless New York Gov. Andrew Cuomo.
Figuratively speaking, of course.
He's the rare (only?) American politician who's audacious enough to plainly state the rational obvious: There's nothing supernatural about the apparent slowing in America of the coronavirus' spread.
At his daily coronavirus press conference Monday, Gov. Cuomo waxed optimistic about the steady slide in the number of cases of the highly infectious disease in his state, but urged reason.
"The number is down because we brought the number down," he told reporters. "God did not do that. Faith did not do that. Destiny did not do that. A lot of pain and suffering did that. That's how it works. It's math. And if you don't continue to do that, you're going to see that number go back up. And that will be a tragedy if that number goes back up."
That's a wholly reasonable assessment of the situation, but not to believers. The conservative online news site The Daily Wire opined in a report on Cuomo's statement that it was "seemingly taking a jab at the faithful."
Cuomo's base message is that it's what human beings do in reality that counts, not what we might believe unverifiable supernatural beings are doing.
"We changed the trajectory of the virus by our actions. And that's the real important lesson to me," he told CNN anchor/reporter Alisyn Camerota, Michael Stone reported in today's Progressive Secular Humanist blog post.
The Daily Wire characterized Cuomo's comments as part of a pattern of what it views as discrimination by political leaders against Americans of faith during the current pandemic.
"The remarks come as leaders across the nation clamp down on the faithful. Some mayors, for example, have even banned drive-in church services, suggesting they somehow violate 'social distancing' measures," the news site opined in an article Tuesday. "Far-left New York City Mayor Bill de Blasio, showcasing another example of religious hostility, threatened to close down houses of worship permanently if they do not abide by his lockdown measures."
Even Christian theocracy-promoting Attorney General Bill Barr has apparently noticed, issuing a "guidance" statement Tuesday "warning leaders to stop targeting the faithful," the Wire reported.
"[E]ven in times of emergency, when reasonable and temporary restrictions are placed on rights, the First Amendment and federal statutory law prohibit discrimination against religious institutions and religious believers," Barr said in a statement. "Thus, government may not impose special restrictions on religious activity that do not also apply to similar nonreligious activity."
Barr asserted that his Justice Department had filed a memo supporting a Mississippi church whose congregants were recently fined $500 per person by the City of Greenville for attending the church's parking lot services. He said Greenville discriminated against the church by not also similarly fining people getting food at drive-in restaurants nearby.
Of course, it could be fairly argued that people gathering for an hour or longer service in a parking lot presents a far different— and riskier — environment than well-spaced people picking up take-out at a drive-in. Still, to Barr, Greenville's fining of church congregants smacks of religious discrimination.
"As we explain in the Statement of Interest, where a state has not acted evenhandedly, it must have a compelling reason to impose restrictions on places of worship and must ensure that those restrictions are narrowly tailored to advance its compelling interest," Barr said in his statement.
Barr isn't the only conservative Christian in America who is complaining about discrimination, but it's a straw man. The reason churches have been targeted for official censure during the pandemic is not because local government authorities are bigoted against faith but because many churches have been thumbing their noses at government directives strictly limiting the number of people who can gather in one place, sometimes as few as 10, and prescribing at least six feet between each.
In California, The Sacramento Bee reports that three pastors from three different counties are suing Gov. Gavin Newsom, State Attorney General Xavier Becerra and other public officials in federal court, claiming that they were unfairly preventing believers from attending church service and criminalizing "the free exercise of religion."
The non-attendance orders came after places of worship became infection hot spots, particularly a New Rochelle synagogue and a Ranch Cordova Christian church, where 71 congregants were infected.
Calfornia isn't alone. A number of states have have implemented stay-at-home orders and limited public gatherings, along with mandates to shutter non-essential businesses.
So, temporary government restrictions to help slow the virus' rate of growth, and to limit deaths, which are nearing 30,000 nationwide at the moment, are clearly rational public-health policies, not pogrom's against religious faith.
Not that religious zealots and their fellow travelers are able to wrap their heads around that concept.
Justin Reed Walker, a U.S. District of Columbia Court of Appeals judge nominated by President Trump (the American Bar Association determined him "unqualified"), over the weekend ruled in favour of On Fire Christian Center in Louisville, Kentucky, which sued Mayor Greg Fischer for purportedly imposing a social-distancing order that prohibited drive-in church services on Easter.
However, no such ban was ever imposed. Mayor Fischer clarified that police would only be "discouraging organizers from proceeding," Barry Duke reported Tuesday in his The Freethinker blog.
"This is not a law enforcement matter, it's a community matter," he said.
So, New York Gov. Cuomo is to be commended for speaking about the pandemic and the mitigating restrictions that are essential to control it — for church groups and everyone else — as what it is, a real-world problem, whose solutions are not to be diluted and weakened by religious sensibilities.
Please sign up (top right) to receive new Godzooks posts via email, Facebook or Twitter
---
"Erudite yet readable … very illuminating"
— Richard Dawkins, author of "The God Delusion," in praise of "Holy Smoke"

Buy either book on Amazon, here (paperback or ebook)