Joe Kennedy, a Washington state high school football coach, had entertained a habit since 2008 of leading his players in post-game prayers on the 50-yard line.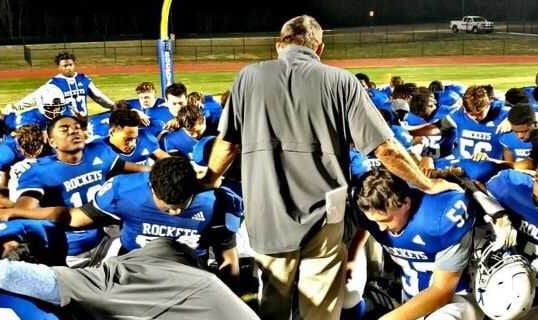 But Bremerton School District authorities eventually, in 2015, informally told him to stop, realizing the activity's inherent violation of the U.S. Constitution's explicit church-state divide.
Kennedy refused. So the district decided to play hard ball.
"After Mr. Kennedy prayed at the 50-yard line with players following a game on Oct. 16, 2015, the district sent a letter to the coach requesting him not to engage in any 'demonstrative religious activity' that was 'readily observable,'" the Washington Times reported in a Jan. 22 article this year. "He prayed again the next week and was subsequently placed on administrative leave. Bremerton schools later opted to not rehire him."
Then, after coach Kennedy was sacked, he began attending games in Bremerton team regalia and, in apparent protest, prayed publicly in the stands.
What happened thereafter illustrates the tricky challenge of upholding the First Amendment's free speech and free religion guarantees, while also holding constitutional violators accountable. To summarize:
Kennedy then filed a lawsuit against the district, claiming that it "infringed upon his religious and personal rights. He sought an injunction to reclaim his job and to get a letter from the district explicitly allowing him to "pray privately" on the football field.
"Students shouldn't have to pray to play on their high school football team," Rachel Laser, chief officer of Americans United for Separation of Church and State, was quoted as saying in the Times article. "The coach's actions were a clear violation of religious freedom, forcing kids to choose between their own beliefs and appeasing the man who decides the lineup for the game. This is not a dilemma any child should face."
The U.S. District Court and the U.S. Court of Appeals for the 9th Circuit ruled against Kennedy in 2017. Circuit Judge Milan D. Smith Jr. said in the majority decision that the coach "took advantage of his position to press his particular views upon the impressionable and captive minds before him," the Washington Times The lower-court ruling held with the reasoning in Garcetti v. Caballos (2006), in which the U.S. Supreme Court decided that "First Amendment protections apply only to public officials' speech in a private context rather than during the exercise of his duties"
In 2019, the U.S. Supreme Court declined to review the case, 5-4, by not issuing a writ of certiorari, which formally requests all case findings from the lower courts for review. However, the court's four most conservative members — Samuel Alito, Neil Gorsuch, Brett Kavanaugh and Clarence Thomas — expressed deep reservations, contending the court needed more information to finally decide the matter.
In the quasi-dissenting statement (the conservative justices agreed with the ruling but were still conflicted), Justice Alito wrote that the four justices believed the appellate court's application of Garcetti v. Caballos was overly broad and lacking adequate evidence.
"What is perhaps most troubling about the Ninth Circuit's opinion is language that can be understood to mean that a coach's duty to serve as a good role model requires the coach to refrain from any manifestation of religious faith — even when the coach is plainly not on duty," Alito wrote.
Alito noted that the lower court had cited Kennedy's prayerful behavior in the stands after he was sacked, and the difficulty of determining whether he was technically "on duty" while praying with players after games. For what it's worth, while the original suit was in progress, then-candidate Donald Trump publicly tweeted support for Kennedy, the Times reported.
Mike Berry, deputy general counsel for the conservative nonprofit First Liberty, which represented Kennedy in his lawsuit, revealed the misunderstanding at the root of this case.
"Coach [Kennedy] started [praying] from the very first game he ever coached, in 2008," Berry told the Times. "Two or three students saw him doing this and approached him and asked him, 'Are we allowed to do that?' And, ironically, Coach told them, 'It's a free country.'"
Yet, even in America, freedom can be restricted for specific, necessary reasons, such as the freedom to yell "Fire!" in a crowded theater — or for tax-funded coaches to promote religion (i.e. Christian prayer) to students under their tutelage.
So in the language of the Supreme Court's Garcetti v. Cabellos decision, freedom of speech and religious expression is not absolute — "When public employees make statements pursuant to their official duties, they are not speaking as citizens for First Amendment purposes, and the Constitution does not insulate their communications from employer discipline." And with that comes certain special constitutional responsibilities of teachers and coaches to protect their charges.
In its decision, the Ninth Circuit appellate court noted the tradition of Friday night football games across the nation and that citizens gather at these "to root for a common cause." However, the decision importantly added:
"While we 'recognize the important role that public worship plays in many communities, as well as the sincere desire to include public prayer as a part of [these] occasions,' such activity can promote disunity along religious lines, and risks alienating valued community members from an environment that must be open and welcoming to all. That is why the 'preservation and transmission of religious beliefs and worship is a responsibility and a choice committed to the private sphere, which itself is promised freedom to pursue that mission.'"
The misassumption at the root of this case is the evangelical Christian idea that what is absolutely essential to their lives (i.e., prayer and spreading their faith as widely and liberally as possible) is also essential to everyone else, and should be unrestricted.
Not to belabor reality, but the Dark Ages of monolithic Christianity are long over and such a theocratic society was never intended for America in the first place.
Please sign up (top right) to receive new Godzooks posts via email, Facebook or Twitter
---
"Erudite yet readable … very illuminating"
— Richard Dawkins, author of "The God Delusion," in praise of "Holy Smoke"

Buy either book on Amazon, here (paperback or ebook)
If anyone is interested in reading "Holy Smoke" and submitting a brief review on its Amazon page, contact me (
snedbedu@gmail.com

) and I'll send you a link to a free ebook copy.