A California federal judge on April 29 ordered pro-life activist David Daleiden and his Center for Medical Progress (CMP) to pay more than $1.2 million in punitive damages to Planned Parenthood (PP) on 15 felony fraud counts.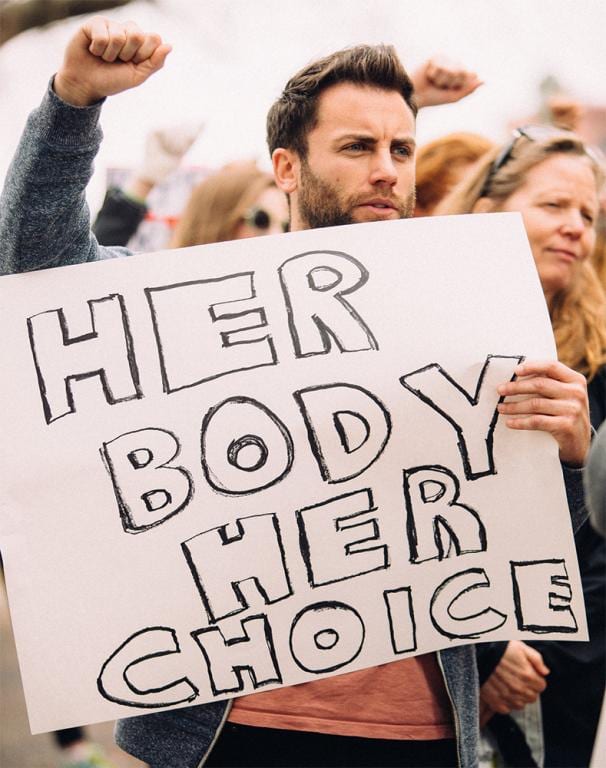 A jury in U.S. Northern District of California Judge William H. Orrick's court in November 2019 found Daleiden and his co-defendants guilty of "felony invasion of privacy, including creating a fake biotech firm to pose as fetal tissue buyers and using fake names to enter National Abortion Federation meetings" during 2014 and 2015 videotape events, the Christian Post reported.
Read Judge Orrick's court order here.
The Christian Right connection to this case is illustrated by the defendant's legal support, which comes from the Thomas More Law Center, the legal arm of the conservative, Catholicism-aligned Thomas More Society. The society's mission, according to its website, is to:
"Preserve America's Judeo-Christian heritage; Defend the religious freedom of Christians; Restore time-honored moral and family values; Protect the sanctity of human life; Promote a strong national defense and a free and sovereign United States of America."
Apparently, its mission does not extend to condemning blatant fraud and dishonesty in its clients.
Daleiden is expected to appeal, although the federal Ninth Circuit Court of Appeals last June declined to review (thus upholding) an earlier $195,000 fine levied by Orrick against Daleiden "for using video footage which supposedly violated a gag order imposed by a lower court."
Orrick ruled in favor of PP's damages claim, citing the 2019 jury verdict that found the defendants guilty of violating a number of laws when CMP confederates fraudulently infiltrated PP facilities and events to expose the women's reproductive-health group's activities.
In addition to issuing a permanent injunction barring CMP and its activist allies from attending future PP events, Orrick ruled them liable for hefty sums of money. The monetary damages included $1,259,370 under the Racketeer Influenced and Corrupt Organizations Act, and attorney's fees. In his decision, Orrick wrote that,
"… the illegal and fraudulent prongs of the UCL are satisfied given the jury's verdict that defendants engaged in numerous illegal and fraudulent acts in California and emanating from California, against California-based plaintiffs and others, committed in violation of California law, Federal law, and the laws of other jurisdictions."
The legal issue in the case was PP's claim that CMP violated California's Unfair Competition Law. After infiltrating Planned Parenthood in 2015, CMP published a series of online undercover videos of its personnel discussing the acquisition of aborted fetal tissue and organs with representatives of biotech companies.
CMP complained after Orrick's decision this week that the judge was not impartial.
"Lady Justice was not blind in this trial, Judge [Orrick]'s rulings against CMP et al created bias against us with jury," CMP said in a statement, labeling the judge's decision a "dangerous precedent."
Planned Parenthood, on the other hand, was "thrilled" with the verdict.
"The jury recognized that the people behind this fraudulent attack broke the law in order to advance their goals of banning safe, legal abortion in this country, and stopping PP health centers from serving the patients who depend on us," declared Planned Parenthood in a statement.
The pro-life movement, which is mostly conservative Christian, has for decades been trying to undermine the U.S. Supreme Court's landmark 1973 Roe v. Wade decision legalizing abortion under certain restrictions throughout the U.S. The movement's primary tactics have been to challenge state abortion laws in court, in hope of enticing the Supreme Court to review them — and hopefully dilute current statutes to greatly complicate abortion access for American women.
The website USLegal.com gives a good summary of the legality of abortion in the U.S.:
"Abortion is defined as the termination of pregnancy by various methods, including medical surgery, before the fetus is able to sustain independent life. In Roe v. Wade, 410 U. S. 113 (1973), the U. S. Supreme Court determined that the Constitution protects a woman's decision whether or not to terminate her pregnancy. Specifically, the Court ruled that during the first trimester of pregnancy the state cannot bar any woman from obtaining an abortion from a licensed physician. During the second trimester, the state can regulate the abortion procedure only to protect the woman's health. In the third trimester, the state may regulate to protect fetal life, but not at the expense of the woman's life or health."
So, the abortions that Planned Parenthood facilitates or performs for clients are completely legal. David Daleiden and his Christian Right brethren, whose views on reality are skewed by scripture and "traditional Judeo-Christian values," whatever those are, just personally don't like abortion and want to force those views on the rest of us.
But the secular government's Supreme Court-vetted federal laws have consistently declared abortion legal in every state, which makes whatever pro-lifers may privately want irrelevant.
Please sign up (top right) to receive new Godzooks posts via email, Facebook or Twitter
---
"Erudite yet readable … very illuminating"
— Richard Dawkins, author of "The God Delusion," in praise of "Holy Smoke"

Buy either book on Amazon, here (paperback or ebook editions)