This cartoon simply explains where "God" actually resides: solely in subjective human imagination, not objective reality.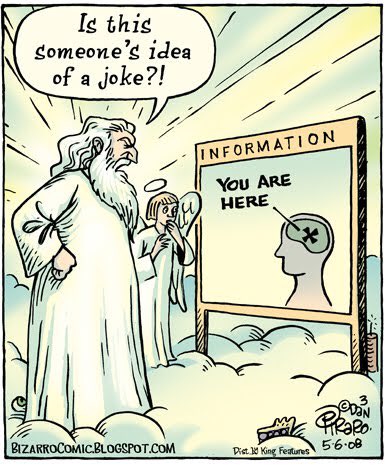 Not that that seems to deter true believers from their belief that an omnipotent deity exists in the real world and personally directs their lives.
Yet, nontheists are likewise undeterred in their observation that supposed divines must be myths because they are wholly unsubstantiated in the world.
What we do know from what believers tell us is that their "God" resides only within the folds of their brains because they have been unable throughout history to actualize any such being to convince those whose brains lack their sense of divine presence (like mine).
This cartoon implies that "God" would be insulted to be told that "He" lives only in the brains of his human creations, when, as every Christian is taught from the cradle, the "supreme being who made all things" is literally everywhere, not just consigned to that lumpy human organ.
The truth hurts.
Please sign up (top right) to receive new Godzooks! posts via email, Facebook or Twitter
---
"Erudite yet readable … very illuminating"
— Richard Dawkins, author of "The God Delusion," in praise of "Holy Smoke"

Buy either book on Amazon, here (paperback or ebook editions)