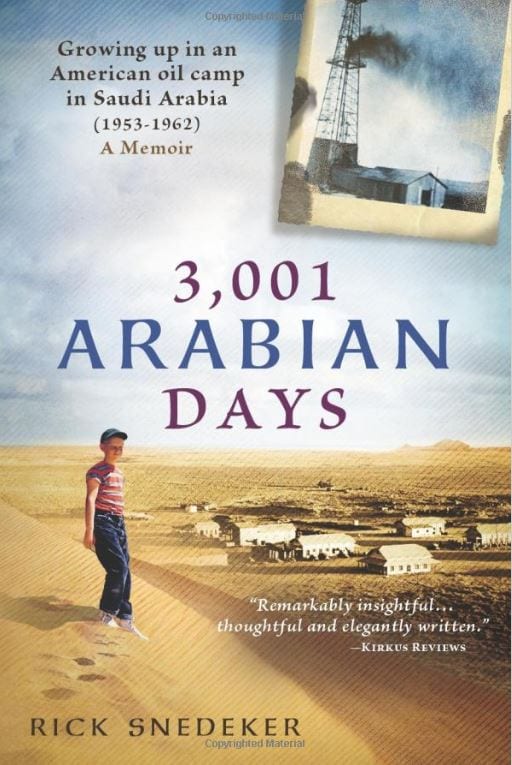 My memoir about growing up in an American oil camp in Saudi Arabia in the mid-20th century — 3,001 Arabian Days — last night received the third place award in the Travel/Outdoors category at the Colorado Independent Publishers Association's (CIPA) 26th annual Evvy Awards ceremony.
The ceremony was held virtually on CIPA's YouTube site (See the video, here. Naming of the Travel/Outdoors winners begins at 14:30.)
CIPA reported that 351 book titles were submitted in 42 categories in the literary contest. A nonprofit cooperative of authors, independent book publishers and publishing professionals, CIPA was founded in 1992. It's mission:
"To encourage cooperative efforts and the free exchange of information, experience and expertise to help our members achieve and prosper while also assisting the writing and marketing of their books through cooperative ventures, education and networking."
The first place Travel/Outdoors winner at Thursday's CIPA ceremony was Hiking Rocky Mountain National Park: The Essential Guide (Rocky Trail Press), written by Erik Stensland. Second place was Route 36: Ohio to Colorado, America's Heartland Highway (WF Publishing), Allan McCallister Ferguson.
3,001 Arabian Days, published in 2018 and available in paperback and e-book editions, was edited by Janet Spencer King and self-published in conjunction with Station Square Media, both of New York City. The title has been listed consistently in the top five for the past few months among Amazon's Kindle e-book titles in the Travel/Mideast/Saudi Arabia category.
Please sign up (top right) to receive new Godzooks! posts via email, Facebook or Twitter
---
3,001 Arabian Days

—

3rd Place, Colorado Independent Publishers Association 2020 Evvy Awards
Holy Smoke

—

"Erudite yet readable … very illuminating" (Richard Dawkins, The God Delusion)

Buy either book on Amazon, here (paperback or ebook editions)