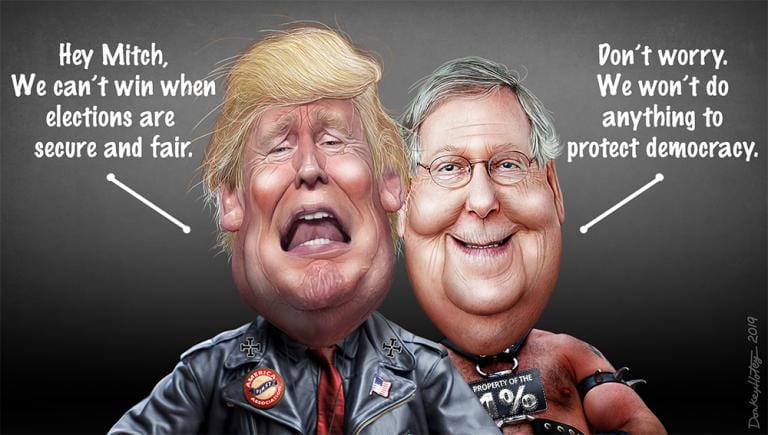 Seriously, is this where we're at in this (presumably) once-honorable country?
Two events in the past couple of days are making me worry we very well might be:
Senate Majority Leader Mitch McConnell's made a rushed announcement Friday, even before the newly deceased body of liberal U.S. Supreme Court (SCOTUS) Justice Ruth Bader Ginsburg had cooled (she died that day), that he would fast-walk a Senate vote on her (read: ultra-conservative) replacement. McConnell's lieutenant, Sen. John Thune of South Dakota, my state unfortunately, also went public to second his boss' despicable intent.
Federal Judge Stanley Bastian of the Eastern Washington U.S. District Court excoriated the Trump administration Thursday for purposely trying to "disenfranchise" voters in the Nov. 3 national elections by sabotaging the U.S. Postal Service's (USPS) capacity to effectively receive and deliver the historically enormous number of mail-in ballots expected in this pandemic-strained election.
One refers to an act that involves "titanic hypocrisy" (as CNN pundit Chris Cillizza terms it), the other to one that is nearly if not actually criminal, considering that when the Russians tried to sabotage our elections in 2016, it was considered an actual enemy attack on our democracy.
In both instances, we have clearly seen the enemy of fair play and national honor, and it is us. By which I mean the conservative Republican fraction of us.
To say, "That's just politics," is self-serving nonsense. Why would we have our leaders behave in ways that common folks all over America would be loudly condemned for within their own families, among friends, and in their communities?
The back stories:
In March 2016, with some eight months left in second term, President Barack Obama nominated Merrick Garland to replace Antonin Scalia on the Supreme Court. Scalia had died in February. Then as now, Republicans controlled the Senate, which confers SCOTUS nominees, and then-Majority Leader McConnell successfully moved to block Garland from even getting a confirmation hearing before the Senate, much less a vote, while Obama was still president.
This was McConnell's rationale at the time:
"It seems clear President Obama made this nomination not, not with the intent of seeing the nominee confirmed, but in order to politicize it for purposes of the election. I believe the overwhelming view of the Republican Conference in the Senate is that this nomination should not be filled, this vacancy should not be filled by this lame duck president.

"… The American people should have a voice in the selection of the next Supreme Court justice. Therefore, this vacancy should not be filled until we have a new president."
In fact, the politicization was McConnell's. As Cillizza points out, correctly, Obama picked Garland because he was a "middle-of-the-road" jurist who the president felt had a better chance of Senate confirmation in the hot partisan atmosphere in Congress at the time.
So, why now, opposite its full-throated refusal in 2016, would the Senate suddenly allow itself to confirm a SCOTUS nominee not only during the term of a potentially lame-duck president (if Trump loses in November) but also a possible lame-duck Senate (if the GOP loses its control of that body in the coming election)? And only 45 days before the election.
The reason is pure politics. Ethics, fairness, integrity and morality apparently have zero to do with it (and, in fact, are obviously seen by Republicans as niggling obstacles).
"Trump is badly trailing former Vice President Joe Biden nationally and in virtually every swing state. Things look so bad right now that Republicans are in danger of not just losing the White House, but also their Senate majority," Cillizza writes. "Faced with that possibility, the party is willing to do anything — and find ways to rationalize what they do — to get another conservative on the Court if there is a vacancy. Because, they believe, that any flack they take for this outrageous hypocrisy will be worth it to have a clear conservative majority in the Court for the next generation."
And regarding the Post Office shenanigans:
You may recall that Trump recently fired the USPS chief and replaced him with Postmaster General Louis DeJoy, a massive Trump donor, who suspiciously began widely changing postal policies and expansively removing hardware (letter-sorting machines, postal drop-off boxes, etc.) from the system nationwide ahead of November's vote. USPS and state election officials, plus alarmed elected representatives, began to loudly complain that DeJoy's dismantlings would have an extremely adverse effect on the nation's ability to get mail-in ballots to voters and have them delivered in time to be counted. And it would make it much harder for mail-in voters to vote. DeJoy and the administration claimed, no, it was just doing things the USPS previously. Rationality screamed at the high improbability of that assertion, and the issue ended up in the courts.
In a scathing takedown of the Trump administration and its hand-picked and experience-less new USPS postmaster general, Judge Bastian wrote:
"Although not necessarily apparent on the surface, at the heart of DeJoy's and the Postal Service's actions is voter disenfranchisement. This is evident in President Trump's highly partisan words and tweets, the actual impact of the changes on primary elections that resulted in uncounted ballots, and recent attempts and lawsuits by the Republican National Committee and President Trump's campaign to stop the States' efforts to bypass the Postal Service by utilizing ballot drop boxes, as well as the timing of the changes.

"It is easy to conclude that the recent Postal Services' changes is an intentional effort on the part of the current Administration to disrupt and challenge the legitimacy of upcoming local, state, and federal elections, especially given that 72% of the … high speed mail sorting machines that were decommissioned were located in counties where Hillary Clinton received the most votes in 2016."
How is that not criminal?
If the American administration and the political party that controls it is comfortable, even gleeful, wallowing in such as swamp of hypocrisy and criminality, I fear for our country.
Thankfully, at least a few people (who are not Republican) are willing to stand up and condemn this dangerous and dishonorable duplicity.
After Joe Biden wins in November (as the polls strongly indicate he will), and the Senate reverts to Democratic control, perhaps we can expand the SCOTUS to 12 justices (from the current nine), and bring some badly needed ideological balance to the court.
Please sign up (top right) to receive new Godzooks! posts via email, Facebook or Twitter
---
3,001 Arabian Days

—

3rd Place, Colorado Independent Publishers Association 2020 Evvy Awards
Holy Smoke

—

"Erudite yet readable … very illuminating" (Richard Dawkins, The God Delusion)

Buy either book on Amazon, here (paperback or ebook editions)