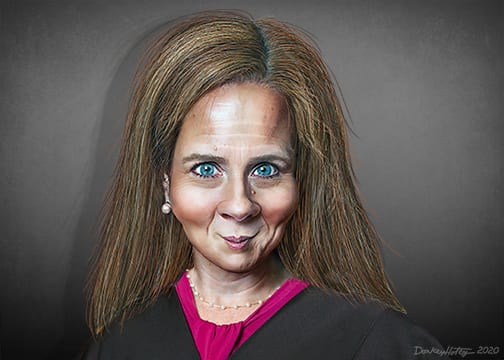 It was too little too late, of course.
But it is still encouraging that a major, progressive Catholic publication on Oct. 21 strongly denounced in advance Monday's all-but-inevitable U.S. Senate confirmation of Judge Amy Coney Barrett as an associate justice on the Supreme Court of the United States (SCOTUS).
It an editorial, the National Catholic Reporter (NCR) rejected Judge Barrett's candidacy as overtly political and her judicial character as one of "extreme moral relativism." The editorial also criticized her as a willing pawn in the partisan political machinations of U.S. President Donald Trump and Senate Majority Leader Mitch McConnell as they continue to pack the federal courts with hundreds of Republican religious conservatives (now including Barrett herself).
With ironic hypocrisy, McConnell and the rest of the GOP are now trying to tar Trump's presidential rival, Joe Biden, as secretly planning to pack the court by adding progressive, Democratic members if he's elected Nov. 3 (and the polling strongly favors Biden at the moment). With Barrett's confirmation, the court now has a 6-3 conservative majority (including five Catholics), with three conservatives being added under Trump, two of them arguably improperly — Neil Gorsuch and now Barrett. The third, Brett Kavanaugh, was questionable, at best, after a fellow student, Christine Blasey Ford, accused him of a long-ago attempted rape in high school ("credibly," according to some key senators who conducted an inquiry).
The staff-endorsed NCR editorial, titled "Barrett's moral relativism is cause for rejection from the bench," asserts:
"We believed it was wrong for the Senate to consider this nomination in the first place given the precedent set four years ago when Justice Antonin Scalia died in February, nine months before the election. Senate Majority Leader Mitch McConnell refused to even hold hearings on the nomination of Judge Merrick Garland [by President Barak Obama], saying repeatedly that the American people should have a say in the matter. This year, when the death of Justice Ruth Bader Ginsburg created a vacancy less than nine weeks before Election Day, McConnell has seen fit to ram through the nomination.

"The hypocrisy is rank, and it is impossible to see how rushing this nomination will be good for our democracy. The enmity caused by the Republicans' shameful double standard will not soon dissipate, not when lifetime appointments are at stake."

"… Her willingness to become a collaborator, complete with the required adoring look at the president at the super-spreader event at which she was nominated, is not enough to justify a negative vote, but it set the table."
The editorial zeroed in on Barrett's refusal during her Senate nomination hearing to acknowledge that climate change is happening. She said instead only that the issue is "a very contentious matter of public debate."
"It is certainly the case that Trump is not sure what, if anything, he makes of climate change," the NCR editorial opines. "But let's be clear: Denying climate change is not that far from QAnon conspiracy theories. If Barrett really has doubts on the subject, she is not intellectually qualified to serve on the bench, and we suspect she knows that. She was simply willing to embrace moral relativism rather than risk a nasty tweet from the man who nominated her."
The NCR also took issue with her claiming to not recall whether prior to her nomination she was aware that President Trump publicly stated that he was committed to nominating judges who would strike down the Affordable Care Act (ACA).
"Really?" NCR asked incredulously. "You would think that in the days leading up to her nomination, Barrett would have followed closely, or been briefed upon, what the president did and did not say about his criteria in selecting a judge."
Barrett's inexplicable refusal to acknowledge at her hearing whether she believed voter intimidation at polls was against the law also raised NCR staff eyebrows.
The staff editorial also expressed spiritual wariness of the "charismatic" (speaking in tongues, Holy Spirit enthralled, faith healing believing, etc.), authoritarian and patriarchal People of Praise (POP) faith organization Barrett has long belonged to and which even former members have labeled a "cult." In it, women are doctrinally subservient to men. NCR contends that POP, with a few thousand members in 22 states, is a "fringe" Catholic group that doesn't strictly comply with the formal doctrines of the official mainstream faith.
What seems to worry the NCR editorial signers the most, however, is Barrett's uber-conservative "originalist" Constitutional philosophy, which she said she shares with late Justice Scalia, who was easily the court's most reliably conservative member during his tenure.
"In her worldview, the Constitution is virtually a self-interpreting text. If that were so, why would we need judges? In fact, in claiming that the meaning of the Constitution is fixed, and she can discern it, Barrett is actually doing exactly what she said she would never do."
The editorial points out that the jurist Barrett will replace, late Justice Ruth Bader Ginsburg, believed the opposite: that the Constitution is a living, breathing document that needs to be reinterpreted as society evolves and its cultural imperatives and needs change.
"It is [Judge Barrett's] bad faith in discussing the law that warrants disqualifying her," the editorial stresses. "About the evils of climate change, access to health care and voter intimidation, Americans deserve better than a relativist dressed in originalist drag."
However, as I said earlier, it's now too late. Barrett is already on the court as you read this.
Keep in mind that the first cases she will be able to rule on will concern dismantling the ACA and state laws making it harder for Americans to vote, darling issues not only for President Trump but for all Republicans.
In fact, the president has said publicly that's why he nominated Judge Barrett in the first place.
If she doesn't recuse herself on every such case, she's complicit in the political skulduggery.
Please sign up (top right) to receive new Godzooks! posts via email, Facebook or Twitter
---

Buy either book on Amazon, here (paperback or ebook editions)