Please sign up at right to receive all new GODZOOKS! blog posts >>>>>>>>>>

I must admit that whereas I've heard of the globally celebrated Icelandic singer-songwriter Björk (pronounced byurk), I'd never heard her strange and fascinating songs or read her lyrics until last week.
To my mind, though, the fact that she's a famous nontheist that I'd never heard of is a missed opportunity for those of us (of a certain age) who have lived our lives largely unaware of her (and of acclaimed artists like her) — and it's also a miss for the continuing program to globally spread the atheist and humanist message of substantive reality.
Americans, in particular, are continuously bombarded with religious music, mostly Christian and gospel, deriving from the Southern "country music" world and its attendant mega-industry. Many Christian-themed country tunes have long provided much of the traditional backbeat and sound of American life — from "Amazing Grace" to "Battle Hymn of the Republic" to "How Great is Our God" to "How Great Thou Art" to "Rock of Ages" to Whitney Houston's "I Look to You," and on and on.
But where are the nontheist-themed songs? There's no such category in the music business.
In 2010, actor and comedian Steve Martin performed his satirical "Atheists Don't Have No Songs" song with the Steep Canyon Rangers group at music festivals, and it became a YouTube hit. Here's a snippet of the lyrics:
Christians have their hymns and pages,
Hava Nagila's for the Jews,
Baptists have the rock of ages,
Atheists just sing the blues.
It's tongue-in-cheek but encapsulates a truth, as a 2012 article in The Humanist magazine points out:
"[T]here does exist a real gap in the way music is categorized that can lend itself to the idea that there really are no songs for atheists. As Steve Martin noted, many music genres exist for 'religious' music, including gospel, Christian, chants, devotional, and hymns, to name just a few, but there is no standard category of atheist music in regular use. Apple's iTunes doesn't have it. Neither does Amazon or Pandora. A music search can be done for the word atheist and some results can be found—if the word is in the title or description of a particular song or CD. However, not only would that leave out songs with descriptions that use other godless terms, that method of searching will also leave a lot behind due to inaccurate and incomplete information being searched."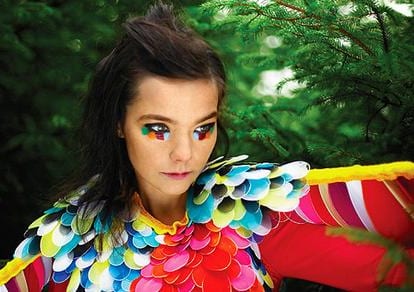 Which is to also say that if you're not already a Björk fan, for example, you probably have no idea that she's nontheistic — because you had no convenient way to learn it. And in terms of the spread of certain cultural memes, this deficit matters enormously. Celebrities, especially musicians, can have a huge impact on public opinion, values and norms because of the emotionally viral nature of their compelling craft. Think of The Beatles, Bob Dylan, Bruce Springsteen and Dolly Parton, to name just a tiny few musical-celebrity superduperstars, and their ginormous effect on not only American but world culture.
Right now, religious "nones" in the U.S., including atheists, agnostics and people who have no religious affiliations, comprise roughly a quarter of the population, a larger share than any of the main religious denominations (e.g., Catholics, Protestants, Jews and Muslims). And we heathens are projected to even outstrip all Christians in the American religious plurality in the near future.
Still, we nonreligious folks "don't have no songs" that people will randomly run into online, unlike the tsunami of hits that greets any random internet surfer who types the keyword entry: "Christian music."
Since bumping into Björk online recently, I have read her bio, listened to her music and read some of her lyrics to familiarize someone who is so clearly adored in various segments of the music world and global societies. Her music is both quirky and gorgeous, and it's clear to me why she's a superstar who has sold between 20-40 million records, tapes and CDs worldwide and reaped hordes of top music-industry awards over decades starting in the 1990s.
She even detoured in her music career to star in the 2000 Lars von Trier film Dancer in the Dark, winning the Best Actress Award at the 2000 Cannes Film Festival. Her original song for the film, "I've Seen It All," was nominated for the Academy Award for Best Original Song.
She's also a nonbeliever in supernatural things, although a lot of her concerts and outfits are decidedly otherworldly.
In 2010, the nontheist group Atheist Ireland published 25 "blasphemous" quotations by notable people — Björk was on the list — to protest a blasphemy law that went into effect that year, codifying a $35,800 fine for convicted transgressors. Other "blasphemous" notables on the list included Jesus, the Islamic prophet Mohammed, Mark Twain, Frank Zappa and Salman Rushdie. Björk's quote:
"I do not believe in religion, but if I had to choose one it would be Buddhism. It seems more livable, closer to men… I've been reading about reincarnation, and the Buddhists say we come back as animals and they refer to them as lesser beings. Well, animals aren't lesser beings, they're just like us. So I say fuck the Buddhists."
A year earlier, the singer told Hot Press magazine:
"I've got my own religion. … The United Nations asked people from all over the world a series of questions. Iceland stuck out on one thing. When we were asked what do we believe, 90% said, 'ourselves'. I think I'm in that group. If I get into trouble, there's no God or Allah to sort me out. I have to do it myself."
The Religion News Service in 2014 published a list of the top 20 "atheist anthems," which included Björk's "It's In Our Hands" (2002).
Fortunately, in January this year, Ireland became the eighth country since 2015 to formally abolish its anti-blasphemy law. The Irish people, in 2018 referendum, "voted overwhelmingly" to remove a clause in the nation's Constitution that made "blasphemy" punishable.
It might have happened much quicker if more people there had heard Björk's music and contemplated her deep, sometimes dark lyrics about our non-divine existence in reality.
---

Buy either book on Amazon, here (paperback or ebook editions)