Please sign up at right to receive each new GODZOOKS! blog post >>>>>>>>>>>>>>>>>>>>>>>>>>
Nonreligious voters are on track to possibly become a more potent political demographic for Democrats than the much-ballyhooed white evangelical Christians who comprise the majority of Donald Trump's base are for Republicans.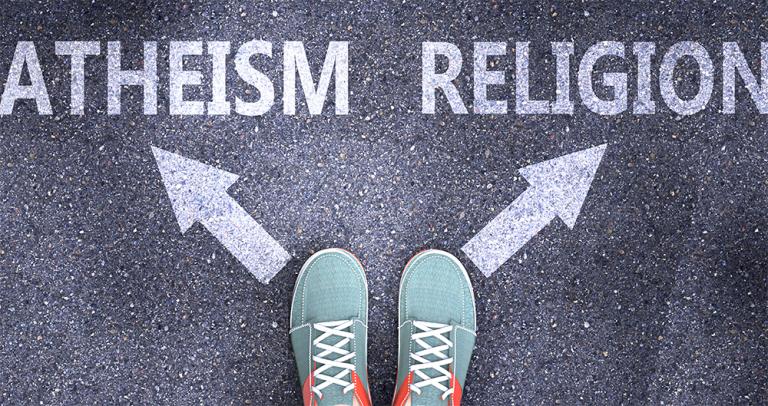 But it's going to be tricky whether Democrats continue to enjoy success enticing most of the religious yawners and naysayers into their ever-more-diverse political tent.
Today, nonreligious Americans comprise 26 percent of the overall population and 21 percent of likely voters who self-identify as "nones," those affiliated with no particular religion, according to Pew Research Center's authoritative 2019 survey on American religion, "In U.S., Decline in Christianity Continues at Rapid pace."
But U.S. heathens and shruggers are in a dead heat with white evangelicals, who at the moment make up 22 percent of the U.S. electorate — one point more than "nones." So it appears to be anybody's political ball game from here on out.
However, nonreligious Americans seem to have greater momentum. Pew reported that the proportion of generally nonreligious citizens — atheists, agnostics and "nones" — surged from 17 percent of likely voters in 2009 to a hair more than the aforementioned 21 percent in 2020. This advantage comes at the expense of Protestants (whose share among voters dropped from 51 percent to 43 percent during the same period) and Catholics (23 percent down to 20 percent).
Adding insult to injury to religious voters, "nones" are increasingly represented by young people, particularly millennials (those born during 1981-1996). Forty percent of millennials are religiously unaffiliated and only 49 percent are Christian, when the latter group has traditionally represented a large majority.
It's not a slam dunk for Democrats in attracting nonreligious voters into their fold, because, nonintuitive as it may seem, "nones" are also joining the Republican Party — and in increasing numbers. A Jan. 19 article in The Humanist magazine online warns:
"… it isn't a law of nature that nones will continue to vote Democrat, especially if their political interests continue to be ignored. While nones make up a growing percentage of the Democratic base, given the rise of the nones across American society as a whole, it is important to note that the share of nonreligious Republican voters has also risen. In 2009, just 10 percent of Republican supporters were nonreligious whereas by 2019 this number had climbed to 16 percent—an increase of more than 50 percent in a decade. The nonreligious are a growing base of voters that could in theory be captured by either party. It follows that changes in the makeup of both parties—a decrease in religious members and an increase of nones—has the potential to shift the parties' policy goals and platforms."
Citing data from the AP VoteCast survey just before the recent presidential election, The Humanist article noted that "nones" "overwhelmingly planned to vote for Biden at 72 percent compared to 26 percent for Donald Trump." If the actual votes proved out the survey, that would have meant 21 million votes for Biden per that group and only 7 million for Trump. On the flip side, 81 percent of white evangelicals ultimately voted for Trump, compared to 17 percent for Biden.
But the future looks bleaker for Republicans regarding religious vs. irreligious voters. As faithlessness grows in the overall population and young Americans continue to track significantly nonreligious, while faith groups continue to erode as they have for decades, the handwriting seems to be on the wall.
"As older, more religious generations die out, they will be replaced by the younger, more irreligious millennials," the authors note in The Humanist piece. "These changes have already reduced the once-dominant Protestant majority to a minority. All this suggests not simply a waning religious population over time but a potential future with a permanent Christian minority that must contend with an increasingly secular electorate that doesn't necessarily share their interests."
The authors also project that as evangelicals continue trying to privilege themselves in American law, allowing believers to legally discriminate against others to protect their own personal deeply held religious beliefs (with U.S. Supreme Court acquiescence), nonreligious Americans can be expected to increasingly push back:
"As court rulings and legislation on religious liberty weaken the separation of church and state, this will likely increase the tensions between the nones and the religious, and potentially motivate more nones to organize to exert political pressure on policymakers. This is already beginning to happen."
With the vast majority of nonreligious Americans favoring progressive causes, the future of American politics promises to tilt increasingly leftward, the authors project. Yet, because "nones" are relatively independent compared to white evangelicals — they lack the institutional base that established faiths provide — their political views can be expected to be more diverse.
But secular Americans should focus on this figure — 71 million — the estimated number of votes nonreligious voters swung to Biden in 2020.
Although the Democratic establishment has yet to pointedly court the nonreligious vote, it will be increasingly forced to as this important and surging demographic grows.
The potential political ramifications are enormous.
---

Buy either book on Amazon, here (paperback or ebook editions)