Please sign up at right to receive all new GODZOOKS! blog posts >>>>>>>>>>>>>>>>>>>>>>>>>>>>>>>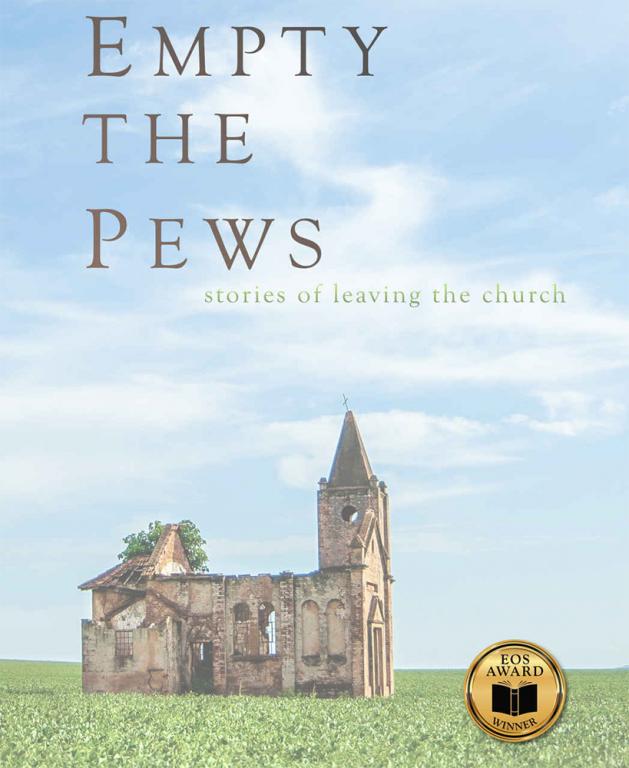 "These are our stories — of heartbreak and hope, terror and courage, rupture and reconciliation. We hope they'll resonate with you in some way, whether you're a believer, a former believer, or one of the increasing number of people raised without religion. Love it or hate it, America has begun to empty the pews. May this anthology usher in a new form of testimony."
This passage above ends the introduction to a book of essays — Empty the Pews (2020) —written by mostly young former fundamentalist Christian believers about their difficult journeys after leaving the faith traditions they were born into.
One such exvangelical, Chrissy Stroop, is co-editor of the book with Lauren O'Neal, another fallen evangelical, coined the Twitter hashtag #EmptyThePews in 2016 after Donald Trump's alarming election "as a call to take a moral stance against the kind of fundamentalist, authoritarian, or otherwise conservative churches that helped bring about the current political situation and all its cruelty, division, and hate," the editors wrote in their introduction to the book.
Stroop and O'Neal reference a recent University of California, Berkeley, study that asserts one key driver of America's "rise is irreligion" and "remarkably rapid secularization" in recent years is a "large-scale exodus (no pun intended)" of former believers from conservative, right-wing Christianity.
"In other words, the perennial (and perennially discussed) culture wars have been a causal factor in the meteoric rise of the 'nones,' or religiously unaffiliated, who now represent a staggering 40 percent of Americans under the age of 30," they write, referencing a 2018 Newsweek article, "Evangelical Christians Helped Elect Donald Trump, but Their Times as a Major Political Force is Coming to an End."
Although evangelicals have steadily comprised about 25 percent of the U.S. electorate in recent elections, they only make up about 15 percent of the overall population and, more worrisomely for conservatives, only 10 percent of citizens under 30. These data points reveal that the evangelical demographic is in "serious decline," according to Stroop and O'Neal. This is why the editors believed the time was ripe for an anthology of evangelical disaffection like Empty the Pews.
The emptying has been happening for some time. (In this powerful video embedded below, a young American woman describes her exit from the fundamentalist cult of her parents and grandparents.)
The opening paragraphs of a 2018 Newsweek article of Religious Right disaffection among young Americans was emblematic of the kinds of personal spiritual struggles Stroop and O'Neal's anthology tracks.
"Alex Camire left the church a few months before his pastor announced from the pulpit that the election of Donald Trump was 'a miracle of the Lord,' the Newsweek piece begins."The 29-year-old Connecticut social worker had been raised in the evangelical tradition; his parents were married in it. But Camire's faith had started to fail a decade earlier when his church deemed his mother's alcoholism—and his parents' subsequent divorce—a sin. Later, a secular college education taught him that 'the world'—the community outside the church—wasn't going to drag him into a cesspool of sex and drugs, as he'd been taught from childhood. His pastor's outspoken support of Trump convinced him he'd made the right decision."
Stroop says exvangelicals who have suffered from their fraught relationships with the Christian Right give their testimony of that struggle in Empty the Pews.
"In our view, the situation demands that the voices of those of us who have experienced the religious right from the inside, often being indoctrinated and mobilized for the culture wars in ways that caused us long-term damage, be given a hearing," they write. "One purpose with this book is to provide a forum."
One story in the book, "Land of Plenty" by Gerrard Conley, illustrates a common theme of members of fundamentalist Christian communities who feel a profound sense of alienation from kith and kin they grew up with — and how the destructive tension erodes families.
"I wasn't about to stop being gay any more than my father was about to stop being a preacher, and my mother wasn't about to stop being my mother and also his wife," Conley wrote in his essay. "She must have planned that trip to Hawaii so soon after my failed [gay conversion] therapy because something in her knew we needed to escape my father's territory, the great buckle of the Bible Belt, or else our family would not make it another year. … How many times had I run the scissors' blades across my neck, staring into a face I no longer recognized, terrified by the fact that if I did not change my sexuality on some fundamental molecular level, I would lose my family and friends and the town I grew up in? How many times did I look back on 18 years and curse God for leaving me in greatest time of need?"
Over the years as I've read many of these tortured stories of flight from faith, I noticed they often have the same dynamic: once a person realizes that the tenets of supernatural faith make no objective sense and admit it out loud, their worlds collapse on them and their longtime supporters fade away, leaving them physically and culturally marooned from their tribe. That is the tragedy of apostacy in America, and in other countries and religions where the same ritual of religious shunning and banishment occurs. It's heartbreaking to read about and, as victims attest, even more agonizing to personally experience — its so agonizing to just contemplate the inevitable result of public apostacy, that many secret apostates remain in their religious communities indefinitely, going through the motions of false devotion, fearful of anyone finding out.
There's a similar charade going on in American politics at the moment, as congressional supporters of a defeated incumbent president continue to publicly endorse his bogus refusal to accept the reality of his re-election loss. They knowingly further the lie because they are afraid of the ex-president's still-in-thrall Christian Right base voting again them in a coming election, in effect banishing them from the Republican Party's political arena and the status and power they so yearn to maintain.
As American church pews are emptying because more and more erstwhile believers are seeing the true light of reality, the congressional pews also need to be emptied of lawmakers — the vast majority of whom are conservative Christians — who ignore reality to bolster their own hyper-partisan vainglory with untruths.
In the U.S. it seems politics and religion are always inextricably intertwined.
---

Buy either book on Amazon, here (paperback or ebook editions)