I wrote a proposed op-ed in August 2018 about my state's uber-partisan federal GOP pols, but I ended up only publishing it on my blog because no major newspaper in our heavily Republican state (South Dakota) dared run it. The editors wouldn't say why.
But it's worth revisiting, I believe, to illustrate how much has sadly not changed since then in the inert unwillingness of South Dakota's congressional delegation — Sens. John Thune and Mike Rounds, and then-Rep. (now Gov.) Kristy Noem — to rigorously condemn Donald Trump about anything. And that's even after the Jan. 6 violent insurrection at the U.S. Capitol the now-blessedly-former president clearly incited over weeks following his decisive loss in the Nov. 3 presidential election.

Noem has since been replaced in Washington by Rep. Dusty Johnson, erstwhile chief of staff for former South Dakota Gov. Dennis Daugaard. Noem was elected to replace Daugaard, being sworn in Jan. 5, 2019. But before Trump's 2020 loss, she was busily vagabonding around the country all-in, enthusiastically supporting his candidacy — and his bald-faced lies — and had earlier hosted the then-president at an irresponsibly mask-less Covid-19 super-spreader gathering at Mount Rushmore.
Thune, the third highest ranking GOP senator and whip, tends to not say much publicly, but when fellow Republicans (and their state party cohorts) began vigorously attacking the 10 representatives who voted to impeach Trump and the seven senators who voted to convict, he lightly scolded them for coming alarmingly close to becoming part of liberal "cancel culture." Horrors.
"There was a strong case made," Thune told the Associated Press, referring to the House impeachment managers' arguments for impeaching the president for 'incitement of insurrection,' adding, "People could come to different conclusions. If we're going to criticize the media and the left for cancel culture, we can't be doing that ourselves." [boldface mine]
No, only irrational, delusional people could come to a different conclusion. Criticizing fellow Republicans for criticizing fellow Republicans (except Trump) is just a way to distract from holding the former president responsible for his central and purposeful role in the Capitol insurrection. Make no mistake; Sen. Thune is playing you, as is Gov. Noem and the other appeasers.
Keep in mind that Sen. Thune, according to journalist Carl Bernstein (who broke the Watergate scandal with Bob Woodward), joins 20 other senators (not including Rounds) who "privately condemn Trump" but won't publicly.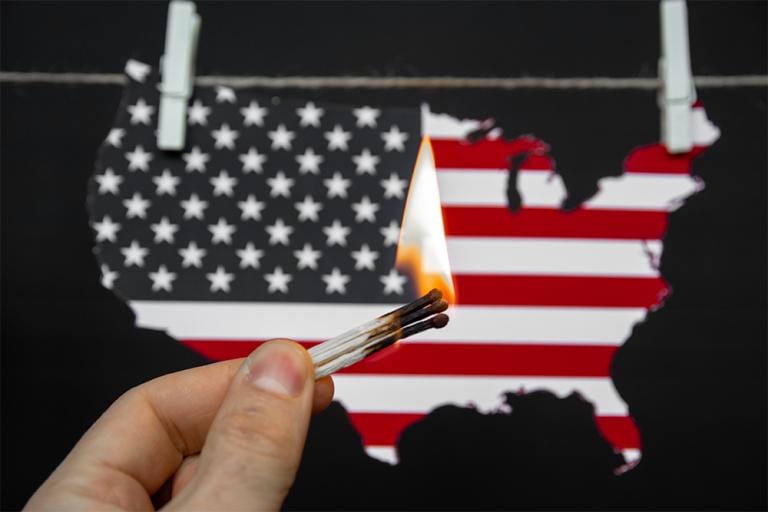 Shortly after Trump's election loss, now-Gov. Noem called the election systems "rigged," a favorite Trump falsehood, and after two Democrats later won Senate seats in a Georgia runoff, she blithely called them "communists." When questioned by U.S. News & World Report, she "defended Trump's legacy" and refused to say whether he was complicit in "goading the mob that attacked the Capitol." Brave.
Rep. Johnson, for his part, tried to seem more measured, telling KOTA-TV in South Dakota that although the Capitol insurrection was "a tragic event" and that some "political leaders deserve some blame," he believed the House impeachment of Trump was ill-considered because it "was sure to divide our country." He also drew a false equivalence between the insurrection and Black Lives Matters protests the summer before, although one was based on a lie and the other actual civil rights atrocities.
Sen. Rounds, on the other hand, tried to have it both ways. He told the Sioux Falls (SD) Argus Leader that Trump had "'tarnished his place in history' by misleading his supporters and encouraging the mob that stormed the Capitol," but that Congress holding him responsible was "moot." What, exactly, is debatable about it?
"For the president to continue to tell people — good, honest hard-working Americans — that their votes didn't count and they were stolen, that's wrong," Rounds said.
But not that wrong, apparently, even when added to the sacking of the Capitol.
In the end, Johnson refused to vote to impeach the president, and Thune and Rounds refused to vote to convict, although other principled and not politically calculating congressmen and women did.
This is leadership?
My 2018 op-ed that was repurposed as a blog post, here, criticized Thune, Rounds and Noem for not roundly condemning Trump for a multitude of egregious actions, including publicly asserting in Helsenski, Finland, that he believed Russian autocrat Vladimir Putin's denial instead of the conclusion of the entire U.S. government intelligence apparatus that Putin orchestrated interference in the 2016 election to Trump's benefit.
The South Dakota congressional delegation said nothing about any of it.
I ended the post with this:
"Please, guys. You're killing us here with your silence. For crying out loud, say something. You're supposed to lead us, not hide."
Today, after an insurrection and continuing lies about the election being stolen, what do we get from these folks? Still nothing.
Is it too much to hope for that each of them, including Rep. Johnson — better, all of them together at a joint press conference covered by every national media outlet — might one day acknowledge the simple truth? For instance, they could say something like this, in unison:
"The 2020 election was not only fair but among the most secure in American history, Joe Biden is now our legitimate president, and the former president, for his own political gain and with zero evidence, just lied to you that the vote was somehow 'rigged' and 'stolen.'"
It wasn't, in fact.
---

Buy either book on Amazon, here (paperback or ebook editions)