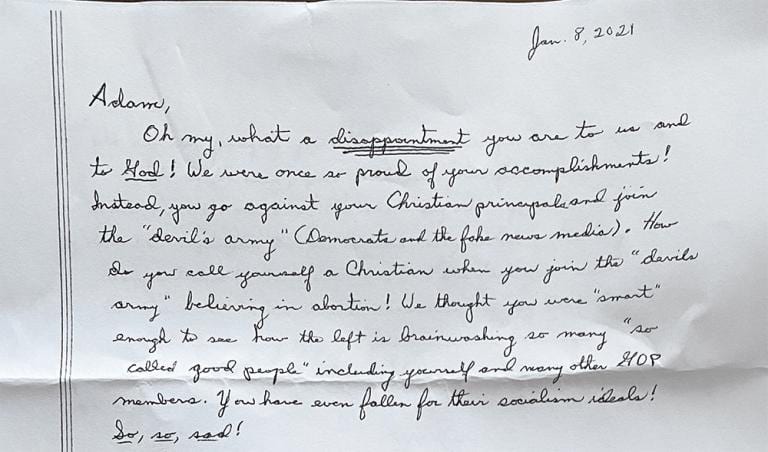 Love is godly if not inherently God itself, Christians are fond of reminding us. Adam Kinzinger knows intimately how hypocritical "true believers" of this aphorism can sometimes be.
Christian family members of Illinois GOP Rep. Adam Kinzinger displayed such hypocrisy in an appallingly un-Christian letter sent to their kinsman two days after he strongly condemned former U.S. President Donald Trump for inciting a violent and deadly insurrection at the Capitol on Jan. 6.
This incident is more than a month old, but it's well worth revisiting for people who may not have heard of it or read the letter, the authenticity of which Kinzinger has acknowledged.
After the attack, Rep. Kinzinger called for employing the 25th Amendment to to remove Trump from office, CNN reported. Vice President Mike Pence declined to use that remedy when the U.S. House of Representatives issued an ultimatum, so the House voted on Jan. 13, with 10 Republicans concurring, to impeach the president for "incitement of insurrection" and to send the charge to the Senate for trial. The final House vote was 232-197 to impeach.
The letter from family members to Kinzinger begins:
"Oh my, what a disappointment you are to us and to God! We were once so proud of your accomplishments! Instead, you go against your Christian principles and join the 'devil's army' (Democrats and the fake new media). How do you call yourself a Christian when you join the 'devil's army' believing in abortion? We thought you were 'smart' enough to see how the left is brainwashing so many 'so called good people' including yourself and many other GOP members. You have even fallen for their socialism ideals! So, so sad! [underlines theirs]
Read the full hand-written text of the letter here.
The letter casts doubt on Kinzinger's Christian faith due to his "horrible, rude accusations of President Trump," and asserts that the former president is certainly a "believer" because of his 2020 Christmas message, in which he "gave the plan of salvation, instructing people how to repent and ask the Savior into their heart to be 'Born Again!'"
The letter continued its very personal attack on Kinzinger, stating, "It is now most embarrassing to us that we are related to you. You have embarrassed the Kinzinger family name!"
The missive continues to claim that Kinzinger's undersigned family members "are not judging" him, that it's just "our opinion of you," and then snarkily adds, "Oh, by the way, good luck in your fundraising endeavors," asserting that previous donors — themselves included — "should demand their money back!"
Such godly Christian love.
On David Axelrod's "The Axe Files" podcast, Kinzinger told the host that he was willing to lose his seat over his decision to condemn the former president's dangerous behavior, CNN reported:
"I did it knowing full well it could very well be terminal to my career. But I also knew that I couldn't live with myself having, you know, try to just protect it and just felt like the one time I was called to do a really tough duty, I didn't do it."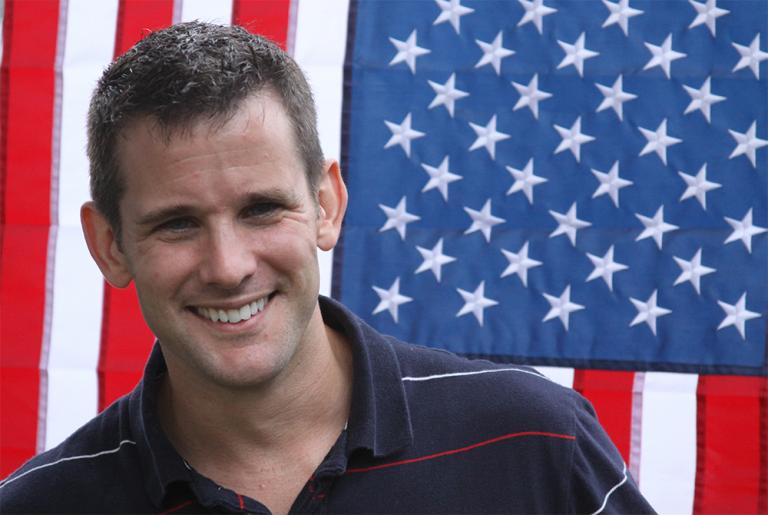 The lawmaker said family members who signed the letter had been "brainwashed" and misled by the conservative churches they attend, he told The New York Times in an interview.
"I hold nothing against them, but I have zero desire or feel the need to reach out and repair that. That is 100% on them to reach out and repair, and quite honestly, I don't care if they do or not."
Kinzinger has been an outlier among more Trumpist Republicans in that he tends to consider issues rationally by the facts and to call spades spades, without political shading or deference to the former president. A veteran U.S. Air Force pilot, Kinzinger has a history of being a stand-up guy. In 2006 he was named "Hero of the Year" by the Wisconsin Red Cross after disarming a knife-wielding man who had slashed the throat of a woman on a downtown Milwaukee street.
He doesn't seem too concerned about his un-Christian relatives, but he's certainly aware they're just talking the talk of their faith without living the "Word."
When those of us who are not believers become aware of these incidents — and they are disturbingly endless — we remind ourselves that for far too many self-identifying Christians, the ideals of the faith only apply to the faithful. If then.
---

Buy either book on Amazon, here (paperback or ebook editions)