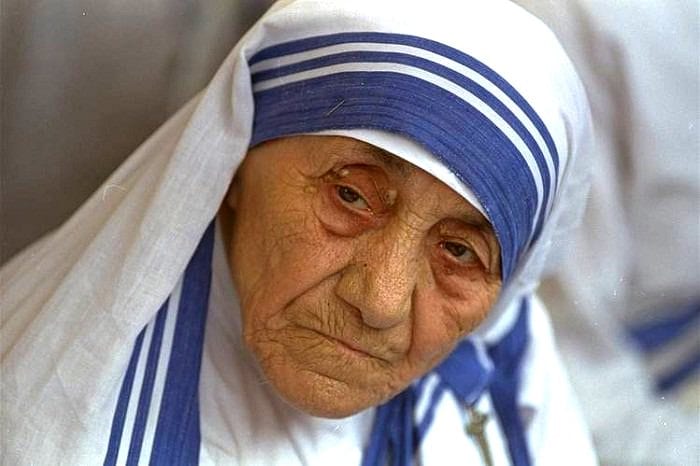 The late, sainted Mother Teresa reportedly encouraged her Missionaries of Charity health care workers to surreptitiously subject dying patients to Christian baptism at her slum clinics in Kolkata, India, no matter what religion they might be.
I first read about this in the late Christopher Hitchens' (1949-2011) sardonically titled "The Missionary Position: Mother Teresa in Theory and Practice" (2012). I was reminded of it recently in the process of undergoing two unrelated surgeries in the (excellent) Avera hospital system here in South Dakota.
In a 2020 article, the website idolpersona.com noted:
"Sisters were to ask each person in danger of death if he wanted a 'ticket to heaven,'" Christopher wrote in his book. When the patient gave an affirmative reply, the sister would consider it as consent to baptism, and then she would 'pretend she was just cooling the person's forehead with a wet cloth, while in fact, she was baptizing him, saying the necessary words quietly.' There have been accusations that Mother Teresa secretly used this way to baptize the Hindus and Muslims."
Of course, baptizing a person with water is objectively harmless — whether you're a Christian believer or not — but at issue here is a moral rather than physical injury to the autonomy of a person's conscience.
It would be the equivalent of reciting the Apostles' Creed over a comatose and dying Muslim because you believe you know better what the patient's future immortality may require. Forget that Muslims believe neither in the "Holy Trinity" (the tripartite God, including "The Father, son [Jesus] and the wholly unintelligible "Holy Ghost"), nor that Jesus is divine at all.
Never mind the unconscionable if not mortal sin of sneakily baptizing an atheist, as well.
But that's apparently what zealous evangelical Catholics are wont to do.
Which brings me to my surgeries.
During my recent procedures, I was not baptized while awake or sedated (as far as I know [kidding!]). No. I found something else disconcerting.
I knew but only vaguely that our regional hospital system is Catholic-affiliated (as are many across the nation) but didn't really know what that entailed.
But I discovered this fact upon entering the hospital for my first surgery, noticing the health-care nonprofit's mission and vision statement conspicuously posted at the entry (also on its website):
"As a health ministry rooted in the Gospel, Avera's mission is to make a positive impact in the lives and health of persons and communities by providing quality services guided by Christian values.

"This is Avera's vision: Working with its partners, Avera shall provide a quality, cost-effective health ministry, which reflects Gospel values. We shall improve the health care of the people we serve through a regionally integrated network of persons and institutions."
These mission and vision statements potentially affect a broad swathe of humanity, a large segment of the state's nearly 1 million population that resides in the eastern half of the state — "East River" in Dakota parlance, meaning the Missouri — and must generally avail themselves of the hospital chain's services (because hospital variety is not a thing here). The institution itself has 19,000 employees, who "are encouraged to live out the mission and values, each and every day, in every patient encounter."
Among America's largely Christian populace, all this likely sounds fairly benign to most people, but less so for nonbelievers and non-Christians, like Hindus, Muslims and Buddhists, for example.
It's particularly off-putting for patients who do not subscribe Catholicism's rigid view of the absolute sanctity of human life — and of the mortal sinfulness of ending any life before nature, not humankind, deigns it divinely ordained to end. Suffice to say, self-prescribed "death with dignity," where a licensed physician assists in making such deaths as serene and pain-free as possible, is not something many devout Christians, and especially Catholics, fulsomely embrace.
Why does this matter? The answer can be found in a disquieting article by Kim Callinan in Church & State, the magazine of Americans United for Separation of Church and State, titled "Medical Emergency: The Church-State Wall Has Collapsed When It Comes To End-Of-Life Care." Callinan is president and CEO of Compassion & Choices, "the nation's old­est, largest and most active nonprofit working to improve and expand health care options for the end of life," her bio notes.
"The wall of separation between church and state within the health care arena is dubious at best," Callinan writes in her Church & State piece. "When it comes to end-of-life health care, that wall has all but crumbled away. Our public policies favor one interpretation of religion over another. Hospital policies dictate and limit the care patients receive, and as a result, far too many people are needlessly suffering as they near the end of their lives."
To be fair, although I'm no health-care expert, I feel the care I received in my two surgeries from our regional hospital institution — and their health-care workers' abiding concern about controlling my pain, maximizing my comfort and protecting my continued existence — was superb. No complaints. Quite the contrary; I salute them.
But, still, the intimate linkage of doctrinaire religious notions in my health-care establishment gives me pause, especially looking ahead to when the normal bodily assaults of aging may ravage my quality of life to the point I could no longer see any rational point (for myself or others) of continuing.
In my view, it's an essential human right to be able to direct, as much as possible, how your final days play out.
"The option of medical aid in dying is important because it establishes that patients have autonomy over their end-of-life care decisions. Unfortunately, the lack of separation between church and state makes that option not accessible to all individuals who need it," Callinan writes.
While 70 percent of Americans support the option of medical assistance in dying, state lawmakers have been slow to respond, although they've lately picked up the pace. Callinan points out that it took 20 years for the first four states to legalize the concept (Oregon, 1994; Washington, 2008; Montana, 2009; and Vermont, 2013), but only five years, from 2015-2019, for the most recent six to sign on (California; Colorado; Washingon, D.C.; Hawaii, New Jersey and Maine). New Mexico's Legislature this year began voting on a bill for assisted suicide for terminally ill people.
"These recent legislative successes advancing medical aid in dying are promising," Callinan pointed out. "Yet four out of five Americans still lack an explicit legal right to medical aid in dying – largely because religion is dictating our public policy. In most, if not all, states, the largest, most organized and well-funded obstacle to the authorization of medical aid in dying is the Catholic Church. Medical aid in dying is only one example of how a religion's health care system's values could interfere with your end-of-life care.

"U.S. Catholic health care is the nation's largest group of not-for-profit health care providers, with over 21 million emergency-room visits annually, 668 hospitals and 1,668 continuing care facilities. Catholic health care is governed by Ethical and Religious Directives (ERDs), which are enforced by the U.S. Conference of Catholic Bishops. These directives dictate the kind of care a person can receive."
Callinan contends that certain end-of-life medical decisions may be taken out of your hands at religious hospitals, such as when feeding tubes and life support may be discontinued, due to religious assumptions that influence hospital policies.
Although just 6 percent of Americans consider religious affiliation of a health-care facility when they require care (18.5 percent of hospitals are faith-based, and that percentage may be much higher in rural areas), that status can matter greatly. One in six hospital patients in the United States was treated in a Catholic health-care facility in 2018, a New York Times article then reported.
Callinan notes that although studies show more than 70 percent of Americans would prioritize "helping people die without pain, discomfort or stress" over "preventing death and prolonging life" and believe their own health choices should take precedence over a facility's religious values, four out of five Americans "still lack an explicit legal right to medical aid in dying."
This is largely because "religion is dictating our public policy," she believes, and that the dogmatically "pro-life" Catholic Church in most states is the most profound obstacle to personalized end-of-life care.
So, even though I have a lot of faith, so to speak, in the professionalism, competence and, yes, kindly compassion, of our state's biggest health care provider, I would rest much easier — as I tick off my final years — if they didn't make any health care policies and decisions based on religious fantasies and bias that I don't share.
---

Buy either book on Amazon, here (paperback or ebook editions)