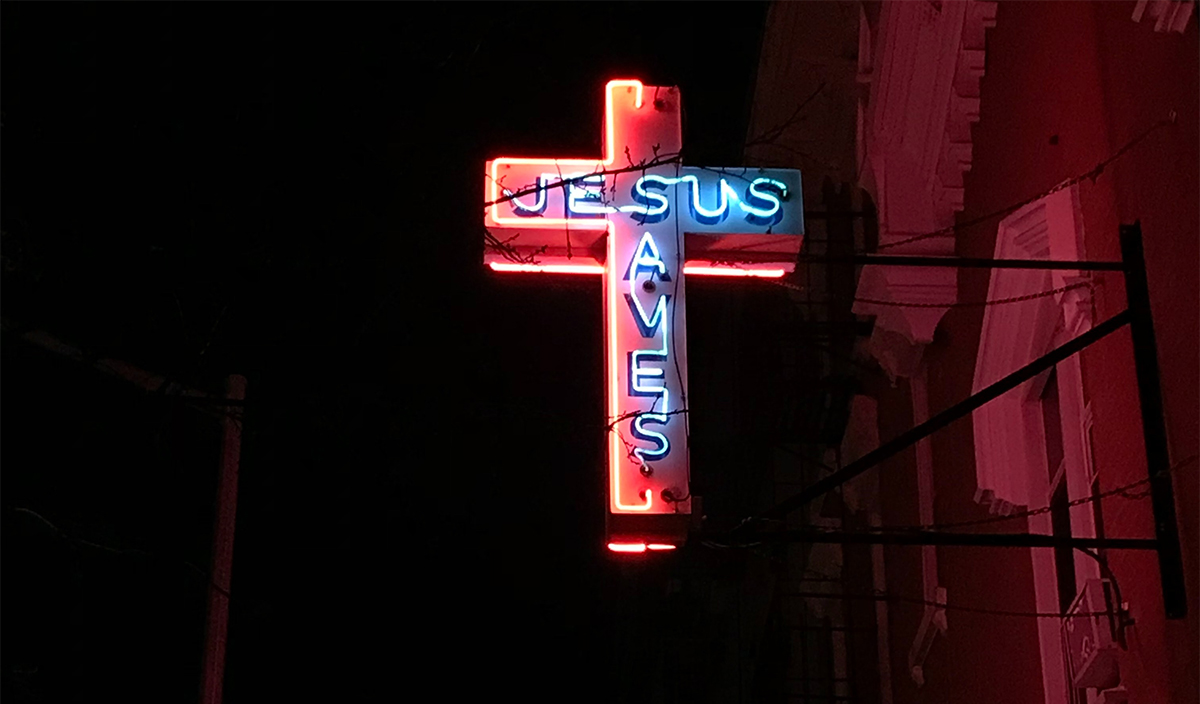 This quote caught my eye from an NPR news report in March about a Gallup poll tracking the relentless decline of formal religiosity in the United States:
"Since the turn of the century, there has been a near doubling in the percentage of traditionalists (from 4% to 7%), baby boomers (from 7% to 13%) and Gen Xers (11% to 20%) with no religious affiliation," Gallup says.
Although many of these respondents still occasionally or regularly attend faith services, Gallup notes, the survey data shows the priority Americans place on religion has slipped precipitously and broadly in the past two decades.
Considering the particularly fast-growing irreligiosity of young Americans, this trend bodes ill for the future of faith in the nation. But, in fact, the downward trend is evident among all demographics.
This slide in spiritual devotion was spotlighted earlier this year when church membership among Americans dropped to 47 percent — marking the first time that number has fallen below 50 percent in the U.S., and a continuation of persistent erosion in a traditional U.S. emphasis on faith, dominantly Christian. Forty-eight percent now say religion is no longer important in their lives.
This represents the nadir of U.S. religiosity since Gallup first began tracking it 80 years ago, and the backsliding is gaining velocity.
"In 2018, 50% of adults polled said they belonged to a religious congregation, down sharply from the 70% who said so as recently as 1999," Gallup pointed out in its poll report. "That figure fluctuated only a few percentage points over a period of six decades beginning in 1937 — the first year of the survey — when 73% of U.S. adults said they belonged to a church, synagogue or mosque."
A Washington Post report published this March said research data overall "has shown a seismic shift in the U.S. population away from religious institutions and toward general disaffiliation, a trend that analysts say could have major implications for politics, business and how Americans group themselves."
The post referenced Ryan Burge, an assistant professor of political science at Eastern Illinois University and a pastor in the American Baptist Church:
"Burge, who recently published a book about disaffiliating Americans called 'The Nones: Where They Came From, Who They Are, and Where They Are Going,' predicts that in the next 30 years, the United States will not have one dominant religion.

"'We have to start thinking about what the world looks like in terms of politics, policy, social service,' Burge said. 'How do we feed the hungry, clothe the naked when Christians are half of what it was. Who picks up the slack, especially if the government isn't going to?'"
The Post article notes that Tara Isabella Burton, author of "Strange Rites: New Religions for a Godless World," attributes the national decline in religious affiliation to two major trends among younger Americans. First, she points to broader shifts suggesting a larger distrust of institutions, including police and pharmaceutical companies" and that "Some Americans are disillusioned by the behavior of religious leaders, including the Roman Catholic Church's sexual abuse scandal and the strong White evangelical alignment with former president Donald Trump."
Among specific findings of the Gallup survey:
Catholics experienced the most decline (18 percent) since 2000; Protestant church membership fell only 9 percent. Gallup said it had insufficient data to analyze trends for other faiths.
Among political groups, Democrats showed the most decline in formal church affiliation (25 percent), followed by Independents (18 percent) and Republicans 12 percent.
Church membership declines are "proportionately smaller" among political conservatives, Republicans, married adults and college grads, along with Southerners and non-Hispanic Blacks.
The NPR report stresses that this slide in formal religiosity is evolutionary and not abrupt:
"Gallup points out that demographic shifts, not a sudden disaffection among the religious, appear to account for much of that change, 'with those in older generations who were likely to be church members being replaced in the U.S. adult population with people in younger generations who are less likely to belong.'"
The Gallup poll data was compiled from during 2018-2020 phone interviews with 6,117 randomly sampled adults in all 50 states and the District of Columbia.
Gallup concluded in its report that,
"While it is possible that part of the decline seen in 2020 was temporary and related to the coronavirus pandemic, continued decline in future decades seems inevitable, given the much lower levels of religiosity and church membership among younger versus older generations of adults."
That makes sense considering that the plummeting of Americans' formal religious affiliations didn't start with Covid-19 but has been ongoing — and gaining speed — for many decades.
While some people may be wary of what might happen when churches lose their luster and influence in American society, at least it should lead to more positive focus on reality and less on surreality.
---

Buy either book on Amazon, here (paperback or ebook editions)