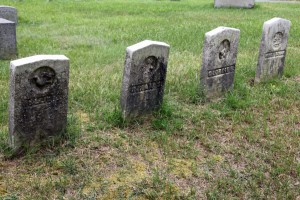 Guest Post by Christine A. Scheller
"My father is Jewish, my mother is Jewish, I am Jewish." These are the last words American journalist Daniel Pearl said before he was murdered by terrorists in Pakistan on the first day of February, 2002. They are also the words three-term New York City mayor Ed Koch had inscribed on his tombstone before he died on the same day in 2013.
I've been thinking a lot about headstones lately and Koch's gave me pause. (More on that in a moment.) I've been pondering epitaphs because the fifth anniversary of my son's death is approaching and the words inscribed on his grave challenge me.
Gabriel's stone not only includes his name, but my husband's and my own. In order to secure a grave on top of the Jersey Shore hill where he spent many a happy day sledding, we had to buy a four-person plot. It was cheaper to have as much of the engraving done as possible before the stone was set than to wait until future occupants meet their dates with death.
Alongside our names is space for another. There's also a verse of scripture, John 11:25: "Jesus said 'I am the resurrection, and the life: he that believeth in me, though he were dead, yet shall he live.'" At the top is a cross flanked by dogwood flowers—symbols, some say, of Christianity, divine sacrifice, eternal life, and resurrection.
Below these emblems is our last name, prominently displayed. There are dates, but only years, because room was needed for middle names. One kind of specificity trumped another.
Gabriel's middle name is my stepfather's surname. It was given in honor of my parents' unequivocal support when they learned their nineteen year-old unmarried daughter was pregnant. My son's identity as a Gifford was as strong as his identity as a Scheller, and so, for consistency, room was made for every grave dweller's middle name.
Next to Gabriel's name is my own, and the year of my birth. Next to mine is my husband's and his birth year. The last space is empty because the son we produced together is very much alive and no parents ever want to see their child's name in a cemetery. Besides, he has a future of his own to plan as he sees fit, or not.
It's a very strange thing, I can tell you, to visit your own grave. It provokes questions. Will the sacred vows my beloved and I made at twenty-one and twenty-three be strong enough to see us through to the end? (I believe they will.) But, what if the surviving spouse wants to remarry after one of us is gone? Will a future lover concede to having their betrothed buried with another?
I will rest next to my son. This I know.
The scripture, chosen from the King James Bible for the beauty of its language, asks me to keep believing that my child, who publicly affirmed his Christian faith hours before he took his own life, will not always be lying in that ground. It bids me to believe his bones will one day be given life again and rise, along with my own, my husband's, and whoever else's are buried next to ours.
Who, if anyone, will that be? Perhaps our stone, like our lives post-tragedy, will forever remain lopsided.
There are other questions, of course. Who will tend the plot when I'm gone? Will anyone make sure there are pansies in spring, marigolds in summer, mums in fall, and a decorated pine grave blanket in winter to announce: "The young man buried here was deeply loved, is deeply loved"?
So when I saw a photo of Mayor Koch's memorial last week, I was left dumbstruck.
His grave sits in a non-sectarian cemetery owned by an Episcopal church that is adjacent to the World Trade Center site. Such was the importance of Koch's Jewish identity that his headstone heralds it. There's a Star of David at the top. Below it is his name, the seal of New York City, and dates marking his tenure as mayor. At the bottom is the Shema: "Hear O Israel, the Lord our God, the Lord is one," written in both Hebrew and English.
These elements alone pose interesting questions, like why a Jew would want to be buried in a Christian cemetery. What really confounds me though, is the attribution that Koch chose to accompany Pearl's last words:
"My father is Jewish, my mother is Jewish, I am Jewish."
(Daniel Pearl, 2002, just before he was beheaded by a Muslim terrorist.)
What did Koch intend to communicate with this statement? Writing about it himself at The Huffington Post in 2011, he said he believed Pearl's words "should be part of the annual services on the Jewish High Holiday of Yom Kippur, and should be repeated by the congregants." He wrote nothing at all about the shocking attribution.
Koch always was a provocative iconoclast, but I wonder how Pearl's parents feel about a politician including graphic details of their child's death on his monument. I wonder too why Koch chose the signifier "Muslim terrorist" and what kinds of discussions that choice spurred among the guardians of that interfaith cemetery, one that is owned, nonetheless, by a church scarred by terrorism committed in the name of Islam. What does his attribution say about their Christian witness in the world and their apparent dream of interreligious harmony?
I go back and forth between sympathy for Koch's bold and lasting witness against anti-Semitism and bafflement at the choices it involved.
In 2008, The New York Daily News reported that Trinity Church Cemetery was the only "active" cemetery in Manhattan accepting new occupants. "I don't want to leave Manhattan, even when I'm gone," Koch was quoted as telling The Associated Press. "This is my home. The thought of having to go to New Jersey was so distressing to me."
That I understand. Distressed is exactly how I felt at the thought of burying my son in California, where he died. As to all my other questions, I have no satisfactory answers.
Christine A. Scheller is a widely published journalist and essayist. She lives with her husband at the Jersey Shore where she has photographed headstones.