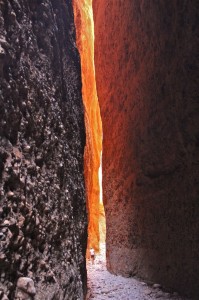 A book was sleeping inside me. It was somewhere deep and warm, somewhere just beneath my heart. At first, the words free-floated lightly, whispering so I could barely hear them. Next they somersaulted nimbly, mesmerizing me. Then they dropkicked, demanding their release.
Days, weeks, and months went by. Still, I did not begin to write the book. A book takes years from your life. Each day you have to stand upon a cliff, take a breath, plunge into the chasm. You have to hit rock to make the words rise. You have to push friends and family to the margins, shirk the world to live in the mind.
What's more, I'd just finished a memoir, peddled it to more than fifty agents, received rejections from all. And though I'd found a small, independent press willing to take a risk on me, I'd been warned, given our anonymity, the memoir likely wouldn't sell. How could I justify another book, waste the future after the past? Better to cook dinner for my family or for the homeless downtown.
No, the book was a stupid idea.
But the words kept kicking inside.
I talked to a friend about it. She said sometimes when a project is obsessing us, it's a sign that God is calling us to task, a signal of our vocation.
Vocation. It's an early Christian concept that's been secularized by many. The essence is this: God calls every one of us to love and serve our neighbors in a special way. The work involved is our calling. While a few of us may hear God call audibly, most must learn to perceive his voice in the convergence of four signs: We desire to do certain work. The effort brings us joy. The work serves a beneficent end. Unbiased sources say we're gifted at the tasks.
To perceive signs of a calling, we must look deep within ourselves, discern how the spirit moves us, scrutinize the world around us, analyze the effects our actions cause. When in doubt, we should pray for clearer signs.
So, one night, I climbed into bed, burrowed next to my husband, who'd already turned out the lights. Pulling blankets to chin, I closed my eyes, fixed them on my inner world. I knew I longed to keep writing, knew I delighted in the process, even when it wasn't going smoothly, even when the words didn't seem to come. But I wasn't sure that I was gifted or that my work served anyone but me. To find out, I would have to turn to prayer.
In truth, I've never found prayer easy. Through much of my adulthood, God has been a rainbow trout to me; I grasp him for a moment, then he slips, glistening pink and silver, from my hands. How could I pray when I wasn't sure that God was real?
What's more, my petition seemed crazy: There are seven billion people on the planet, but hey, Creator of the Universe, let's have a chat, you and me. No, it's not about war, disease, or famine; instead, I'd like to pitch a book.
As for the notion God was calling me to write: God could jingle Anne Lamott. Why would he bother with me?
Still, I prayed. "God, should I write this book?" Then I listened. But, all I heard was my husband breathing sleep-deep, so I curled into fetal position, felt the flush of my foolishness.
Foolish: How I felt that night, having imagined even for a moment that God would speak to me.
Foolish: How I felt three days later, when my memoir was released at 1,745,362, and falling, on Amazon's book rank list.
Foolish: How I felt two weeks after that, when the book received a scathing one-star review.
Foolish: How I felt, having fancied for an instant that God was calling me to write when the world was screaming, STOP!
So I stopped. I turned off my computer, smothered every word that rose. I'll never write anther book. In fact, I'll never write another word.
That's when I lost myself.
Mornings when my daughter called me, I no longer blew her kisses through the phone. Instead my mind hissed at her: Pest! Don't you know I need to work?
Afternoons when I was with my college students, I no longer assured them they could write. Instead, my brain chastised them: Dunces! You should have learned where commas go in second grade.
Over supper when my husband spoke of cycling, I no longer tracked riders or the routes. Instead I thought: No, not crankshafts and gears. What a flipping bore!
Then came the night I asked my son to wash a pan he'd just used to make an omelet. When he said, "Just a minute, Mom, relax," I shrieked, "You can go to hell!"
At those words, I winced and caught my breath: What was happening to me?
Then I realized, I'd just received a sign.
If God calls each of us to love and serve, we must do what enables us to do so. No one questions that we must eat, get fresh air, and exercise. But we also have to do what brings us joy, makes us feel alive, opens up our hearts. If we don't, we become testy and embittered, spreading hostility rather than love.
Maybe I'm not the greatest writer. Maybe my words will never lighten someone's load. But I know that if I don't write them, I'm no good to anyone at all.
So here I sit at my computer, called to let these words rise.
Jan Vallone is the author of Pieces of Someday: One Woman's Search for Meaning in Lawyering, Family, Italy, Church, and a Tiny Jewish High School, which was released in December, 2013, and has won the Reader Views Reviewers' Choice Award. Her stories have appeared in The Seattle Times, Good Letters, Faith & Values in the Public Square, Catholic Digest, Guideposts Magazine, English Journal, Chicken Soup for the Soul, and Writing it Real. She teaches writing and literature at Seattle Pacific University.