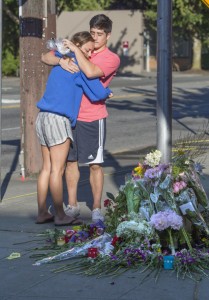 They arrived as strangers—freshmen at Seattle Pacific University who'd come to take a course in college writing: A tall girl with a flowered backpack and blond hair fishtailed to one side. A brawny boy with a knitted cap and a ready, brilliant smile. An elfin girl in a madras skirt whose black bangs fluttered with her lashes. A lanky boy in soccer shorts whose green eyes lit his freckled face.
Within days I learned some names and habits: Peter* always strode in early and grabbed a seat by the window in the back. Kaitlin routinely said "Good morning!" and sipped a caramel latte during class. Pilar daily sat before the lectern and lined up sharpened pencils on her desk. Abdul was almost always late and bowed when he slipped into the room.
Within weeks I came to know much more—their sufferings, blessings, worries, hopes, weaknesses, and strengths:
Lindsey had mangled her arm when her boogie board was thrown on Maui sea stacks. She hoped to become a doctor, strove to be on dean's list, and wrote meticulous papers that were somewhat tedious to read.
Yoel had fled his native Eritrea by perambulating deserts through the night. English was his second language, which he spoke with a lovely lilt. His dream was to become a Christian rock star. Writing essays made him anxious, but he loved crafting spoken-word poems.
Justin had spent some time in Haiti constructing dorms for orphans. A youth leader at his church, he planned to become a minister. His essays were passionate and insightful, though a bit disorganized.
Sarah had found her friend's body in a bed with a suicide note. She suffered from frequent nightmares. Her goal was to become a counselor who worked with troubled teens. She volunteered for a hotline and wrote gripping narratives.
What wonderful young adults—full of life, heart, experience, potential. It's no wonder that over the quarter, I grew to love every one of them.
Still, at the end of our last class, I had to say goodbye. I praised them for their learning, wished them a good summer, watched them walk out of the classroom, drove home feeling sad.
When I reached my house, I checked my email as a message was arriving:
!! SPU-Alert: Campus Lockdown: Hello Jan Vallone—Emergency! A campus lockdown has been initiated. This is not a drill. If you are on campus, find the nearest available room and lock the door. If you are on campus, but locked outside a building, seek shelter off campus immediately. If you are not on campus, stay away.
A strange mix of emotions swept over me—confusion, panic, numbness. Wanting more information, I clicked the Seattle Police Twitter line:
Police have found two victims with gunshot wounds @ scene of @SeattlePacific shooting. One suspect in custody. Vics at Otto Miller Hall.
Turning to my TV, I found the breaking news. On the screen was the campus I'd just left, leafy Seattle Pacific, brick buildings under blue skies.
I couldn't comprehend what I was seeing. The street by Otto Miller Hall was clogged with ambulances and police cars. Gurneys were queued on the sidewalk. Medics and officers were running all about.
I couldn't understand what I was hearing. A reporter said six people had been shot, a gunman detained. Police were searching for another suspect who was still on campus and armed.
A student who had exited the building said she'd seen some injured students in the lobby and one who appeared to be dead. All were sprawled on the floor, which was strewn with bullets and blood.
"Oh my God!" I screamed at the TV. Where were all my students—Pilar, Justin, Lindsey? Were they dodging bullets, or were they already dead?
The Seattle Pacific shooting wasn't the first to shake me. In 1993, a disgruntled client entered 101 California Street, an office of my husband's law firm. He shot nine people dead. Like my husband, I was a lawyer, so I feared for both of us.
In 2006, a gunman who claimed he hated Israel entered the Jewish Federation of Greater Seattle, killing one woman and injuring five. I was then teaching in a nearby Jewish high school, and we worried we'd be next.
In 2012, a shooter known for angry outbursts entered Café Racer in my neighborhood. He murdered five and maimed one more. My daughter works at a nearby Starbucks, and I fret for her every day.
Who isn't edgy about shootings? They've occurred in so many venues, no place now seems safe—not the theater, mall, supermarket, temple, church, train, playground, street, restaurant, stadium, or museum. In schools alone there were thirty-seven shootings during the first half of 2014.
At Seattle Pacific, the facts soon cleared. A lone gunman had wounded two students and killed freshman Paul Lee. None of my students were harmed, though several had been in Otto Miller. A few were Paul's close friends, and many knew him. All were traumatized.
The gunman at SPU didn't know any of his targets. His profile is common for mass shooters. With a history of mental illness, he complained he was lonely and unloved, said he just wanted to kill.
I wish these shooters could understand that the strangers in their crosshairs are Kaitlins, Peters, and Yoels—people they could grow to love who could grow to love them back, people who could help them fill the void that makes them want to kill. It takes only time, attention, interaction.
If shooters could comprehend this, they'd discard their bullets. But they either can't or won't. Something inside them is broken. They aren't going to change; it's the rest of us who must.
The causes of violence are complex, but that doesn't excuse our longtime inaction. Together, we must modify our statutes—be they mental health, gun, commerce, or free expression laws—to make killing sprees less likely. Individually, we have to compromise.
We can't accept a life of dodging bullets, or death determined by a shooter's whim.
*Names have been changed.
Jan Vallone is the author of Pieces of Someday: One Woman's Search for Meaning in Lawyering Family, Italy, Church, and a Tiny Jewish High School,which was released in December, 2013, and has won the Reader Views Reviewers' Choice Award. Her stories have appeared in The Seattle Times, Good Letters, Faith & Values in the Public Square, Catholic Digest, Guideposts Magazine, English Journal, Chicken Soup for the Soul, and Writing it Real. Once a lawyer at a large law firm, and later an English teacher at a tiny yeshiva high school, she now teaches writing and literature at Seattle Pacific University.