Question: O little town of Bethlehem, how are you doing this Christmas?
Answer: You'd better sit down for this.
I have the privilege of being the wife of a Palestinian. I've been to Palestine and Israel a number of times, and have friends and relatives living there. Here's an actual, factual report on the situation in the town where our Savior was born.
It might not be quite what you'd picture. No deep and dreamless sleep, no stillness at all.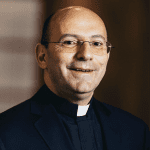 This is my friend, Rev. Dr. Mitri Raheb, Founder and President of Dar al-Kalima University College of Arts and Culture in Bethlehem, Palestine. He is the author of 16 books (which I recommend), making him the most widely published Palestinian theologian to date.
(If you're surprised to hear that there are Christians in Palestine – not just Muslims – stick around for many more surprises!)
When I met Mitri, he was the pastor of Christmas Lutheran Church in Bethlehem. He now travels around the world, spreading the message of justice and peace. I have worked with an organization called Bright Stars of Bethlehem that supports Mitri's efforts.
He has a 3-minute video message for Christians this Christmas from his home in Bethlehem. I encourage you to have a look.
…Ok, in case you didn't watch the video (what, is 3 minutes too much for you to spare??), here's a summary:
Mitri reminds us of the shepherds' words after the angelic visit: "Let us now go to Bethlehem and see this thing that has come to pass, which the Lord has made known to us" (Luke 2:15). The Arabic translation of this verse says, "Let us go to Bethlehem and see the facts on the ground." Mitri encourages us all to see with our own eyes the facts on the ground in Bethlehem (and all of Palestine).
What's that you say? There's a pandemic on and you can't schedule an international trip right now?
No sweat. I have another friend. His name is Saed Bannoura. Saed is also a Christian Palestinian.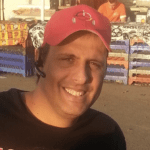 Read all about it
Saed runs a website that covers the local news in Palestine (stories you won't see on CNN). It's called IMEMC (International Middle East Media Center). I rely on his reporting every day, as my full-time gig is writing about Israel and Palestine (here, here, and here mostly).
You can read Saed's story here.
…Ok, on the outside chance that you didn't read it (come on, people, step it up!), here's a summary: Saed grew up in a town just minutes from Bethlehem. In 1991, at the age of 18, he was targeted and shot five times at close range by an Israeli death squad.
His crime? Being a Palestinian, peacefully protesting and writing truthfully about the occupation of his homeland.
Saed nearly died, but he was spared. He is permanently paralyzed from the waist down, and struggles with multiple other health issues.
Christmas time in Bethlehem
If you were to check out stories on Saed's website from the past couple of weeks, you'd read that in the Bethlehem area alone, Israelis have destroyed young olive trees near Bethlehem (Israelis have destroyed an estimated 800,000 olive trees since the occupation began in 1967, devastating countless Palestinian families' livelihoods. Often the Israeli military helps with the destruction).
You'd see that in the Bethlehem district, Israelis also have attacked Palestinian farmers, and that the Israeli military has in recent days abducted and shot Palestinians (this is an everyday occurrence).
Israeli soldiers also demolished Palestinian homes (Israel demolishes Palestinian homes routinely, although it is against international law; in spite of the pandemic, 2020 has seen over 800 Palestinians made homeless, half of them children.  Israel has also demolished Covid treatment centers.)
This is Bethlehem at Christmas – and all year round.
What's going on outside Bethlehem?
Here are a few more stories from last weekend: near Hebron, an Israeli rammed a Palestinian with his car; Israelis assaulted Palestinians in several towns; Israeli forces shot and detained Palestinians in several towns. A young Palestinian man was killed earlier in the week by Israeli forces – and Tuesday his parents were informed that their house would be demolished.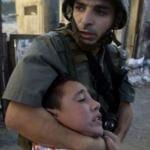 The Palestinian Center for Human Rights keeps a tally of Israeli abuses throughout the occupied Palestinian territories. They reported that, just since Thanksgiving, Israeli forces have violated international law 764 times, including using excessive force that wounded 60 Palestinians, and arresting 332 Palestinians.
In addition, during the last month, about 9,000 Israeli homes were approved for construction on land stolen from Palestinians; many Palestinians were overcome with tear gas during peaceful protests and during school; one Christian church was burned in an arson attack, and another was disrupted during worship – both incidents perpetrated by Israelis.
An entire Palestinian village was demolished – for the 181st time. (I have visited that village. Someday I'll tell you about it.)
These are just some of the reports from recent weeks in the Palestinian territories, under Israeli occupation.
(It is – I kid you not – relatively rare to find news of Palestinian violence against Israelis, although one Israeli was found dead over the weekend. If you had the impression before today that Palestinians were savages, you are not alone in that misconception.)
Other than the birth of Jesus, is there any good news in all of this? That depends on us.
Most Christians (and most Americans) are unfamiliar with the situation in the Holy Land. But when we begin to learn, we can begin to pray and advocate for justice.
From time to time in 2021, I'll be sharing stories about Palestine at Grace Colored Glasses. (Subscribe to my newsletter here.)
Merry Christmas to all, and to all good health!
---
FEATURED IMAGE: screenshot from the tree-lighting ceremony in Bethlehem on Dec. 6, 2020