I'm delighted to announce I've been asked to serve on Boston Mayor Martin Walsh's inaugural Interfaith Advisory Task Force. The group met for the first time last night at Boston's City Hall, and I was asked to give the closing reflection at the meeting. My remarks are below.
First, though, I want to say it feels good to know that Humanists, atheists, agnostics and the nonreligious finally have an official "seat at the table" here in Boston. We went through a difficult time feeling as though we had been excluded from public mourning after the Boston Marathon Bombing (for background, read this essay I wrote for CNN at the time), but we've since received a beautiful proclamation in our honor from the Governor of Massachusetts upon opening the Humanist Hub. Now, given this appointment and the nature of last night's discussion, I feel confident what happened as recently as April 2013 would be inconceivable today. Boston's dynamic, very progressive (Catholic) new Mayor and his administration see us as an important and respected part of the Boston community.
I want to thank the Secular Coalition for America for its steadfast support as we've worked to achieve these goals. The SCA is an invaluable resource for communities like ours across the United States, and I hope local communities like the Humanist Hub will in turn will be a great resource for the SCA by achieving big things on the ground. I also want to thank the Reverend Jeffrey Brown, co-chair of the Mayor's task force and a local and national hero for his work advocating for peace rather than violence among inner city youth. Reverend Brown has done an amazing job helping Humanists to secure our seat at the table, and his future efforts deserve our fullest support.
When Reverend Brown asked me to speak very briefly to close last night's event, I decided to take on the topic of the recent North Carolina shootings. These horrific murders have been widely discussed in interfaith circles, and in my experience, when we as Humanists and nonreligious people start from a place of admitting that we face challenges in our own communities, many of our religious colleagues tend to be surprisingly willing to open up to the need to address issues in their communities as well. May it be so. In a future post, I'll cover the four agenda items I hope to contribute to the Task Force's dialogue as it begins to meet regularly throughout the year. ***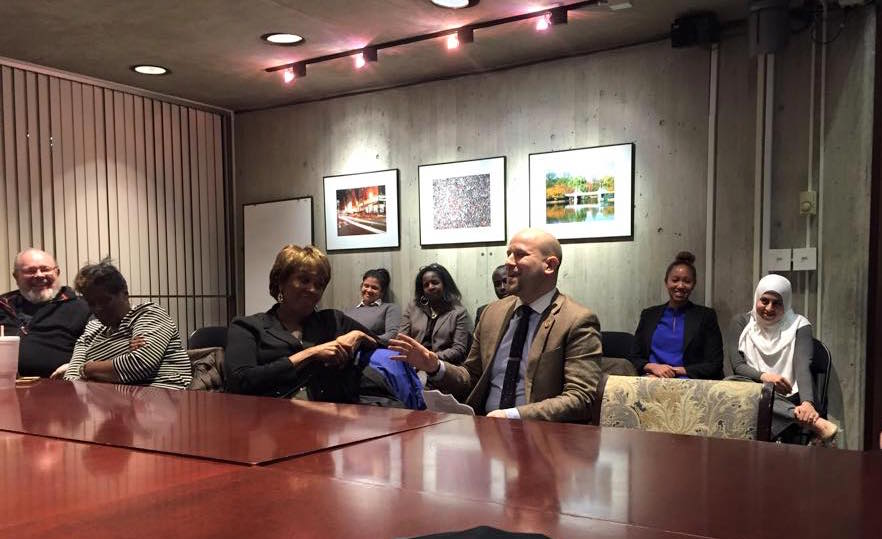 Mr. Mayor, fellow members of the Interfaith Advisory Task Force and esteemed guests: Joining this group is a proud moment for me, and perhaps for many of us.
But it's also a time to think less of personal joy and more of the humbling reality that our our pride in Boston and in ourselves may not be fully merited until we help make make life fairer for those without so many opportunities. In that spirit, I want to share a recent experience when I felt not proud but deeply ashamed.
You may have heard of the brutal killing of three honor students at the University of North Carolina. Deah, his wife Yusor, and her sister Razan were planning a trip to Turkey to provide emergency dental services for Syrian refugees. The day after they were killed I found myself staring at Deah's Facebook profile picture: in his wedding tuxedo and Nike's, palming a basketball. He wasn't just a devout Muslim, he was a face of what is good in America.
Then I learned their killer and I had 27 mutual friends on Facebook. He considered himself part of my extended community. It sickens me that this terrorizing murder– likely a hate crime– seems motivated by the perversion of values I hold dear. The story of the Chapel Hill shootings hits home here in Boston, and for all of us. Any of our teachings can be misused. Any of our community members could be senselessly harmed. Such is the rough side of our single garment of destiny.
But by working together, forging friendship amidst our differences, we can inspire redemptive hope in those around us. If we embrace one another, we can model the message that a stranger on the street will offer a hug and help rather than harm.
Now, "Amen" is not really a part of my tradition, so please join me in a moment of silent reflection, or prayer.
…Let us go out and make it so.