Yet another beautiful meeting of our Humanist Hub Monday night discussion group, tonight. Fourteen of us processed Michael DeDora's provocative message in his Sunday Hub Talk, "Channeling Your Personal Passions into Advocacy". Michael's message, in short,was that we can identify our passions and pursue advocacy around them. It's a great and important message, and it also brought out, tonight, that passion is a hard topic for many of us. The idea of passion seems to dangle in many of our lives as an impossible expectation, an invitation to perfectionism. If we can be passionate, then we should be, the narrative seems to go, and if not, is there something wrong with us?
But as a group tonight, we heard one other's struggles, talked about our own, and reflected on the fact that maybe living a life of passionate advocacy, or the pursuit of meaning, isn't something we're meant to do alone. Through the commitment to have regular discussions that are not debates but opportunities to understand one another and ourselves better, we took one step closer to building true community. And it turns out, being a meaningful part of a community is itself something many of us feel passionate about. Maybe that is a secular principle worth advocating for. And maybe one of the ways our community can grow even closer, eventually, is by advocating for those whose life circumstances don't currently afford them the privilege of a sense of meaningful community.
These ideas can be inspiring, but to be transparent, I'm not sure we are or need to be ready to go out and advocate just yet. I suspect we need a few more weeks or months to let our feelings and ideas stew, as we process what it's like to have had our own safe physical community space for…502 days now. (But who's counting?) Meanwhile, I'm reminded of a lovely reflection by the writer Peter Marin, as shared with me today by a member who attended yesterday's program.
"'I know there is something outside of me,' he said. 'I can feel it. I know it is there. But what is it?'

"'It may not be a mystery,' I said. 'Perhaps it is the world.'

"That startled him. He had meant something more magical than that, more exotic and grand, something 'above' rather than all around him. It had never occurred to him that what might be calling to him from beyond the self were the worlds of community and value, the worlds of history and action — all of them waiting to be entered not as a saint or a mystic, but in a way more difficult still: as a moral man or woman among other persons, with a person's complex nature and needs."
Maybe the greatest and most transformative "mystical" experience will turn out to be simply getting to know ourselves and each other better in our imperfect humanity, then eventually helping others to do so as well.
Well, we've taken to a set of rituals on Monday nights where we each "check in" with "roses and thorns" from our previous week– what's happened that's good and not so good in our lives. And then we "check out" at the end with joys and concerns about the coming week. My big community joy about this week is that in just hours we will welcome Piper Kerman, whose extraordinary experience of losing herself and then losing her freedom in prison turned out to inspire millions, which has given her the opportunity to become a passionate advocate for those less fortunate than herself in dealing with the criminal justice system.
Here's a quote from the brilliant character Piper inspired, on the Emmy-nominated Netflix show based on her bestselling book: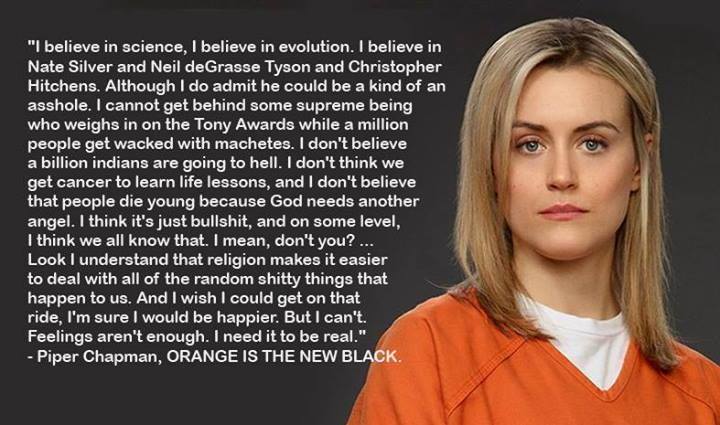 Let's go out and build something real together.