The below is from Boston Mayor Martin Walsh's office. I love the idea, though members of the secular community will of course notice the religious framing– I didn't know about this in advance or I could have suggested alternative language. Still, the very best way for us to broaden the interfaith/intercommunity nature of this work is to take up the invitation and demonstrate our values by walking with our neighbors. I plan to go tonight. I'll go to one more in addition if I can. Please pass it on and let me know if you can join.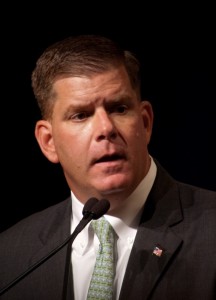 As we all know, the recent weeks have been very difficult for many of our neighbors and neighborhoods. At the request of Commissioner Evans, many of us came together this past Monday to talk and work towards things that we can do together to disrupt and ultimately stop the violence in our city. Although many thoughts and ideas were shared, a most immediate and tangible step that the Mayor asked we do together is schedule a series of neighborhood walks to engage together with parts of our city that have witnessed and suffered from the most recent acts of violence. Yesterday Dept. Supt. Bailey, Rev. Mark Scott and I met to work through a schedule for the next 10 days. Please know that this invite is NOT exclusive and we ask that you forward to all of your networks. Rev. Scott offered the following thought when we connected. "There were many forces that drove Boston's violence dramatically downward in the 1990s. One was a lot people working hard, together. The other was people praying. In the Jewish and Christian traditions we are told to "Seek the peace of the city. Pray … for it". These walks are seeking peace. As we walk many of us will pray in our hearts for peace. Please join us in this and continue to find ways, many ways, to build relationships with and create opportunity for the young people of our City." Rev. Scott will be present at each walk and coordinate the route in each n'hood with those present from that specific area…
Here are the details– I will be at the one tonight–Friday night August 21, which starts at the historic
12th Baptist Church
in Roxbury, where my friend the
Rev. Jeffrey Brown
is Associate Pastor. I'll post an update here later if I can make it to any of the other walks in the coming week. If you want to join me tonight, and you don't already have my cel#, send me a message on
Facebook
or
Tweet
at me and I'll make every effort to respond between 5-6pm.
All walks will begin at 6 p.m. but for the day of the Caribbean Festival which will be determined closer to that date. Below is the schedule we worked through yesterday:

Friday, 8/21, 6 pm from 12th Baptist Church on Warren St.

Saturday, 8/22, 6 pm from Trotter School on Humbolt Ave.

Monday, 8/24, 6 pm from Lila G. Frederick school on Columbia Rd.

Tuesday, 8/25, 6 pm from Walgreens parking lot at Bowdoin/Geneva

Wednesday, 8/25, 6 pm from Boys/Girls Club at BHA/Talbot

Thursday, 8/27, 6 pm from Area B-3 Police Station

Friday, 8/28, 6 pm from Norfolk Park on Norfolk

Saturday, 8/29, TBD from Boys/Girls Club at BHA/Talbot

* AGAIN, PLEASE FORWARD TO ANY and ALL that are missed.