This is the third in a series of three posts about the upcoming Humanist Community Day mini-conference in honor of the 2nd anniversary of the opening of the Humanist Hub, a community home for atheists, agnostics and allies in the greater Boston area. Our third Humanist Community Day speaker session will feature Sasha Sagan: a writer, producer, and film editor, and the daughter of renowned astrophysicist Carl Sagan and author and producer Ann Druyan.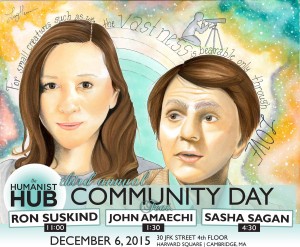 Sasha Sagan's session will focus on the Solstice as a natural holiday and a source of secular inspiration. Her session will feature a talk, discussion and an original video she created with the Humanist Hub's Humanist Learning Lab, as well as an original song about the solstice by Antje Duvekot, an award-winning musician widely recognized as one of Boston's top singer songwriters.
While Sagan's Learning Lab video will debut at Humanist Community Day, you can see a related video by HLL Teacher and Coordinator Nick Bohl, an accomplished YouTube artist, below:
The beautiful portrait in this post, of Sasha with her late father, was created in honor of our Humanist Community Day celebration by artist Humanist Hub member Lissy Herman.
For tickets and all other details of our Humanist Community Day schedule, visit our Eventbrite page.