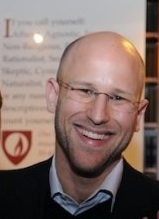 Greg M. Epstein serves as the Humanist Chaplain at Harvard University, and is author of the New York Times Bestselling book, Good Without God: What a Billion Nonreligious People Do Believe. A frequently quoted expert on Humanism and community for the nonreligious, Greg's work has been widely discussed in the national and international media, including the New York Times, CNN, the Boston Globe, and on dozens of radio programs.
In 2005, Greg received ordination as a Humanist Rabbi from the International Institute for Secular Humanistic Judaism. He holds a BA (Religion and Chinese) and an MA (Judaic Studies) from the University of Michigan, Ann Arbor, and a Masters of Theological Studies from the Harvard Divinity School.
Greg is also the Executive Director of the Humanist Community at Harvard and its Humanist Hub, the first-ever Center for Humanist Life on a university campus. He has helped establish similar organizations at Yale, Stanford, and other universities, and is currently writing a second book, on the worldwide movement to build inspiring communities for the nonreligious, for Simon and Schuster. For his work pioneering that movement, he received the Humanist Visionary Award from the Foundation Beyond Belief in 2013.
Greg and his wife Jackie were married in June 2014. They live in Cambridge, MA.