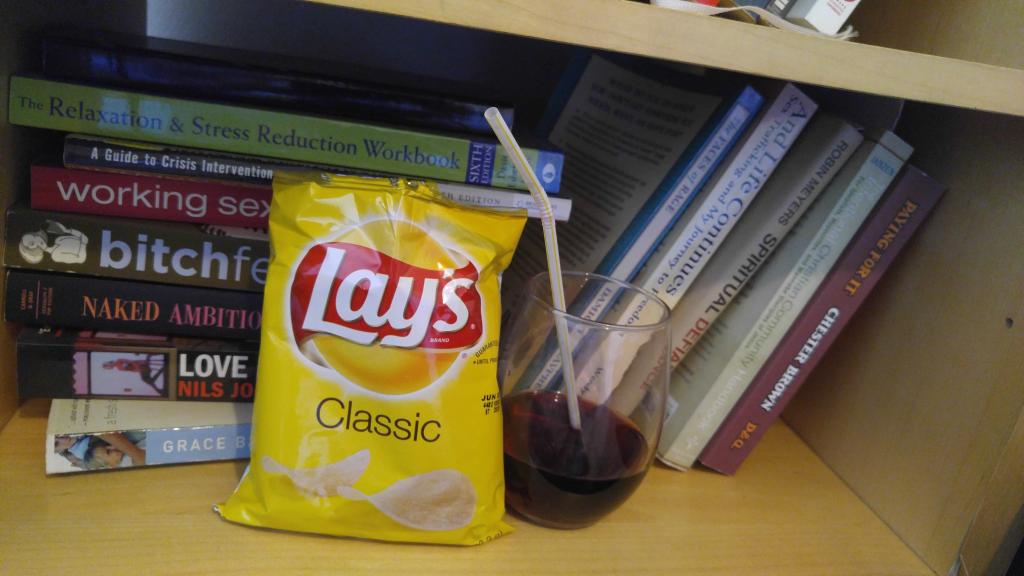 For those of you who may have been following and didn't know, SESTA/FOSTA passed it's Congressional vote yesterday and is on it's way to Trump's desk for a final signature. It's pretty much inevitable at this point unless an act of God or a tornado of rabid sharks hits the Oval Office first.  I'm gutted in a way that words just can't express … I truly can't find words yet and I'm realizing that so many don't understand why this bill impacts everyone. And while I know that this is not the end of the fight for Sex Workers and Survivors, I'm left figuring out how to process and deal with all the feels so many of us are having. Snark helps. But only slightly right now.
In an attempt to balance my undeniable frustration and rage surrounding various current goings-on with an unhealthy (but socially acceptable!!) coping mechanism, I'm presenting "This Week's Drinking Game …" We're going to play our first drinking game together! If you're not a drinker and would rather sub shots of espresso for shots of tequila, more power to you but i can't promise there's not wine in my future.
This week was a hard week and watching the SESTA/FOSTA saga unfurl on social media and in the House had me watching a nightmare unfold. As a service provider, former Sex Worker, and someone who was trafficked, this bill terrifies me. The bill (not so) cleverly acronymed for "Stop Enabling Sex Traffickers Act" and "Fight Online Sex Trafficking Act" has become a rallying cry by most of the Anti HT movement. If you've been around for  a while you know that this really only means sex trafficking because the government doesn't seem nearly as interested in labor trafficking which happens at a much greater rate, but whatever. Minor detail right? Fueled by all of those Amy Schumer loving, white, second wave feminism loving people singing it's tune, it's made it's way onto the forefront of celebrity activism again, but without genuinely offering any understanding of the systemic issues that create trafficking or how to keep both Sex Workers and exploited individuals safe. But the actual people being impacted by this legislation are obviously insignificant when it comes to issues this big, so let's drink.
Take a drink every time someone says "But this bill will protect people from being exploited!" …  Can you imagine how crazy it would be to expect, oh I don't know let's just say, a brain surgeon to oversee something as complex as the entire country's Housing and Urban Development Dept? That would be insane right?? Congress is not an expert on anything Sex Work or Trafficking related. Again and again, they have excluded our voices and wisdom the table. Over and over again, they ignored people, service providers, and organizations that begged them to consider the harm this would bring. Or what our community really needs.

Take a drink every time someone says "But this bill will prevent people from engaging in illegal behavior!"  NO. People are trying to survive and no one stops working when they have to eat or pay to keep their kids housed. Online forums keep SW AND those being trafficked safer. You kill them, you kill our community's ability to inform itself, share information, vet clients, and even stay alive. 
Take a drink every time you hear someone say "I just want to help/rescue people." Then stop creating an underground sex market where NO ONE will be reachable. If you really care about the struggles that people in poverty, the homeless, People of Color, women, LGBTQIA+, foster and runaway youth, and more experience, then stop  supporting/making political decisions that hurt them 

Take a drink every time you hear someone say "But it was a bipartisan supported bill!" It is a testimony to the power of crappy legislation when you can find people on both sides who hate the idea of SW so much that they'll ignore people with lived experience and wisdom, all good advice AND research and do whatever they want despite the possibility that it could get people killed.  Oh wait …
Take a drink every time you hear someone say "I support SESTA because I think porn/prostitution is immoral and/or leads to trafficking." Just because you disagree with something doesn't mean you get to recklessly endanger entire groups of marginalized people in your attempt to get rid of it. For the love of God don't watch it if you don't like it, but please stop conflating porn with trafficking. 

Bonus shots for anyone who's political representative has built their platform on 'family values' and gets their Porn Hub account hacked or gets arrested for solicitation in the upcoming months.
So, for every time one of these uninformed and ridiculous supports of FOSTA/SESTA rears it's ugly head, raise your glass and take a drink … It's happy hour somewhere and I'll be right behind you.