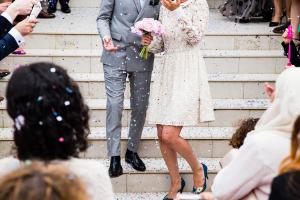 "Weddings are back," an event planner friend told me recently. "People are done with the postponements." This is good news. Just as funerals are mostly for the living, so weddings are mostly for the community.
They offer the opportunity for friends, family, and neighbors to hear vows and tacitly promise to support the couple in their struggles. It's why we used to ask whether anyone objected to marriage before the couple actually said the words, "I do." It was the community's last chance to speak up before agreeing to its end of the bargain.
Religious ceremonies, in particular, aim to locate marital unions within a sacred tangle of relationships and responsibilities that extend up to God and out to the community. So, as vaccines become more widely available and COVID-19 (fingers crossed) starts to wane, it's important to gather again (safely) and celebrate weddings as community expressions of a public good.
Plus, big weddings, the research tells us, tend to last longer. "Having high wedding attendance," a 2014 study from Emory University finds, "(is) positively associated with marriage duration."
And yet Utah is the latest state to consider legalizing so-called self-uniting nuptials, ceremonies in which couples nix an officiant and just pronounce themselves wed. Several states, including Colorado, Maine, Nevada, and Wisconsin, already allow some form of these weddings. Understandably, they offer convenience during a pandemic. You don't have to gather or wait in line at city hall, except to drop off the paperwork. But, as any seasoned veteran of the institution can attest, marriage is about much more than maximizing convenience.
The advent of self-uniting weddings is only the latest trend in do-it-yourself matrimony. The first step was probably letting young people actually pick their own spouses. Then came permitting couples to marry outside of the church. In England, the 1753 Marriage Act, officially called "An Act for the Better Preventing of Clandestine Marriage," had required that couples be bound in an officially recognized religious institution. But the rule didn't apply in Scotland, which led to the Scottish border town called Gretna Green becoming Victorian England's destination for quick hitches. The original Las Vegas.
But if prior eras faced too many restrictions surrounding the marriage, the pendulum is now swinging in the opposite direction. When the justice of the peace at my own wedding offered to include any pets in the proceedings, my now-husband and I stared at her blankly.
Today, it's common for less-than-formal wedding ceremonies to take place on beaches or in backyards. In the U.S., religious congregations hosted only 22% of weddings in 2017, down from 41% in 2009. Along with the venue, the vows have changed, too. According to the 2019 annual "Brides American Wedding Study," nearly half of all women surveyed said they and their partner wrote their own vows. For those of us forced to sit through some of them, I can attest that this has not always been a positive development.
Some religions themselves have become remarkably flexible. In 2008, New York Magazine published a directory of clergy willing to officiate at just about any kind of wedding ceremony. Of course, couples even 20 years ago could have all their unorthodox wedding wishes granted by a justice of the peace or even a friend ordained online as a universalist minister for the big day. But this catering to consumer demands may send the wrong message about marriage. After all, when something isn't to your liking in marriage, the idea is "to have and to hold" for better or for worse, and in sickness and in health.
And, even as cultural conformity surrounding weddings has relaxed, brides and grooms still yearn to have a religious figure presiding. According to a nationally representative survey I commissioned in 2010, fully two-thirds of same-faith couples and more than half of interfaith couples had religious figures presiding at their ceremony. Although these numbers have dropped some in recent years, for many a desire for a religious authority to solemnize the marriage persists.
Indeed, couples who shed their own religious rituals sometimes reach for others. Whether it is the "Blessing of the Apaches" or a Buddhist admonition to "not be angry nor bear secret resentments," young couples commonly invoke guidance from those who are older and wiser. This brings us back to the purpose of weddings. They are supposed to be declarations in front of a community — in front of friends, neighbors, family, coreligionists, and God. If they were simply private declarations of love, why bother at all? We could just take the words of someone standing under a window with a boombox as all we need to build a life upon.
Researchers find that it's not just bigger weddings that coincide with more stable marriages. It turns out that cheaper weddings correlate with long-lasting unions as well. A picnic wedding reception for the whole congregation after church will not magically produce a strong marriage, but the couples who have those kinds of weddings have plenty of support — and plenty of people holding them accountable for whether they live up to the vows they declared for all to hear.
This story appears in the April issue of Deseret Magazine. Learn more about how to subscribe.