When Coca Cola rolled out its new campaign last month to support the World Wildlife Fund (WWF), the company had a noble goal: celebrate the polar bear and commit up to $3 million to WWF's polar bear conservation efforts.
The plan was for Coke to make an initial donation of $2 million to WWF and then invite others to join the effort by texting to donate $1 to WWF. Coca-Cola would match all donations made with a package code by March 15, 2012, up to a total of $1 million, and the funds raised would go toward WWF's conservation efforts to protect polar bear habitats.
There was only one little problem. Some people confused the white holiday cans with Diet Coke and ended up with a sugary surprise. Others just thought the Coke in a white can tasted different than the iconic red can. Either way, the focus of the campaign went from saving cute polar bears to the color of a soda can.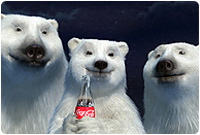 Polar bears have been part of the Coca Cola tradition since 1922, when they first appeared in a Coke print ads in France. Ever since, the cute polar bears have appeared sporadically in ads and on Coke cans. But it was in 1993 that the bears became part of the Coke holiday tradition, when the "Northern Lights" animated commercial commerical won the hearts of cola drinkers around the world.  The polar bears were even inducted this year into the Madison Avenue Advertising Hall of Fame.
Coke will stop shipping the white holiday cans and a new red holiday can to replace it will start shipping next week. The campaign to support WWF goes on. You can learn more about saving the polar bear habitat at ArcticHome.com.