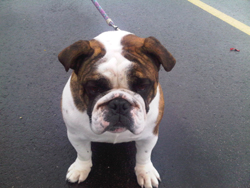 I posted today's Friday quote, about rescuing kitties who are simply out for a walk, and then coincidentally came across this story about an animal rescue group in Canada who have taken concern for pets to a whole new level.
Police in British Columbia have arrested 58-year-old Janet Olson and 59-year-old Louise Reid, both directors of A Better Life Dog Rescue, and charged them with breaking and entering and stealing a family pet. According to a press release issued by the Royal Canadian Mounted Police (RCMP), the pair would allegedly target homes with a seemingly healthy, unattended pet in the yard, don official looking uniforms to present themselves as an "Animal Welfare" service, take steps to disguise the license plate of the vehicle they operated, and then proceed to remove the pet from the private property without any judicial authority.
"This investigation quickly revealed Olson and Reid were operating their charitable not for profit organization beyond the scope of its mandate and allegedly unlawfully acting beyond their good will intentions," states Cpl. Drew Grainger in the press release.
Members on the Property Crime Target Team observed Olson and Reid enter the backyard of a Coquitlam residence where they subsequently walked away with a Bulldog named Samson on November 21, 2011. The pair were promptly arrested for theft of the pet. At the time of the arrest both Olson and Reid were wearing Animal Welfare uniforms.
In a story in the National Post, Olson defends her actions in other cases where she says BC Society for the Prevention of Cruelty of Animals dropped the ball. One case she recounted to the Post reporter was of Finnegan, an emaciated white German shepherd that she says bore signs of neglect when it was taken off a chain outside a Maple Ridge house during a cold snap in 2006. BC SPCA didn't respond to a neighbor's complaint so Olson took the dog. "He was one of the saddest things I have ever seen, shuddering at the side of the house to get residual heat," Ms. Olson recalled in the Post story.
However since Olson and Reid were arrested in early December and the story has become public, police have reportedly been flooded with tips about other dogs stolen from their yards.
In fact, a Facebook page called No Better Life, shows there may have been concerns for several years. In 2008, Bruce Ralston Member of Legislative Assembly (MLA), Surrey-Whalley, wrote to the Honourable John Les, Minister of Public Safety and Solicitor General, asking that he investigate allegations that A Better Life was "entering private property to seize dogs without the proper authority to do so" and that "The group then puts the dogs on their website for people to buy."
One story shared by a family on the Facebook page, about an Airdale named Hunter, exemplifies the situation. Hunter was taken from the family's back yard while the husband was in the shower. The family later learned someone fitting Olson's description had been taking photos of the dog a few days earlier. They began desperately searching Craigslist and contacting Airedale groups to see if anyone knew about the dog. The owner writes:
"We soon found ads for an Airedale fitting the description of Hunter from a rescue clinic called A Better Life Dog Rescue. We then tried to get a hold of them to verify if it was Hunter but soon found out that this organization was both non-cooperative and was selling dogs for a profit and had no intentions of  reuniting Hunter with his owners, as they see no profit in it. We then proceeded to speak to other Airedale owners from clubs Hunter was in and soon found out that Hunter was so called" rescued from a yard in Surrey" and was headed to an unsuspecting new owner in Seattle. Through many hours of phone calls we were able to track down the unsuspecting gentleman in Seattle that truly believed he was adopting a dog that needed a new home.

"Once we contacted the gentleman from Seattle to verify if it was Hunter he then proceeded to send us photos Jan Olsen from A Better Life Dog Rescue had sent him and sure enough it was our beloved Hunter."
Unfortunately, the family thinks that A Better Life caught wind of the investigation and told the gentleman in Seattle that the dog was no longer available. Hunter's family doesn't know where he is and is desperately trying to get him back.
A Better Life responded on their website to the current RCMP charges; the press release reads in part:
"The allegations that have been made by the Surrey RCMP accusing A Better Life Dog Rescue (ABLDR) of rescuing dogs for profit are completely false and entirely unfounded. When the truth is known it will be evident that not only does ABLDR not make a profit from rescuing dogs, but on the contrary, the founder and others in the organization have used their own financial resources to help fund the vet and rehabilitation costs of the dogs in our care.

"A Better Life Dog Rescue is a non-profit, all volunteer organization whose mandate is to rescue, rehabilitate and rehome abused and neglected dogs. Our mission is to end the suffering of canine companions by promoting animal rights legislation that will ensure all dogs have the right to be treated as loved members of their families and cannot be chained or penned, physically or emotionally abused, denied food and water or sufficient exercise and socialization."
Whether A Better Life steals dogs or takes them in to rehome is something the RCMP will continue to investigate. Animal rescue is an emotionally charged community, and there are people on both sides of the issue.
But the story is an example of how a potential adopter needs to investigate to make sure they're working with a legitimate rescue group. Ask for references, ask for paperwork on the dog; in fact, ask lots and lots of questions, because it's in your interests and the dog's to know everything you can about your future family member.
Generally, legitimate rescues don't advertise dogs on Craigslist.