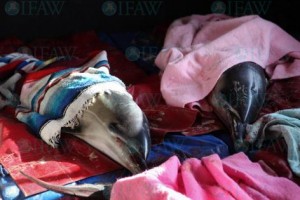 No matter how many scientific advances we make and how much knowledge we amass, there will always be stories that remind us that we still have so much more to learn about creation.
Case in point: the annual stranding of dolphins along the coast of Cape Cod. Along with Australia and New Zealand, Cape Cod is on the of the top three stranding sites in the world for these ocean mammals.
For reasons not even the best scientists can explain, mass strandings of multiple marine mammals often occur in this area between January and April. But this particular event is larger than many researchers have seen in a long time.
"I've been doing this for 15 years and this is only the second season I've seen it like this," said Katie Moore, Marine Mammal Rescue and Research Manager for International Fund for Animal Welfare (IFAW), in press release. "These types of lingering mass strandings seem to be unique to our area."
One dolphin stranded in Wellfleet on Thursday afternoon, kicking off a series of additional strandings straight through Monday. Approximately 40 dolphins stranded on Saturday alone in five towns from Dennis to Wellfleet. Those included a dolphin calf and a pregnant mother.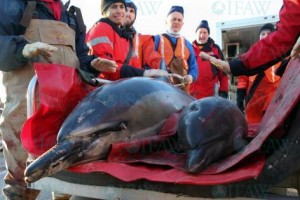 IFAW's Marine Mammal Rescue and Research Team has been able to rescue and release 19 of the 27 Common dolphins that stranded alive on Cape Cod shores during the past few days. There are 32 additional animals stranded, but were found dead, most likely due to injuries sustained from stranding.
According to the Encyclopedia Britannica, fossil evidence shows that mass strandings occurred before humans evolved, but researchers actually don't know for sure why:
"Perhaps not realizing that the ocean has a bottom and sides, they may somehow enter shallow water and find themselves unable to deal with the strange environment. Because they are also members of extremely social species and may be kept together by group ties, they may have even greater difficulty extricating themselves. In any case, biologists are beginning to realize that cetaceans are behaviorally complex enough that a simple blanket explanation of mass stranding is not likely to be valid."
Perhaps this mass stranding can offer some insight into the phenomenon. Before releasing the dolphins, researchers affixed satellite tags to the dorsal fins of five rescued dolphins, which Brian Sharp, IFAW's Stranding Coordinator, says will allow us to find out how the dolphins fare after their release. ""The scale of this mass stranding is unique. We've responded to dolphins along 25 miles of coastline during the past few days," said Sharp. "We're hoping to see that the location coordinates are grouped together, which will show that they've rejoined a pod."
 If you're in the Cape Cod area and see a live or dead stranded marine mammal south of Plymouth through Rhode Island, don't try to move the animal back onto the water, but report it to the IFAW emergency hotline at 508-743-9548.