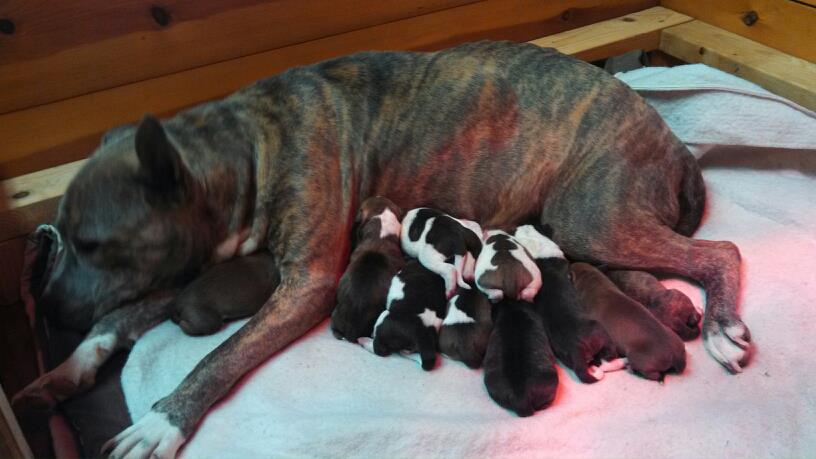 Here in Rochester, NY we're fortunate to have a wonderful animal group, Pitty Love Rescue, that does remarkable work rescuing, rehabing and rehoming pit bulls and pit mixes. They, along with other great groups in our area, are advocates for responsible dog ownership and a well-trained dog community. There are sad stories – puppy mills, overcrowded shelters, abandoned dogs. Working in the inner city, and especially with such a misunderstood breed, can really take its toll on volunteers.
So I just had to share a wonderful story with you, because it highlights the amazing work these groups do and the joys that come from their rescue efforts.
A few weeks ago, the girls at Pitty Love Rescue got a call from a dog owner who was going to take a very – very – pregnant pit bull to the shelter (and certain death) unless someone could come forward to help. Although they were already bursting at the seams, Pitty Love fosters and volunteers stepped up to take the dog – named Indigo – and within a few days assisted as she gave birth to 11 puppies. It was a joyous event, waiting, watching, and then celebrating as new life came from what could have been a tragic situation. Hundreds of volunteers and dog lovers from across the country were riveted to the online updates and the photos of the new mama and her babies.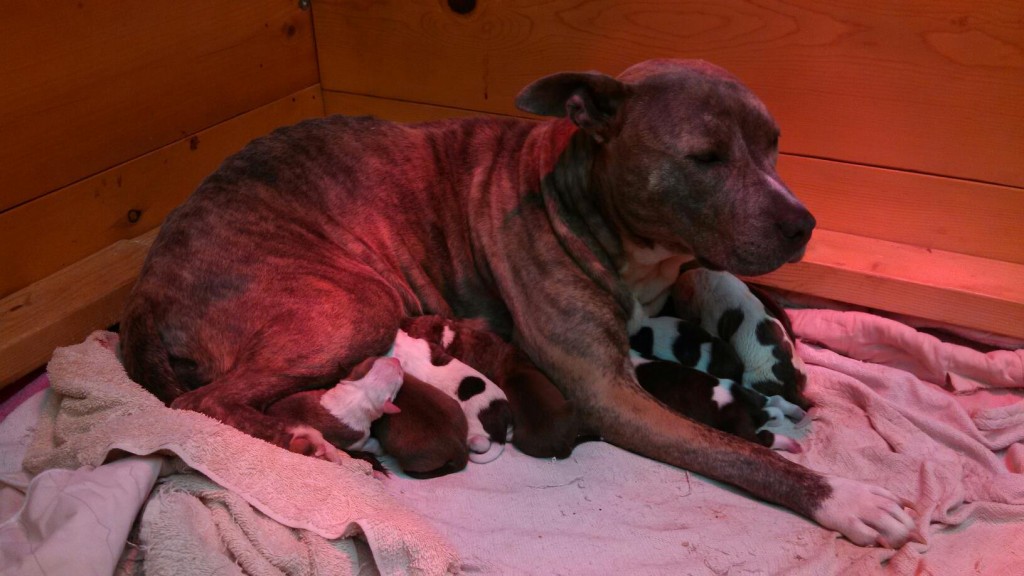 Then this week, the rescue was called when someone left a box of puppies on the doorstep of Penfield Animal Hospital. According to a story at 13WHAM.com, Dr. Kirsten Mueller, the Veterinarian who treated the pups, said the umbilical cords were still attached and she believed that the puppies were only a day or two old at the time.
Pitty Love volunteers took the pups, dubbed "The Orphans", and volunteers have spent the past week bottle feeding and caring for the babies round the clock. There was no word on what  happened to the mother dog; despite searches of the area and shelters, there's been no sign of her.
With 22 pups in their care, along with dozens of other dogs being fostered, the rescue has its hands full. Jenn Fedele, founder of Pitty Love Rescue, says, "We are super lucky to have such a GREAT network of volunteers and supporters. Seriously lucky." The problem, though, is that even the most devout human care isn't a substitute for a warm mother dog. These little pups – just a few days old – need a mama.
Enter a miracle named Mercy.
Just a week ago, Mercy and her 5-week-old pup were on "death row" at the city shelter (which is bursting at the seams) when the folks at Rescued Treasures Pet Adoptions came to her rescue. (Just a side note: often in a shelter, sick dogs, dogs in need of extensive medical care, or very young newborns are often at the top of the "death row" list, simply because there aren't enough resources to meet their needs for any length of time.)
Rescued Treasures got Mercy and her pup into a foster  home. But now that she's just finished nursing her own little one, the two rescue groups got together to see if maybe Mercy would accept the orphan pups.
And, clearly living up to her name, she did.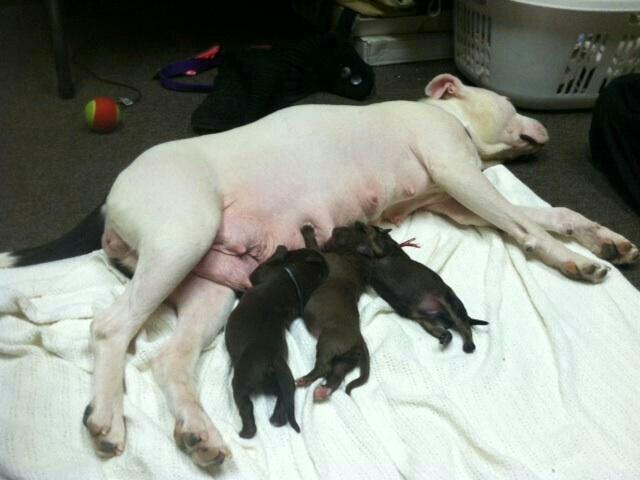 So as we speak, Indigo and her 11 pups are safe and sound. Mercy and her pup, along with 11 orphans, are being cared for together. And here's where you come in. Pitty Love Rescue now has 22 puppies, ranging from just a few days to a few weeks old, who are going to need vaccinations, spaying/neutering and foster or forever homes, along with two mamas who will be spayed and vaccinated, too.
That's 24 spay/neuters, 24 rounds of vaccinations, and 24 homes.
If you've ever considered supporting a dog rescue, now would be a good time to make a donation. Here's how you can help:
1) Pitty Love Rescue is in immediate need of blankets, towels, puppy pads, and in the near future toys for the pups and kibble. The pups will eat Earthborn Puppy Vantage.
2) Monetary donations can be made to Pitty Love Rescue on their website. You can also send checks directly to their vet's office to help cover the cost of spay/neutering. (Make sure you write "For Pitty Love Rescue" on the check.)
3) Consider fostering or adopting a dog! Indie's pups are only 3 weeks old, and The Orphans just a few days, so it'll be a while before they'll be able to go to homes. But Indigo will need a home, and so will Mercy and her pup. Jenn told me that Mercy "is beyond sweet and everyone who has met her absolutely adores her. Mercy is special. I'm really hoping this story will help her to get a fantastic home." About Indie, she adds, "Indie is a fantastic, sweet mom" who is going to make a wonderful addition to someone's family. These are two very special mother dogs who shouldn't be overlooked in all of the new puppy cuteness.
For more information about fostering or adopting Indigo, Mercy, or any of the pups, or if you want to make a donation to help with their care, contact Pitty Love Rescue.
For more information about adopting Mercy's pup, Petey, contact Rescued Treasures Pet Adoptions.