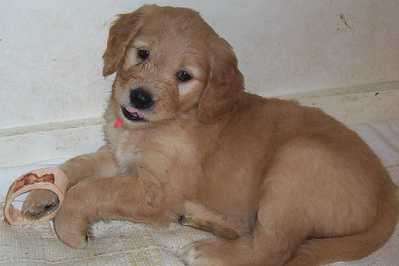 There's a discussion going on among some of my Facebook friends about a local charity raising money with a silent auction that includes one "Golden" dog owner package, complete with a new Goldendoodle puppy.
The organization is CURE Childhood Cancer Association, which "provides emotional, educational, and financial assistance to area families whose children are treated in the oncology and hematology department at Golisano Children's Hospital" at Strong Memorial Hospital in Rochester, N.Y. It's a great organization that really helps people in need.
The event, which takes place this Sunday, October 6, 2013, includes a silent auction with almost 200 prize packages, some inexpensive and some expensive, including bottles of wine, getaway packages, event tickets, salon packages, restaurant certificates, and this, the package that's causing the stir:
 Golden Opportunity New Pet Package

Take this Golden opportunity and bid on this new puppy bundle!

This package includes a $100 gift certificate to Pet$aver Healthy Pet Superstore, a week of boarding for your puppy at Heavenly Kennel and some great puppy starter items! The individual who wins this package including the items mentioned above will be given a beautiful golden doodle puppy!

Don't be a guppy. You could be given a puppy! No need to whistle for us,

Just raise your paddle to bid!

Valued at $1,500.00
Minimum Bid: $140.00 Minimum Raise: $10.00 Guaranteed Purchase: $360.00
Feedback from the Facebook community includes comments ranging from "Giving away a puppy at an event is a horrible and terrible idea" to "I am grateful businesses are willing to give to a wonderful cause…"
I do confess that my initial thought was also, "Huh. A live puppy? Is that really a good idea?" I mean, this
is
a living, breathing creature that the new owner will have to care for for years and years. I'd feel better if there was a requirement for the owner to pass some sort of approval process to make sure they understand this isn't a gift certificate to a restaurant that they use once and forget about. I'd feel even better if the package also included six weeks of training with a local, positive method dog trainer.
On the other side of the argument, it's not as if they're just handing out a puppy to whoever holds out their hand or asking people to throw a ping pong ball into a fishbowl to win a dog. In order to "win" that auction item, bidders need to pay a minimum bid and, if I'm reading this right, the package needs to raise at least $360 to actually be sold. (Can you tell I don't attend high class events like this very often?) That kind of pares down the potential bidding field to people who are willing to spend money on a dog they actually want.
And like any silent auction, if you don't want a dog, you don't bid on the package. It's not like they've bought a raffle ticket and end up going home with a dog they never wanted. If they're going to bid on this, I'm guessing that chances are good that they've read the list of auction packages in advance and are bidding intentionally.
Of course, I could be wrong. Is it possible some irresponsible idiot who shouldn't be allowed to own a dog wins the package? Sure. But that same irresponsible idiot can take the same money and go buy a "designer" dog at the mall or acquire a dog in myriad other ways – including from the family in our neighborhood with the the crayon-scrawled "Beagle puppies for sale" sign posted in their yard or on CraigsList (see the story on Kiya).
So I'm on the fence. Well-intentioned for sure, but maybe not the greatest idea? What are your thoughts? Good idea? Bad idea? Non-issue?