If you've been following along with the saga of Mrs. Robin's nest, after a week of starts, stops and nests being blown away, not only did Mrs. Robin finally build her nest (with a little help from darling husband), you'll be happy to know … we have an egg!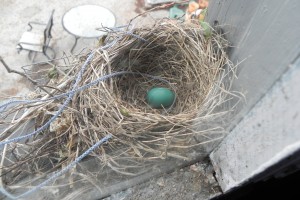 As I write this, she's out in the yard fending off a blue jay and a grackle, and declaring from her perch in the lilac bush war on anyone – animal or human – who dares come near her egg.  I'll be watching from the garage window for the birth.
It's amazing, isn't it, how right under our noses – or over our heads – miracles like this happen?