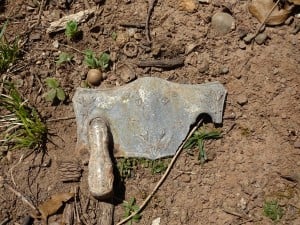 I was out recently with my Border collie Bandit when he came upon a groundhog hole. That's not unusual; the cemetery where I often walk is a certified habitat with the National Wildlife Federation, and is crawling with squirrels, chipmunks, groundhogs, deer, birds, and foxes. It's not the first time I've had a close encounter with critters while meandering among the dead.
What was unusual this time? Around the entrance to the hole were items the groundhog had hauled to the surface while tunneling. Items like casket handles and knobs, and pieces of rotted coffin wood, and a bone.
You heard me. A bone.
At first, I thought that maybe it was just a wooden ornament from the corner of a casket or maybe part of a statue from a headstone. But it didn't feel like marble or wood. So I took photos and when I got home shared them with friends, including more than one person in the medical profession, and the consensus was unanimous: it was a human bone. A vertebra, to be precise.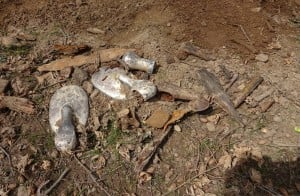 Let me be clear that I didn't bring the bone home or even disturb the site too much. In fact, after taking photos (because I knew this was going to make a great story and I wanted photos to go with it), I carefully left everything where I found it and went right to the cemetery office to report it.
Turns out that not only are critters a common sight in the cemetery, so are bones. And springtime brings more frequent surprises above ground as the snow melts, the soil softens, and wildlife starts burrowing and nesting and tunneling.
In fact, a few days after this little adventure, I was back at the cemetery with my sister and a friend. I'd enlisted their help looking for a grave as part of research I'm doing for my next book. We stumbled onto another groundhog hole. In his debris pile? Another casket handle and part of a skull.
Another trip to the cemetery office to file another report.
I wanted to know how the cemetery deals respectfully with the remains that critters haul to the surface. Because of the extensive network of groundhog tunnels, there's no way to know which casket parts, or body parts, come from which plot. And even if you were sure, you can't just open up Aunt Susan's grave to return her femur. (When I asked, one worker told me the largest bone someone ever found in the cemetery was a leg bone. A femur is the largest leg bone I can name, but it could just as easily have been a tibia.)
So what happens to the bones?
Cemetery workers fill the groundhog hole with whatever the critter has dug up – casket parts or bones or whatever else they've uncovered – and then they fill the hole with dirt. The theory, I assume, is that the groundhog will find another place to live and the spirits of the dead will understand the living have done the best they can under the circumstances.
One staff member explained that it's a delicate balance between managing wildlife and caring for the remains of others' loved ones. The cemetery is gorgeous – woods, grassy areas, hills and vales. It's truly a beautiful place to be buried, and offers almost 200 acres of nature in the middle of the city, a place where you find bikers and joggers and people walking dogs. The living enjoy it as much as the dead, and clearly the animals are thrilled to be there, too.
But when they get to be a problem, when they're wreaking havoc on graves, for example, traps are set and the critters are humanely relocated to wooded areas outside of the city. But even that's not always easy to accomplish; walkers in the cemetery often open the traps to let the groundhogs loose. Not only does it thwart the cemetery's efforts, it puts the human who opened the trap in danger.
Newsflash: Groundhogs bite.
When I walked by the first hole a few days later, it was clear the groundhog had not gotten the memo that this hole was closed for business. He'd burrowed back in and thrown out the casket handles and knobs, settling back into his old digs. The bone wasn't anywhere in sight, so I assume he decided to get with the program and show some respect for his underground neighbors.
I'm still curious: what does it looks like down that groundhog hole? Has he scavenged any other interesting things, like jewelry? Teeth? Articles of clothing? When he burrows through a coffin, does he set up camp inside or just burrow out the other side and move on with his business? Do the dead mind the disturbance or are they grateful for the company?
And what about those bones, permanently dislocated from their owners? When I was a child, a pastor told our congregation that when our bodies are resurrected they will come together to be made whole before we ascend to the heavens. That made organ donation a dangerous prospect. As a child, I had nightmares about being being called up from the grave in the Rapture, only to have living humans explode as my donated organs were called back to their original home.
The experience with the groundhog and his underground activities only reinforced something I've believed for a very long time, that we are not bodies with souls but instead souls with bodies, and that when we shed our mortal homes our spirits journey on while our earthly shells return to the ground, to the elements, to dust. We are one with the earth, and with its creatures, both above and below ground.