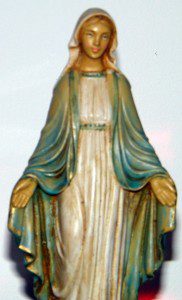 Jesus, the God-man, looking down from the cross, saw his mother and the beloved apostle, John, standing there beside him. As the perfect follower of the law, Jesus always acted as a good son, honoring and loving his precious mother (cf. Ex. 20:12). Mary was there beside her son, her heart pierced as she watched in sorrow his painful death on the cross.[1] Seeing his mother having no one else there to comfort her, no children to take care of her when he died, the Word of God spoke another word, this one on her behalf. She who had no other children on earth was to be given many, many more, each capable of honoring and loving her, of consoling her in her grief at the cross, as he was to make her the mother of the brethren, starting with the beloved disciple.[2] He was to give his mother countless children, each capable of comforting her in their own unique way, the act which was exemplified by his speech to John: "Behold, your mother!" (Jn.19:27 RSV).
To understand his words to John, we must remember first and foremost, Jesus was never a liar. He was truth incarnate, and as such, his words manifested great mysteries whenever he spoke. It is not always easy to discern the meaning of his words, for often they were full of paradoxes, which require us to find ourselves thinking beyond conventional means in order to discern the wisdom he imparted. But it is exactly what is required of us, if we are to be his disciples: to take on the wisdom he has given us, and find the way it is to be lived out and live it out. For John, in the biological sense, clearly was not the son of Mary (he was the son of Zebedee and Salome). Indeed, Salome was another companion of John, visiting Jesus at the cross (cf. Mk. 15:40 and Mt. 27:56). And yet, Jesus pointed to Mary and told John, "Behold, your mother!" Jesus was, once again, preaching, so that even on the cross, he could proclaim to us all, through the example of John, a great mystery, a secret which transcends earthly conventions, the secret of Mary the Theotokos (Mother of God). It is the revelation of her as our spiritual mother, for in and through her is born the body of Christ, the same body we unite to in our baptism, the body we, through grace, are grafted in and become a member. If we are the body of Christ, then Mary becomes our mother, helping to give birth to us spiritually in and through the birth of her son, Jesus.
The death and resurrection of Christ brings to us our spiritual regeneration, so that in baptism we can be born again in his death and resurrection. "We were buried therefore with him by baptism into death, so that as Christ was raised from the dead by the glory of the Father, we too might walk in newness of life" (Rom. 6:4 RSV). Mary, at the foot of the cross, had a unique share in the work of Christ, as she experienced the pain and sorrow her son felt in a way no one else could, having spiritual sword thrust through her heart as Jesus was pierced by nail and thorn. She, whose body and blood was used to generate Jesus, shared in the suffering of that flesh, shared in the work and accomplishment of the God-man. For it was her humanity which provided him the means to be a sacrifice of love to God the Father. It is there, as she is with her son, she was shown the fruit of her work when Jesus gave to her the first of many new sons and daughters, proclaiming, "Woman, behold your son!" (Jn. 19:26 RSV). It is in this way that as the God-man triumphed over death, even the woman can be said to triumph with him, conquering the world.[3]
These few words, "Behold, your mother" like so much of what Christ said, does not have only one interpretation; there was intended with it many messages, all of which were to be understood as true, and held together as one. While we are concerned here about the demonstration of Mary as the spiritual mother of restored humanity, the new Eve, we must also understand that there was also a practical implication meant by these words. Jesus not only was showing John that he was the first of the new children of God spiritually established through Mary, he was also given the duty and responsibility to look after Mary as his mother. Mary had no other children of her own, no one else to take care of her. Jesus could not fulfill the law unless he found a way to look after her welfare, and so Jesus fulfilled his duty on the cross by putting her under the watchful protection of John.
Thus, while these words speak of the second birth and Mary's universal status as the second Eve, we also see in them that Jesus was the good son looking after the welfare of his mother. Jesus, Mary's only son, was responsible for her. When Joseph died, her sons, if she had any, would have been expected to look after her; widows without a son were given a low place in Jewish society because they had no one to take care of them. It was for this reason the prophets constantly indicated that the state, that is the king and others in positions of secular authority, were given the task to look after and protect the widow, the orphan, and anyone else dispossessed in the land, because no one else likely would (cf. Deut. 27:19; Is. 1:17; Mal. 3:5). Indeed, not even a stepson had any special responsibility to look after their stepmothers; if their father died, stepsons had no obligation to look after a stepmother. James, often described as the brother of Jesus, was not Jesus' biological brother, but, at most a stepbrother, and so he had no duty in accordance to the law to protect Mary.[4] The fact that he was not a son of Mary can be ascertained from the fact that James was seen as righteous and just by Jewish standards, and yet, he had nothing at this point to do with Mary and her preservation.[5] If he were Mary's son, James would have taken care of Mary, but he didn't and he was still seen as just in the eyes of the Jewish law and by Christians like. And so we must recognize he couldn't have been her biological son, nor did she have any other children, because then Jesus would have had no need to find a way to take care of Mary after he died.
Jesus, therefore, did what he could for his mother, Mary, by giving her to John to treat her and take care of her as his mother. John was made Mary's guardian and protector. There was a real exchange which went on here, established by the authority of Christ himself, so that the obligation intended by the words were understood by John. Mary turned to John with a mother's love, and treated him as her son, even as John looked to Mary and treated her as his own mother. Mary and John become mother and son, making John the first of many children of God who find themselves to be spiritual brothers and co-heirs to Jesus.[6] But being the first, he was also able to do so in a historical, earthly manner, giving him a very rare and special privilege:
O the honor! with what honor did He honor the disciple! when He Himself was now departing, He committed her to the disciple to take care of. For since it was likely that, being His mother, she would grieve, and require protection, He with reason entrusted her to the beloved. To him He saith, "Behold thy mother." (Jn 19,27). This He said, knitting them together in charity; which the disciple understanding, took her to his own home. [7]
While Jesus gave Mary to John, the universal import of the text is the fact that Mary has become our mother and we have become her children. Jesus' words imparted both the responsibility of sonship to John as well as the universal motherhood of Mary to all Christians. It was an event full of meaning, and one not just meant for him, which is why John felt the need to relay it in his Gospel. "Behold, your mother!" As Jesus is the way, the truth, and the life, and all who live must come to him and be born again, so we must find Mary, the mother of Jesus, as our mother when we find ourselves united to Christ. "But now that faith has come, we are no longer under a custodian; for in Christ Jesus you are all sons of God, through faith. For as many of you as were baptized into Christ have put on Christ" (Gal. 3:24-7 RSV).
We are meant to make our life to be one with the life of Christ. Christ is to live in us as we live in Christ,[8] reflecting the way the Father is in the Son and the Son is in the Father.[9] Christ lives in us so we become the body of Christ (cf. 1 Cor. 12:27).[10] As we are grafted into the body of Christ, we find we are one with Jesus, one with his flesh through communion. Thus, not only in baptism, but in the sacrament of communion, do we find ourselves to be the body of Chris born of Mary, for it the flesh which becomes one with is sacramentally and substantially none other than the flesh born of her.
When we read in John, "Behold, your mother," we should find ourselves looking to Mary and find out what a glorious mother she is. She loves us as she loves her son, Jesus, because we have become the body of Christ through baptism, confirmation and communion.[11] She is our mother because we are united to Christ, having been born again in and through him. She is the mother of life, the mother of salvation; we experience her maternity in and through Christ as we make his life our own, granting us with it, our salvation.
We who are Christians, we who are christs in Christ,[12] let us look up with love to Mary our mother. Let us cherish her greatness. Let us praise her, for what she has done with and for her son, Jesus, and all of us in him. But let us also go to her as a mother, looking for help. We know she will help us, because she has taken us as her own children, looking at us with her great motherly love. The whole fiery love of God was within her womb and consumed her not, and so the whole of creation, which is dependent upon God, is nothing in comparison. She can look after it even as she was able to carry the God of all in her womb—by being full of grace.
Because creation is the beloved work of God her son, the beloved work of the Word through whom all things were made, all of creation is loved by Mary and has her as patron and protectress. She, who is our spiritual mother, has us, her children always before her. She loves us, and will take care of us with her great motherly loved. Her love, because of who she is, because of what she has done, is a love which knows no limits, no barriers, to hinder the wondrous deeds she is able to do for us, fulfilling, therefore, her own words: "For behold, henceforth all generations will call me blessed; for he who is mighty has done great things for me, and holy is his name" (Lk. 1:48-9 RSV). All she does, she does in and with her son, with the grace given to her. And this is how and why she is able to do all things she does, all the things many claim she cannot: with such purity in heart, she fulfills the verse, "I can do all things in him who strengthens me" (Philip. 4:13 RSV). She is the New Eve, our dear spiritual mother; how can we look at her and think she can do any less?
---
[1] Thus the prophecy of Simeon the elder was fulfilled: "Behold, this child is set for the fall and rising of many in Israel, and for a sign that is spoken against (and a sword will pierce through your own soul also), that thoughts out of many hearts may be revealed" (Lk. 2:34-5 RV). She who in her purity had given birth to Christ without labor pains cf. Isa. 66:7) shared in the suffering of her son, where she labored with Jesus and so together they gave birth to a restored, grace-filled humanity. And so, while the earthly birth of Jesus came without suffering, she certainly suffered labor pains for the sake of us, as John, who was with her at the cross, fittingly described: "she was with child and she cried out in her pangs of birth, in anguish for delivery" (Rev. 12:2 RSV).
[2] The cross is both an event in time, but also a spiritual reality. Jesus is the lamb of God slain from the foundation of the world (cf. Rev. 13:8). This trans-temporal aspect of the cross allows us to mystically unite with Mary and share with her the pain she felt when Jesus her son was on the cross, and in doing so, render to her our loving compassion to console her in her grief.
[3] "O woman, what a spending being you are! For you have set your foundation in the sun, and have conquered the world," St. Hildegard of Bingen, "Letter 52r" in The Letters of Hildegard of Bingen. trans. Joseph L. Baird and Radd K. Ehrman (Oxford: Oxford University Press, 1994),128.
[4] While some believe them to be cousins, I believe the tradition which is promoted in Eastern Christianity is correct, that is, Joseph was a widower who had many children before he was betrothed to Mary. We will reflect upon this later in another Marian reflection.
[5] cf. Josephus, The Antiquities of the Jews XX:19.1 in The Works of Josephus. trans. William Whiston, A.M. (Peabody, Massachusetts: Hendrickson, 1994), 537-8.
[6] cf. Rom. 8:17.
[7] St John Chrysostom, Homilies on St. John in NPNF1(14):318 [Homily LXXXV]. Chrysostom also explained how this shows Jesus truly was born of the flesh, that Mary truly was his mother. "And these words He silenceth the shamelessness of Marcion; for if He were not born according to the flesh, nor had a mother, whereforth taketh He such forethought for her alone?" (ibid).
[8] cf. Gal 2:20.
[9] cf. John 14:11.
[10] Paul demonstrates this eucharistically: "The cup of blessing which we bless, is it not a participation in the blood of Christ? The bread which we break, is it not a participation in the body of Christ? Because there is one bread, we who are many are one body, for we all partake of the one bread" (1Cor 10:16-17 RSV). In this way, as we partake of the eucharist, which is the body and blood of Christ, it is made a part of us, making us the body of Christ, uniting us with all others who eat the sacramental gift. The church is the body of Christ, because we become the body of Christ through our participation in the eucharist. Thus, Christ is the true vine (Jn. 15:1) who we are joined with to become his branches (Jn. 15:5).
[11] For in confirmation, we receive the spirit of Christ, the Holy Spirit, showing we have that Spirit because we are in the Body of Christ.
[12] "Having been baptized into Christ, and put on Christ, you have been made conformable to the Son of God; for God having foreordained us unto adoption as sons, made us to be conformed to the body of Christ's glory. Having therefore become partakers of Christ, you are properly called Christs, and of you God said, Touch not My Christs , or anointed. Now you have been made Christs, by receiving the antitype of the Holy Ghost; and all things have been wrought in you by imitation , because you are images of Christ," St. Cyril of Jerusalem, Catechetical Lectures XXI in NPNF2(7):149.

Stay in touch! Like A Little Bit of Nothing on Facebook: