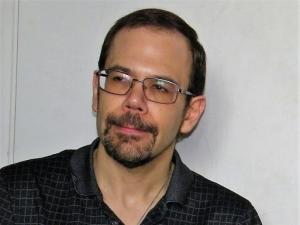 God transcends all things, and so is not a thing. We come, therefore, to embrace God and receive from him a little of his transcendent truth, a little of the nothing, and use it to engage the world at large.
Henry C. Antony Karlson III has done considerable amount of graduate work and study in philosophy, theology, and comparative religious dialogue. He has taught as an adjunct at both Georgetown University and the Catholic University of America. He seeks to engage his readers with a diversity of topics, some cultural, some philosophical, some theological, but all for the glory of God.  He is a Byzantine Catholic, who, before establishing his own blog on Patheos, used to be one of many writers on Vox Nova. He has had articles published or republished on many other sites including The Interfaith Observer, Orthodoxy in Dialogue, and Eclectic Orthodoxy. 
In 2017, Henry Karlson's book, The Eschatological Judgment of Christ: The Hope of Universal Salvation and the Fear of Perdition in the Theology of Hans Urs von Balthasar, was published by  Wipf and Stock.