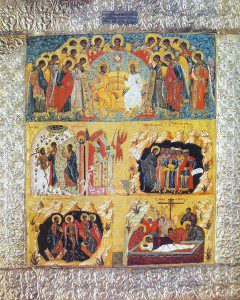 In the incarnation, the Word of God, the Logos, truly became man. The same person who is God from eternity assumed human nature and made it his own. "And the Word became flesh and dwelt among us, full of grace and truth; we have beheld his glory, glory as of the only Son from the Father" (John 1:14 RSV).  This is the foundation of the new and eternal covenant. It is because it is eternal that the new covenant is able to leave eternal effects upon us, bringing us into eternal life. If it were a limited covenant which ended, and so if some believed that the incarnation and the humanity of Jesus came to an end, then we would be left to question our salvation, for what happened to the humanity of Jesus is what happens to us. As we are told he will never die again, so we too, in and through him, will also never again die:
For if we have been united with him in a death like his, we shall certainly be united with him in a resurrection like his. We know that our old self was crucified with him so that the sinful body might be destroyed, and we might no longer be enslaved to sin. For he who has died is freed from sin. But if we have died with Christ, we believe that we shall also live with him. For we know that Christ being raised from the dead will never die again; death no longer has dominion over him.  The death he died he died to sin, once for all, but the life he lives he lives to God (Rom. 6: 5-10 RSV).
As we try to understand the incarnation, as we explore the implications of the incarnation, we constantly find ourselves having to state truths which we are unable to comprehend. This is why so many find the Christian faith difficult to believe. They do not want to accept their own human frailty. They want a simple faith which "makes sense" to them, that is, a faith which teaches only what a human mind can comprehend. This is why so many critics of the Christian faith ridicule the implications of the incarnation. It transcends their comprehension, and so they assume, it must be false. And yet as the truth transcends us, so the truth, though it can be represented by us in conventions, must always be greater than us for it to be true. This is why there will always be paradoxes which develop when we explore the implications of the truth through the conventions we use to understand it.
This is especially the case with the incarnation, where we find God the Logos, the transcendent, incomprehensible God, has taken on humanity unto himself, so that he can and does come to us in a form which we can comprehend while remaining incomprehensible. The form must always be his, and so must always be said to be one with him, and yet it must never be confused with who he is in his divine nature. We cannot separate the two and yet we must not confuse the two – this, of course, was the outcome of the great Christological debates. St. Fulgentius followed this line of thought well when he wrote:
But God the Word did not receive flesh in some way without becoming flesh, since the evangelist says: "The Word was made flesh." And the most high and most great God did not assume the nature of flesh in the way [he dwelt] in one of the patriarchs or prophets. In that case, God would certainly have been in that man, but God himself would not have been a man. May it never happen that the Christian conscience holds to such an understanding or that anyone among the faithful permits himself to be defiled by such great ungodliness. For when "the Word was made flesh," divinity thus deigned to unite humanity miraculously to itself in such a way that for the life of the world, that humanity of his would come into being as divine humanity in one and the same God and man, Christ, while preserving the reality of both natures. [1]
The key to having a right belief in the incarnation is to understand that by assuming humanity to himself, the person of God the Word, the Logos, properly unites all that is in and of his human nature to himself, so that he is one person who is known both by his divinity with his divine actions and his humanity with his human activity. He preserves all that he is in his divinity, never losing it, never abandoning it, while preserving in himself the reality of his humanity, never losing nor abandoning it either. When he became man, he took on human nature and made it his own in truth; it was not a temporary assumption of humanity to himself. Thus, when speaking of Jesus after his ascent into heaven, Scripture continues to call him man: "For there is one God, and there is one mediator between God and men, the man Christ Jesus, who gave himself as a ransom for all, the testimony to which was borne at the proper time" (1 Tim. 2:5-6 RSV).
Now, as he took on human nature and became man, what he took on was not some universal nature without a body, but he actually took on all that it means to be human, including having a body for himself. Before his death and resurrection, its mode of existence was physical, taking on the modality of the world as it is after the fall – not because Jesus had sin, but rather, because he deigned to empty himself of all that would hold himself back away from us, so that we can come to know him where we were at thanks to the fall. In this way, we were able to see the activity of God in and through him – those who came to know him and see him, he said, were able to see the activity of God and so to see God: Father, Son and Holy Spirit, according to his divine energy (that is, his divine activity).[2]
Yet, because of how we think of bodies in a purely fallen modality, so we think of them in a fashion with little to no spiritual nature associated with it. This makes it is difficult for us to understand how Jesus retains his body after his ascent into heaven because heaven is spiritual, not physical, and is best thought of a state of existence instead of a physical place per se.  Some, seeing the challenge before them, erroneously say that Jesus shed his humanity as he ascended into heaven, and so in the process, they say he discarded his body. Again, seeking to place the ways of God into human comprehension, they discard the means of salvation and the eternal nature of the resurrection. By saying he discarded his body, they have made his resurrection from the dead a temporary phenomenon. This denies the whole point of the resurrection, which is to change our mortal nature into an immortal one, a corruptible nature to an incorruptible one, so that in and with our body, we enter into eternal life.
The resurrection, according to Paul, changes the nature of the body so that as a result, while it is the same body, it goes from its fallen, perishable mode of existence to a glorious imperishable one: "So is it with the resurrection of the dead. What is sown is perishable, what is raised is imperishable" (1. Cor. 15:42 RSV). To think that Jesus shed his body is to say that his body perishes, which, again, is a rejection of the purpose and nature of the resurrection. Resurrection from the dead is more than a mere return to life in our body; it is a complete transformation of the resurrected person to a new mode of existence where corruption no longer has a possibility of affecting them. This is why Jesus after his resurrection and ascent into heaven must still have a body. It can be said, conventionally, to be "in" heaven.
What happened to Jesus represents the first fruits of the resurrection of the dead, so that by grace, what happened to him in his humanity in his resurrection and ascension into heaven is what God intends to happen to us all who believe in him. "But our commonwealth is in heaven, and from it we await a Savior, the Lord Jesus Christ,  who will change our lowly body to be like his glorious body, by the power which enables him even to subject all things to himself" (Philip. 3:20-21 RSV). Our body, like his, will change; after our resurrection, we will have the same body which we have now, but its form will be different, for it will be filled with the radiance of God's grace.[3] Its mode of existence can even be said to be spiritual. "It is sown a physical body, it is raised a spiritual body" (1 Cor. 15:44a RSV).
Now, to say it will be a spiritual body implies it is still a body, but its modality now relates to the new spiritual reality of heavenly existence. Like Christ after the resurrection, our body will not be bound by the laws of physics as we understand them according to the modality of the fall. And so what we will have is a spiritual body, one which is spiritualized and yet still our body, and so, as St. Augustine explained, we must not think it is mere "spirit" but "spiritualized":
For thus it has not been expressed, as if body were turned into spirit and became spirit; inasmuch as at present, too, our body, which is called animal (animale), has not been turned into soul and become soul (anima). But by a spiritual body is meant one which has been made subject to spirit in such wise that it is adapted to a heavenly habitation, all frailty and every earthly blemish having been changed and converted into heavenly purity and stability. This is the change concerning which the apostle likewise speaks thus: "We shall all rise, but we shall not all be changed." And that this change is made not unto the worse, but unto the better, the same [apostle] teaches, when he says, "And we shall be changed." But the question as to where and in what manner the Lord's body is in heaven, is one which it would be altogether over-curious and superfluous to prosecute. Only we must believe that it is in heaven. For it pertains not to our frailty to investigate the secret things of heaven, but it does pertain to our faith to hold elevated and honorable sentiments on the subject of the dignity of the Lord's body.[4]
St. Thomas Aquinas, likewise, made it clear that in the resurrection from the dead, it must be seen as the same body, with all the features of the physical body remaining, otherwise we would find God has failed to keep his promises to us:
As stated above, Christ's body in the Resurrection was "of the same nature, but differed in glory." Accordingly, whatever goes with the nature of a human body, was entirely in the body of Christ when He rose again. Now it is clear that flesh, bones, blood, and other such things, are of the very nature of the human body. Consequently, all these things were in Christ's body when He rose again; and this also integrally, without any diminution; otherwise it would not have been a complete resurrection, if whatever was lost by death had not been restored. Hence our Lord assured His faithful ones by saying (Matthew 10:30): "The very hairs of your head are all numbered": and (Luke 21:18): "A hair of your head shall not perish."[5]
In this way, though we can understand Jesus remains human, with his body "in" heaven, we find the comprehension of what this means to be beyond us. It is something which we know is to be true and yet transcends us. We can, to be sure, experience its truth, if God opens it up to us and reveals to us the glory of the resurrected Christ. After his ascent into heaven he remains in and with his glorified body, never abandoning us by discarding his humanity. The Word of God became man. No matter how difficult it is for us to understand the transcendent mystery of the incarnation, let us never abandon the truth presented in it, for God the Son truly has become man and never abandoned us despite the difficulties we placed upon him in his flesh due to our sins.
---
[1] St. Fulgentius, "First Letter to the Scythian Monks" in Fulgentius and the Scythian Monks. Correspondence on Christology and Grace. trans. Rob Roy McGregor and Donald Fairbairn (Washington, DC: Catholic University of America Press, 2013), 52-3.
[2] "Jesus said to him, "Have I been with you so long, and yet you do not know me, Philip? He who has seen me has seen the Father; how can you say, `Show us the Father'? Do you not believe that I am in the Father and the Father in me? The words that I say to you I do not speak on my own authority; but the Father who dwells in me does his works. Believe me that I am in the Father and the Father in me; or else believe me for the sake of the works themselves"" (Jn. 14:9 – 11 RSV).
[3] Just like a seed, which is planted, produces a plant which is of the same body as the seed, but its form is drastically different, so our body will be the same even if its form is changed thanks to grace.
[4] St. Augustine, "On Faith and the Creed" in NPNF1(3):326.
[5] St. Thomas Aquinas, Summa Theologica. trans. Fathers of the English Dominican Province (New York: Benziger Brothers, 1948), III.54-3.
Stay in touch! Like A Little Bit of Nothing on Facebook: