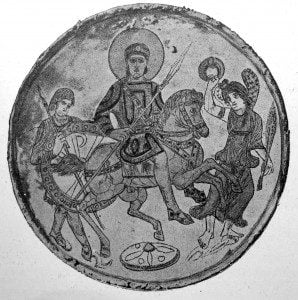 One day Abba Anthony received a letter from the Emperor Constantius, asking him to come to Constantinople and he wondered whether he ought to go. So he said to Abba Paul, his disciple, "Ought I to go?" He replied, "If you go, you will be called Anthony; but if you stay here, you will be called Abba Anthony."[1]
We all need to find our proper place in the world, to find where we belong, and where we will do the most good, not only for ourselves, but for all we shall meet. It is often difficult to find, and even when we have, we often need reminders that no other place is as suitable for us as where we are at. This is not to say we should assume we are already there.  We must know who we are, and then we can discern if we are where we belong or not.
We find this exemplified in the life of St. Anthony the Great. He had become famous. His work in the desert was a marvel. He went out as a lone ascetic, seeking hermitage for himself, only to find many others following him, creating as it were a city of monks in the desert with Anthony as their guide and mentor. He had become Abba Anthony, their spiritual father. He had found his place. While he might have preferred solitude, and he certainly was able to receive it to a great extent, he was not meant to be entirely cut off from others; his spiritual fight was not just for his own benefit, but for all. What he learned through experience he could use to help others. God had called him out of the world and into the desert in order to be a guiding to all who would hear of him and heed his wisdom.
Upon hearing of him and his exploits, many people went into the desert to meet with him. Some wanted advice, some wanted his prayers, some wanted to be his disciple, and finally, some wanted to contend against him in debate, thinking they could show the world they were superior to him.
Others wanted Anthony to leave the desert and come to them. Constantius, we are told, was one of them. Anthony, it would seem, was somewhat tempted. What could happen? Paul, Anthony's disciple, suggested that Anthony would lose himself in the emperor's court. He would no longer be a spiritual guide, an Abba, but instead he would be turned once again into an ordinary man – Anthony. He would have been a modern marvel, a nice show, for a few days before the emperor got bored with him and cast him aside. The glory of being in the emperor's court would have been short, and Anthony at the end, would have lost himself and would be another man who once had been a rising star in the world but quickly fell back to earth. He would not be an Abba. He would just be Anthony, and what glory he had with God he would have lost by assuming a short-lived place next to the emperor.
It is hard to know when exactly this saying took place in the life of Anthony. Was it during the reign of Constantine, or after? For we know that Constantine, with his sons, took an interest in Anthony and had wanted Anthony to come meet them at one time. When Anthony declined, his fellow monks told him he should at least address Constantine and show him and his sons respect for being Christians, which Anthony did by sending them a short letter. Perhaps this incident is what is being recorded in the sayings, with the indication that it was Paul who confirmed in Anthony his resolution to stay in the desert where he belonged, with the other monks reminding him that as he remained an Abba, the emperor was worthy of spiritual guidance as well. Or it could be that Constantius later tried to get Anthony by his side, perhaps for some political gain, and Anthony avoided the trap by staying put. In either possibility, the emperor was one of many worthy of Anthony's prayers and spiritual advice; by staying in the desert, he was true to himself, and it was for this reason he could and did offer important advice to Constantine and his sons, advice which any Christian politician should take to heart. St. Athanasius gives us this insight in his life of Anthony, indicating how Anthony became known by the emperor and the way Anthony responded to Constantine's interest in him:
And the fame of Antony came even unto kings. For Constantine Augustus, and his sons Constantius and Constans the Augusti wrote letters to him, as to a father, and begged an answer from him. But he made nothing very much of the letters, nor did he rejoice at the messages, but was the same as he had been before the Emperors wrote to him. But when they brought him the letters he called the monks and said, 'Do not be astonished if an emperor writes to us, for he is a man; but rather wonder that God wrote the Law for men and has spoken to us through His own Son.' And so he was unwilling to receive the letters, saying that he did not know how to write an answer to such things. But being urged by the monks because the emperors were Christians, and lest they should take offense on the ground that they had been spurned, he consented that they should be read, and wrote an answer approving them because they worshipped Christ, and giving them counsel on things pertaining to salvation: 'not to think much of the present, but rather to remember the judgment that is coming, and to know that Christ alone was the true and Eternal King.' He begged them to be merciful and to give heed to justice and the poor. And they having received the answer rejoiced. Thus he was dear to all, and all desired to consider him as a father.[2]
Athanasius noting that Anthony was considered as a father by all certainly suggests that the two sources are talking about the same event, because the outcome suggested by Paul, that Anthony be considered Abba if he stayed, is what happened in Athanasius' story.  This might also indicate that Constantine's interest might have been fostered by Constantius, or, as is possible, the sayings pericope, coming as it does from oral legend, lost some of the story in its retelling.
As we should expect from Anthony, the advice he gave was something one could obtain by listening to Scripture. After reminding the emperor of the impermanent nature of his reign, that he will die and have to face the dread tribunal of the true and eternal Lord, Jesus, he then said that the best way to rule was through mercy, seeking to establish a just state, and to help the poor. Anthony understood better than many others what the role of government should be about because he was able to look at it from the outside, not being forced to partake of it as a part of his own personal existence. He was a spiritual guide, helping people find themselves and their place in the world as he had found his. A Christian ruler or politician certainly has a place in the world; they must remain humble, not considering themselves as greater than they are. They must act as a good servant or steward for the true ruler of the world, serving him through mercy and justice. Mercy helps make sure justice is not about vengeance, but about establishing the proper order in society, helping people, all people, attain the dignity and respect they deserve, and this is highlighted by the fact that justice must always have a heart for the needs of the most vulnerable in society, such as the poor. The preferential option for the poor is not a modern theological construction but is rather a message found throughout Scripture, such as by the prophets who told the kings of Israel what their rule should entail. The poor must not be abandoned for the rich, justice must not be overturned for the sake of the powerful, and so mercy should not be lost, for mercy is the first refuge against the legalistic abuses of would-be tyrant. In this way, God directed  Amos to warn Israel that what invokes punishment is the rejection of mercy when dealing with the needy:
Thus says the LORD: "For three transgressions of Israel, and for four, I will not revoke the punishment; because they sell the righteous for silver, and the needy for a pair of shoes — they that trample the head of the poor into the dust of the earth, and turn aside the way of the afflicted; a man and his father go in to the same maiden, so that my holy name is profaned; they lay themselves down beside every altar upon garments taken in pledge; and in the house of their God they drink the wine of those who have been fined (Amos 2:6-8 RSV).
Likewise, we read in Ezekiel, the haughty nature of the people of Sodom, their disrespect for the poor and needy, led them to a life of inordinate pleasure and this was what had caused God's wrath with them:
Behold, this was the guilt of your sister Sodom: she and her daughters had pride, surfeit of food, and prosperous ease, but did not aid the poor and needy.  They were haughty, and did abominable things before me; therefore I removed them, when I saw it (Ez. 16:49-50 RSV).
Likewise, again, God through Zechariah indicated how the rulers of Israel should act:
And the word of the LORD came to Zechariah, saying, "Thus says the LORD of hosts, Render true judgments, show kindness and mercy each to his brother, do not oppress the widow, the fatherless, the sojourner, or the poor; and let none of you devise evil against his brother in your heart" (Zech. 7:8-10 RSV).
We can see how Anthony's words to Constantine and his sons followed the prophetic tradition and what Scripture indicated a state should be like, and therefore, how a ruler of a nation should act in order to stay on the side of God's grace and not fall under his ire.  Anthony knew that the key to a successful government was to mirror God's government, where mercy was rendered to all, justice was sought after and encouraged by all, and spiritually poor sinners were to receive grace in order to become spiritually rich and saved.  God's heart for the poor reminded us how we are all spiritually poor, and how we treat others in their material poverty will indicate how God will respond to us in our spiritual poverty.
And so this saying highlights an important event in Anthony's life, a test which was given to him to see where he would go once he found himself at a spiritual crossroads. Would he leave the desert and become a mere man, Anthony, without recognition of his previous spiritual success because he would have abandoned it to please the emperor, or would he remain in the desert, and truly become Abba Anthony, the spiritual father not only of monks, but of all who should seek his advice? He stayed and so grace filled him even more.  He was victorious over temptation to abandon the desert for some earthly glory. We too need to learn the lesson he learned. Where do we belong? What shall we be called if we attain the glory God intends for us?
---
[1] The Sayings of the Desert Fathers. trans. Benedicta Ward (Kalamazoo, MI: Cistercian Publications, 1984), 8.
[2] St. Athanasius, Life of Antony in NPNF2(4): 217.
Stay in touch! Like A Little Bit of Nothing on Facebook: