In his encounter with Christ on the road to Damascus, Paul found himself becoming a better person because he opened himself up to the grace of God. He repented of his injustice to God, and therefore, his injustice to others, realizing how his pride in his knowledge of the truth faltered and did not really attain to the truth itself. The Holy Spirit came to Paul in that grace, and made him ready to birth Christ in himself: "I have been crucified with Christ; it is no longer I who live, but Christ who lives in me; and the life I now live in the flesh I live by faith in the Son of God, who loved me and gave himself for me" (Gal. 2:20 RSV).  Paul found himself united with Christ, becoming a part of the Body of Christ, where Christ came alive in Paul and worked in and through him as part of his continuing presence in the world.
Paul recognized what happened to him was not a grace meant for him alone, but is the calling for all who have been baptized into Christ. That is, all who are baptized into Christ become a part of the Body of Christ, and so Christ is expected to be born in their lives as they find themselves and their whole life and existence affirmed in Christ. Paul addresses his fellow Christians as being fellow members of Christ, realizing the unity they are to have with each other, so that if one suffers, they all suffer, if one rejoices, they should all rejoice, because they are all to be born in Christ by having Christ born in them: "If one member suffers, all suffer together; if one member is honored, all rejoice together. Now you are the body of Christ and individually members of it" (1 Cor. 12:26-7 RSV).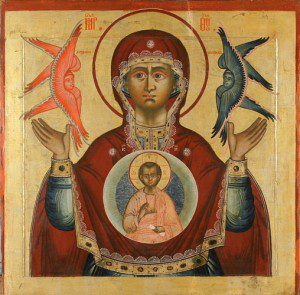 While we remember that God became man through the Holy Virgin Mary, and so on the Feast of the Nativity, Christmas, we celebrate the birth of the God-man in history, we are also called to partake and share in the birthing of Christ with Mary by giving birth to Christ in our lives. God the Son was eternally born of the Father, begotten not made, and then God the Son was born of the Virgin Mary by becoming man and entering history for the restoration of all creation. God so loved the world he assumed it into himself, and then shared the grace of that birth through his life and ministry, such as at his baptism where he sanctified the waters of the earth, allowing them to become vessels of the Spirit. Christ continues to be with us in the world in and through the eucharist, but also, in and through all the people who have united themselves to him in grace. They open themselves up to him and give birth to Christ in the world, not in the way that Mary gave birth, but in the way the flesh gives birth to flesh, where as long as we shall live, our flesh reproduces itself gives birth to more flesh, replacing that flesh which dies,  so Christ gives birth to himself in us through our incorporation into his body at baptism.
Thus, we should find Christ comes alive in us as we come alive in him. As we are incorporated into Christ at baptism, he comes to us, resides us in, and slowly grows in us, until at last, we truly realize our unity with him and the whole Body of Christ, which then becomes the realization of our new birth in him as he becomes truly born in us. Until then, he is in us, with us, and we are in him, with him, to be sure, but the relationship we have with Christ is as a mother preparing to give birth; he is to grow in us, transforming us from within, until at last, our union with him is fully realized and so is able to be said to be given spiritual birth by us, even as in time, he developed in the womb of the Virgin Mary, taking flesh from her flesh, blood from her blood, and uniting it with himself until the time of his physical birth.
It was by the power of the Holy Spirit that Mary was able to conceive the God-man and give birth to him.  "When his mother Mary had been betrothed to Joseph, before they came together she was found to be with child of the Holy Spirit" (Matt. 1:18b RSV). Likewise, it is the Holy Spirit who comes upon us, enlightens us, bears us grace, that we are able to have Christ grow in us and eventually born by us when we have truly become perfected by Christ.  The Holy Spirit makes the sacraments effective, so that we can be said to conceive Christ in us by the power of the Holy Spirit in our baptism, and then, it is the Holy Spirit who is in us and with us who makes sure that Christ grows in us and is born in us, so that in his spiritual birth in us, we become alive in him as he becomes fully alive in us. When we give birth to him in the spirit, we will find there is no division between him and us, but that we are united together as one. him as he is in us, seeing there is no division between the two but that we are united together as one. God became man so that man can become God, that is, God became man so that he can be born in all of us, transforming us in that birth as we unite ourselves with him, and so become partakers of the divine nature with him. We are to become by grace what he is by nature.
We are called to give birth to Christ in us, and so to become one with him, and do as he would do in the world, serving the people of the world with the grace of God. As we give birth to Christ, we find that he continues to fulfill the prophecy of Isaiah which he preached about at the beginning of his ministry, showing that it was not a one-time event, but work which is to be accomplished until the end of time:
And he came to Nazareth, where he had been brought up; and he went to the synagogue, as his custom was, on the sabbath day. And he stood up to read; and there was given to him the book of the prophet Isaiah. He opened the book and found the place where it was written,
  "The Spirit of the Lord is upon me, because he has anointed me to preach good news to the poor. He has sent me to proclaim release to the captives and recovering of sight to the blind, to set at liberty those who are oppressed, to proclaim the acceptable year of the Lord."

And he closed the book, and gave it back to the attendant, and sat down; and the eyes of all in the synagogue were fixed on him.  And he began to say to them, "Today this scripture has been fulfilled in your hearing" (Lk. 4:16-21 RSV).
When Christ is born in us, he speaks in us, through us, with us, as we become one with him. In his birth in us, we find ourselves one with him in his mission, fulfilling the prophecy of Isaiah by doing what he did:  preaching the good news to the poor, helping to set free the oppressed, liberating them from the slavery of sin. We are to give birth to Christ, to continue the birthing of Christ in the world, realizing that though we are not the vessel of the incarnation, of the historical, physical birth of Jesus, we are called to spiritually share in her mission if we want to be saved.
May the Feast of the Nativity live on in us, so that we do not just look back to the past, to the great historical event fulfilled by the Theotokos, but we find ourselves living it out and experiencing it every day, to the benefit not only of ourselves, but to all those around us. Christ is born in the manger, let us go forth and glorify him in our lives.
Stay in touch! Like A Little Bit of Nothing on Facebook: