The Great Fast is over. Palm Sunday, on the Byzantine Calendar, starts Holy Week, which is distinct from the Great Fast. With the end of the fast, we have a minor celebration, a time of joy as we remember when Jesus raised Lazarus from the dead and his subsequent entrance of Jesus into Jerusalem:
Christ our God, before your passion you confirmed our common resurrection when You raised Lazarus from the dead. Therefore like the children we carry the symbols of victory and cry out to You the Victor over death: Hosanna in the highest! Blessed is He who comes in the name of the Lord (Troparion of Palm Sunday).
We have time to celebrate before we engage Holy Week and the darkness which it brings. The passion of Christ brings the whole church into the realm of the dead, in the night of chaos, experiencing with Christ the full ramifications of sin. Before sin is given its greatest triumph by the death of Christ on the cross, there is, the procession of Christ into Jerusalem. On it he received his greatest earthly accolades. The people were ecstatic. They believed that Jesus was coming into Jerusalem to establish the kingdom of God amongst them; that he was going to fulfill their messianic expectations during Passover. For a brief moment, they knew Jesus was the promised messiah.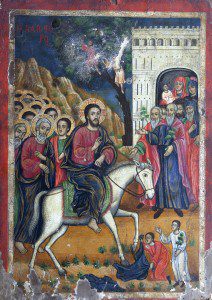 The next day a great crowd who had come to the feast heard that Jesus was coming to Jerusalem. So they took branches of palm trees and went out to meet him, crying, "Hosanna! Blessed is he who comes in the name of the Lord, even the King of Israel!" And Jesus found a young ass and sat upon it; as it is written, "Fear not, daughter of Zion; behold, your king is coming, sitting on an ass's colt!" His disciples did not understand this at first; but when Jesus was glorified, then they remembered that this had been written of him and had been done to him. The crowd that had been with him when he called Lazarus out of the tomb and raised him from the dead bore witness. The reason why the crowd went to meet him was that they heard he had done this sign (Jn. 12:12-18 RSV).
The people were right in believing the victory of God was at hand, but they were wrong about how it would come about. They looked for an earthly victory. They desired a militant king who would take on Rome, not only freeing Israel from the dominion of Rome, but also to lead Israel to great heights so that it could take the place of Rome in the world scene. What they had was the king of kings who was going to overcome the true tyrant, sin, not by might and the sword, but by weakness and death. The people were right for all the wrong reasons, and so when they saw Jesus in Jerusalem acting contrary to their expectations, they were so quick to deny him and seek his destruction.
The fickleness we see with the crowd that welcomed Jesus into Jerusalem is not merely a thing of historical record, a thing of the past, but a representation of the way all sinners treat Jesus. We seek him, we desire him to be our Lord and King, but we do so not for his sake but ours, putting our own hopes and fears, our own expectations upon him. We desire him to fulfill our desires, putting request after request to him, and when he does not, then like the crowd which welcomed him into Jerusalem, we readily turn our back on him as we seek to fulfill our own desires by ourselves. We then find ourselves quick to deny him as we affirm ourselves. Certainly, for many of us, we deny him like Peter; we sin, but down deep in our heart, deep beneath all the selfishness and fear which covers our soul, we still love him and beg for forgiveness, and so receive it willingly from Jesus because of our love. "Hatred stirs up strife, but love covers all offenses" (Prov. 10:12 RSV).
Every Palm Sunday, Jesus comes to the temple of God, our hearts, only to find in that temple places in which sin still holds sway. In those places, instead of placing God first before all things, we will find some secondary good or objective held up as our end desire, so that we will trade all things, even spiritual goods which would lead us to something better, for that base desire. In finding such moneylenders in our heart, Jesus will come to them and work to throw them out. Upon receiving such treatment from Jesus, will either work with him and allow him to cast out the moneylenders without complaint, or else, we will rebel against him, seek to bring them back into the temple of our heart, and in the pain and suffering we feel, we will cry out with the rest of the crowd the words which arises from sin: crucify him.
Jesus came to bring a sword, a sword which will pierce us to the core. The sinful parts of our souls which we still hold on to and desire to keep will strike out in defense. Hopefully, once the cut has been made, it will be cauterized by the fire of God's love, and then we will understand what God has done and with full and open hearts, come to Jesus like Peter and repent for all we have said and done during our spiritual trauma.
The church reminds us, in and through all her celebrations, that we must rejoice in God. Yes, we will feel pain and sorrow. Jesus is at work within us, letting the dark emotions which we have repressed reveal themselves to us, so that we can cut them off and no longer let them be fuel for our sin. We must rejoice in Christ, in the joy of his victory, so that we can take his victory into our whole being and find ourselves changed for the better. Then we are to rejoice once again, in joy of the greatness which has been granted us due to God's saving grace:
Rejoice in the Lord always; again I will say, Rejoice. Let all men know your forbearance. The Lord is at hand. Have no anxiety about anything, but in everything by prayer and supplication with thanksgiving let your requests be made known to God. And the peace of God, which passes all understanding, will keep your hearts and your minds in Christ Jesus. Finally, brethren, whatever is true, whatever is honorable, whatever is just, whatever is pure, whatever is lovely, whatever is gracious, if there is any excellence, if there is anything worthy of praise, think about these things. What you have learned and received and heard and seen in me, do; and the God of peace will be with you (Phil. 4:4-9 RSV).
The restoration of humanity is the work of the king of kings. "In heaven you are seated on a throne; but on earth upon a colt O Christ out God. You accepted the praise of the angels and the song of the children crying out to You: Blessed is He who comes to restore Adam" (Kontakion of Palm Sunday).
He had to become a lowly servant, abused by all, even ourselves; it through his death and journey into hell that his kingdom is revealed. Thanks to his victory over sin, humanity is freed from the bondages of sin and a way has been made so that anyone who desires to do so can take the journey into the kingdom of God.
Let us all join together and praise the king who finds a colt to be his proper conveyance to his earthly coronation. Let us shout with joy and welcome him to his kingdom, which is to be found within us all, by singing with joy, "Hosanna, Blessed is he who comes in the name of the Lord." Let us celebrate with the Lord, for he comes to weed out our sins and restore his image within us all.
Stay in touch! Like A Little Bit of Nothing on Facebook: